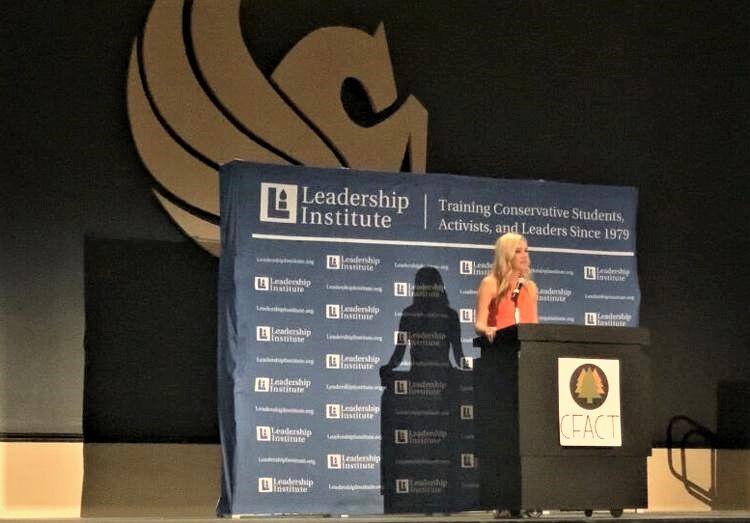 Former White House Press Secretary Kayleigh McEnany walked through the doors of the UCF Pegasus Ballroom on main campus for the first time Wednesday night. 
McEnany served as the 33rd White House press secretary from April 7, 2020, through Jan. 20 in former President Donald Trump's administration. 
After UCF Student Government debated funding her visit to the university, as prompted by UCF's Turning Point USA chapter, McEnany spoke before an audience of about 300 students about politics and her career journey.
"I know all of you in this room have a passion for politics or you wouldn't be here," McEnany said. "I was prepared for the moment when the president of the United States asked me what I would say to questions because of my burning passion for politics."
During her visit, McEnany stuck to the discussion of the current condition of the country, bringing up hot-button issues, such as inflation, border security and coronavirus vaccine mandates. But McEnany's focus also included talking about her strong relationship with the former president. 
Christian McKenna, a senior finance major, said he attended the event because of his interest in politics and American history. McKenna said listening to McEnany talk about her personal history with Trump made both figures more relatable.
"The normalcy of her job and what she does every single day I think is just awesome," McKenna said. "She represents the United States of America."
After McEnany's speech, Turning Point USA read off submitted questions from UCF students, which covered topics such as her time at the White House to politics in general.
Some students were curious about McEnany's thoughts on the current state of the White House, while other students, like Kara Burrows, were more interested in simply hearing what other UCF students would ask. 
"I love seeing raw reactions of students when they ask questions," said Burrows, a freshmen business major. "A lot has changed in the past few years, and I know students are curious to hear what Kayleigh thinks."
After students wrapped up the Q&A session, McEnany concluded her presentation by telling students if she had the opportunity again, she'd love to be the White House press secretary again. 
"It would be an honor to one day work alongside former President Trump for another term," McEnany said. 
Following her stop at UCF, McEnany will continue her nationwide tour to promote her new book about her journey in the White House: "For Such a Time as This: My Faith Journey through the White House and Beyond."
Ben Shapiro will be the next conservative speaker to appear at UCF. Shapiro is set to visit campus Oct. 25 at 7 p.m.