Former UCF Student Government Associations Facilities, Safety, & Transport coordinator Chandra Kethi-Reddy called for SGA President Nick Larkins to resign at the SGA senate meeting Thursday.
"I am not here to ruin the reputation of Nick Larkins," Kethi-Reddy said. "However, I do not believe he is temperamentally fit to be in this position."
Kethi-Reddy resigned from his office earlier this week after being informed by Larkins that he was being terminated.
On Wednesday, the two parties posted on Facebook about the situation -- Larkins from the official SGA Facebook page, and Kethi-Reddy from his personal page. Larkins deleted the post, which Keth-Reddy claimed violated Sunshine State Laws at the meeting because SGA is a public entity.
In a 27-minute speech that started by Kethi-Reddy shaking Larkins' hand, the former Facilities, Safety, & Transport coordinator claimed he was fired due to institutional racism and that Larkins had "screamed at and yelled" at him failing to accomplish tasks that Kethi-Reddy claimed were near impossible, like extending UCF shuttles for students by an hour in three months.
Kethi-Reddy also said Larkins falsely took credit for passing a parking agreement he had no involvement in. Other grievances Kethi-Reddy listed included Larkins making false claims of his mother having a brain tumor on Facebook.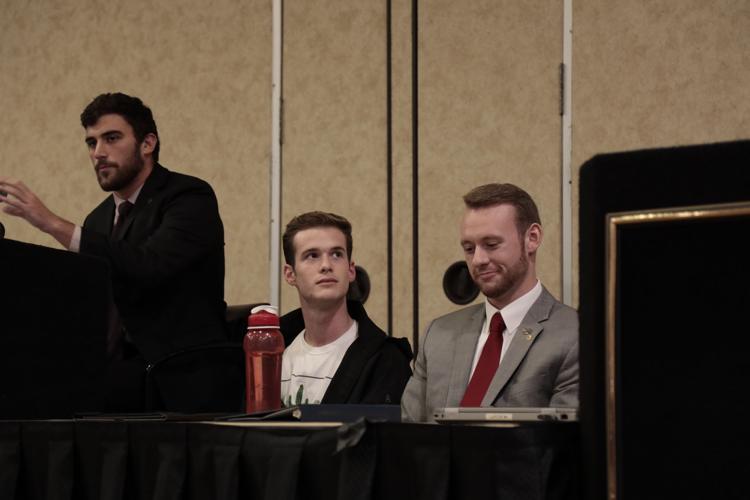 "President Larkins has committed several impeachable offenses as defined by the constitution of SGA," Kethi-Reddy said. "He has committed maleficence in his use of SGA social media assets to maliciously expose personal details of a student and his family for the purpose of discrediting him."
Kethi-Reddy also claimed that Larkins interfered with him doing his job by not letting him attend meetings with Lynx bus service.
Larkins did not entertain the idea of resigning, never bringing up the word during his retort and presidential announcements. While Larkins did apologize for the Facebook post, he said race had nothing to do with the firing.
"Chandra was fired plainly and simply for a total failure on his part to complete the job that I paid him to complete," Larkins said. "I should have fired Chandra when I found him sleeping at his desk while on the clock, but I tried to be understanding and I also tried to work with him. Chandra was given multiple chances to comply, but he did not."
Larkins cited an email that Kethi-Reddy sent that was titled "Formal Apology" where Kethi-Reddy took responsibility for failing to complete tasks and falling asleep at his desk.
"As I have just shown you, the claims that Chandra has made are lies and nothing more than that," Larkins said. "This is the last time that I will speak of Chandra or mention his name as president."
Kethi-Reddy also called for the resignation of the Office of Student Involvement Director Shane Juntunen, citing improper conduct.
"Shane Juntunen has routinely failed to take care of his basic duties as adviser of SGA and the director of OSI," Kethi-Reddy said. "He has also engaged in improper conduct as defined as a violation of the Golden Rule. He has interfered in students' rights to the freedom of expression. He has interfered with the students' rights to the freedom to hear, write, distribute and act on a variety of thoughts and beliefs."
Kethi-Reddy also called for the resignation of Sandi Briggs, the assistant director of OSI. He claimed Briggs created a hostile work environment through means of intimidation, verbal abuse and bullying. Kethi-Reddy said there was banging on his office door in front of everyone when he fell asleep in his office.
Kethi-Reddy said Larkins and Briggs got into a screaming match recently and questioned how that made for a good work environment.
If Larkins, Juntunen and Briggs did not resign, Keth-Reddy said he will file for Larkins to be impeached and the others to be removed.
During the meeting, Sen. Natalia Caballero also stepped down as deputy pro tempore of legislative affairs. Caballero resigned because she will be in Tallahassee next semester completing the UCF Legislative Scholars internship.
Florida House Rep. Carlos Guillermo Smith also spoke at the meeting about his platform. He said he was working toward making Bright Futures Scholarships fund 100 percent of tuition, decriminalizing marijuana and increases for minimum wage.
The meeting marked the last of the 50th session for the 2017 fall semester.