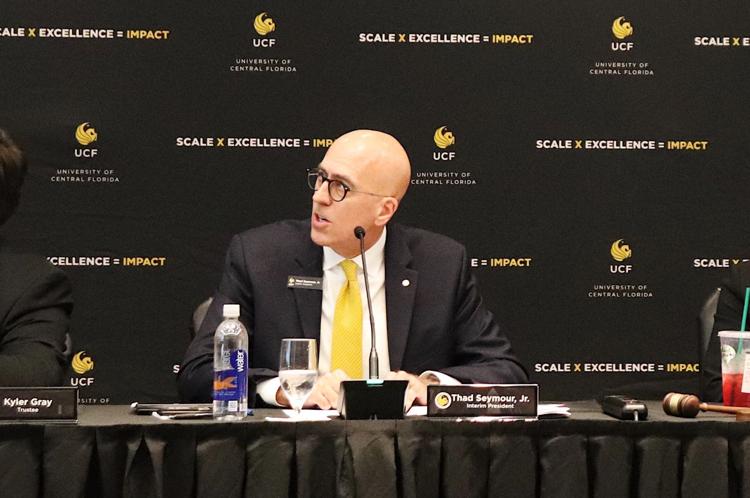 After serving for over a year as UCF's interim president, Thad Seymour Jr. is stepping down from the role as the university begins a new chapter with Alexander N. Cartwright in charge.
Prior to his final day as interim president, on Sunday, NSM Today conducted a virtual interview with Seymour in which he reflected on his biggest challenges and accomplishments during his presidency at UCF and shared his plans after resignation.  
"I never could have predicted that I will take on this role and it would start the way it did nor that it would finish the way it's finishing with something like COVID-19," Seymour said.  
Seymour has served as interim president since Feb. 2019, when the trustees accepted the resignation of former President Dale Whittaker. He left following the investigation into the misuse of $85 million funds by the university to construct Trevor Colbourn Hall and other projects.
Although Seymour's presidency wasn't long, he faced multiple problems that UCF was going through, including rebuilding trust with the state legislature and dealing with the university's questioned integrity following the resignation of Whittaker.
"One of the goals of this year, and I think we made a lot of progress on it, was to 'steady the ship' and to remind everybody how good and how important UCF is to the region and the state," Seymour said.  
In addition to the damaged credibility following an illegal spending scandal, UCF went through multiple administration changes.
Grant Heston, UCF's former chief of staff, was "relieved of all duties" on Dec. 20, according to a letter from Seymour to Heston obtained by NSM Today.
On Jan. 10, former Provost Elizabeth Dooley was placed on paid administrative leave and College of Sciences Dean Michael Johnson became an interim provost, a university spokesperson informed NSM Today at the time. By the end of March, Dooley resigned for 'personal reasons,' Seymour wrote in a letter to faculty and staff.
Three UCF faculty members were also fired after they were found exchanging doctoral degrees for grant funding on Feb. 7, according to an investigative report.
At times, these incidents caused students to question the university's integrity and leadership.
"This whole year has given us even more evidence of the resiliency, perseverance and the grip of everybody associated with UCF because we have had our share of challenges and we have figured out how to get past them and through them," Seymour said. "I'm proud of the team in terms of how everyone rallied to help get us to that point."
UCF's Board of Trustees and Seymour have been working on strategic planning and new initiatives the whole year. Seymour said one of his biggest accomplishments is the new enrollment strategy that helps with UCF's enrollment mix in the years ahead. 
"We do need to anticipate shifting demands for higher education continue to broaden our thinking away from our primary role being to educate 18 to 22-year-olds, which is a very 20th or 19th century view of higher education, and to think more broadly about our mission in life-long learning," Seymour said.
Although the majority of students come to UCF after high school, out of nearly 70,000 students, more than 22% of undergraduates are over the age of 25, according to the UCF facts page.
"We had a really good team over the last five or ten months analyzing a lot of data on enrollment that can help us plot the trajectory for the future," Seymour said. 
His term comes to a close during the COVID-19 pandemic, which led UCF to transition to remote instruction through the summer semester to minimize the spread of the virus. Seymour has been sending students regular emails with updates and announcements to keep students informed. 
Before his presidency, Seymour led the development of UCF's Collective Impact Strategic Plan and spent two years overseeing efforts for the construction of UCF's downtown campus. 
He had originally planned to retire before the Board of Trustees appointed him as interim president. Now that his presidency is over, Seymour said he wants to travel with his wife Katie when the time is right and it is safe to do so.
The presidential search started after Seymour announced in September 2019 he had no intentions of becoming the full time president. After a seven-month search, on March 20, the BOT approved Alexander N. Cartwright, former chancellor of the University of Missouri, as UCF's sixth president.
"If I've learned anything over the last year it is the breadth and complexity of a job like this," Seymour said. "None of us does everything perfectly but I have to say that Alex is bringing a toolset that is perfectly tuned for what we need at this moment in our history and I'm really excited to see what he can accomplish."