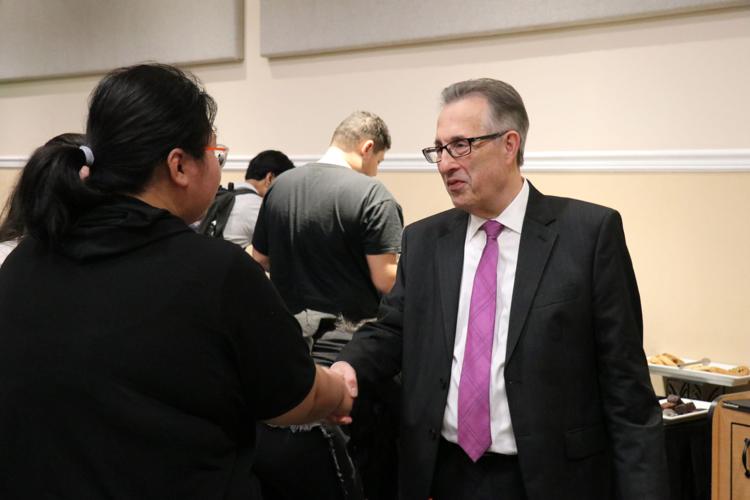 Former U.S. Ambassador Earl Anthony Wayne emphasized the need to work together so that the U.S. and Mexico can improve their relationship on Tuesday at the UCF Cape Florida Ballroom. 
Hosted by UCF's Office of Global Perspectives and International Initiatives, the former U.S. Ambassador to Mexico and Argentina's discussion emphasized that the U.S. and Mexico should work with one another rather than place blame on one side.
Jessica Squires, assistant directer for the Global Perspectives Office, said that Wayne was chosen as the guest speaker for his expertise on all of these issues. 
"His presentation here was a way to support the Diplomacy Studies program and the Latin America Studies program by bringing awareness to different issues whether or not it's the need for more diplomacy or different ways we can understand Latin America and its relations with the United States," Squires said.
In this past year, Mexico has become the number one trading partner with the United States, surpassing trade with Canada and China. There are one million legal crossings over the 2,000-mile stretch of the U.S.-Mexico border per day, according to Wayne's presentation.
"For much of the last ten years, we were working very hard to make this a better relationship ⁠— a relationship in which we were improving cooperation even in those areas where we disagreed," Wayne said. 
Wayne said illegal border crossings are common among neighboring countries, but it is up to the involved countries to work together in order to limit these occurrences.
He continued to say that by going to the extreme of building a large wall, we will be straining the relationships that can help both countries work together to be more competitive in trade.
"A big issue for the United States and Mexico is how we handle the migration crisis," Wayne said. "A set of issues that President Trump has made his priority issue. They reached some agreements on short term steps, but they do not have an agreement on a long-term strategy for dealing with this."
Wayne also said that the current migration crisis is limiting growth within joint trade, or the concept of Mexico and the U.S. working together in certain areas of trade.
For example, parts for cars will be shipped from the U.S. to Mexico, then the car will be assembled and sent back. By doing this part of trade together, it makes both countries more competitive with others. 
Recently, more families have been coming through U.S. borders in seek of a better life. According to Wayne, rather than individuals crossing, bigger and extended families are coming through which increases the foot traffic at the border.
President Donald Trump has used the migration crisis as his largest reason for wanting to build a wall. He cites that these migrants are bringing crime and illegal substances into the United States.
However, most of the illegal items that make its way into the United States come in on legal vehicles, not when families are trying to pass through the border, according to Wayne's presentation.
As of right now there are short-term agreements in place to begin to slow down the frequency of migrants coming in, but there is no long-term agreement in place. Wayne said this needs to be figured out in order to produce the better results within trade and general relations that can be sustained.
"The overall idea is you embrace the Central Americans and help them to be better both at migration enforcement but also at meeting the needs of their people," Wayne said.
He also emphasized that immigrants should be treated humanely in the immigration process not only by the U.S. but also by their home countries. According to his presentation, immigration and asylum offices in Mexico are extremely understaffed, not allowing for Mexicans to get the help within their country that they may need.
Wayne holds that immigration reform should have been solidified years ago in order to have avoided the issues that arise today. 
Julia Gamarra, freshman majoring in legal studies, found that attending this discussion taught her a lot. She went to this event in hopes to learn more about U.S.-Mexico relations.
Gamarra is half Peruvian, which drove her interest in this event. Being Hispanic, she was curious to see a previous ambassador's response to the rhetoric surrounding Hispanics today.
"With the current events between the two countries, I felt that it was important to educate myself on the matter," Gamarra said. "I learned more about NAFTA and the possible solutions to the immigration crisis at the Mexican border. During the question and answer portion, I heard more about Wayne's opinion on foreign relations and the modern role of an ambassador."