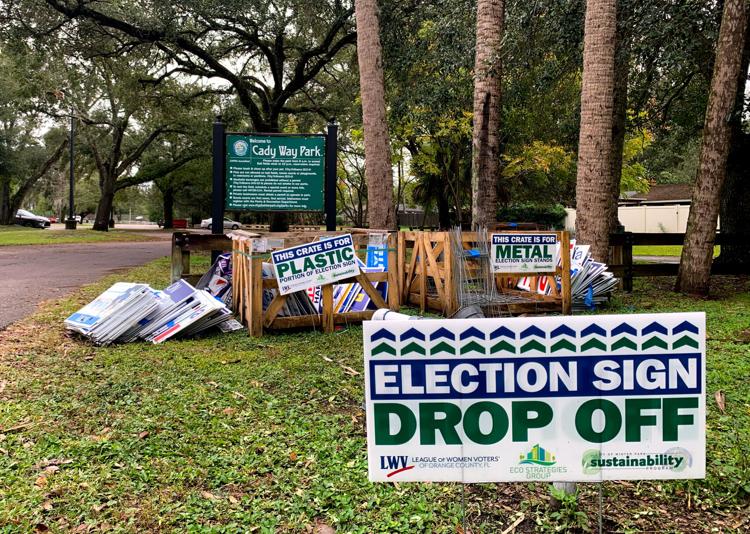 Election days are over and there is a new destination for the campaign signs instead of the trash bins.
Sustainability officials said for the first time ever the city of Orlando is setting up recycling sites all across Central Florida for people to drop off their campaign signs.
"In general, recycling gives a solution for people to get actively engaged in minimizing their environmental footprint," said Chris Castro, the director of sustainability and resilience at the City of Orlando.
Castro said the campaign signs are made of corrugated plastic and wire frame, and are hard materials to recycle. However, he said sustainability officials finally found two companies willing to take these materials and turn them into something else.
"A company called TMR will take the metal parts of the sign and bundle them with other types of metal to sell them as commodities," Castro said. "And a company called New Cycle will turn the plastic part of the signs into fuel cubes which will be used in cement factories to replace coal in their boilers."
Sophomore information technology major Fernando Filho said he is into recycling and is currently developing an app called Green U. The app will allow users to easily find recycling bin locations near them. He said the idea of recycling campaign signs is necessary.
"It's great those signs will turn into something useful after the elections," Filho said. "We don't need any more trash filling up local landfills."
Castro said the estimated number of campaign signs in Orlando is alarming regarding how many end up in the trash.
"We have over 20,000 signs across Orlando," Castro said. "If you think about that number every single campaign season, you start to add up a significant amount of waste in our landfills which is already reaching capacity."
Julia Murphy, senior engineering major, said she dropped off her campaign signs in a recycling site near her home and is telling all her friends and family to do the same.
"A lot of people don't even know dropping off campaign signs in recycling sites is a thing," Murphy said. "So, I'm telling everyone I possibly can they don't have to throw their signs in the trash."
Castro said there is a strong priority for people to do more in recycling their waste right now.
"We are reaching a tipping point here," Castro said. "Recycling is the only way for us to minimize our environmental footprint and the best way for us to improve our quality of life and public health in general."