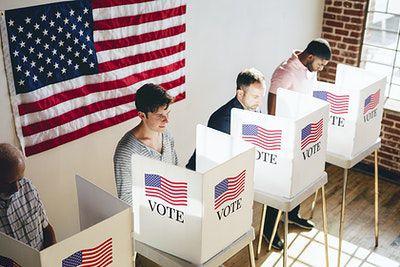 The state of Florida settled a lawsuit concerning early voting polling sites on college and university campuses on Friday, the plaintiffs announced in a press release.
The settlement gets rid of prohibitions on using student unions as polling sites and requirements for a number of non-permitted parking spaces to be available to voters, according to the release. 
The League of Women Voters of Florida brought the lawsuit in 2019 after then-Secretary of State Ken Detzner, the person in charge of elections in the state, issued a directive that required a certain number of non-permitted parking spaces at polling locations.
Aneesa McMillan, a spokesperson for Priorities USA, a national organization that financially backed the plaintiffs, said Detzner's directive would prevent college campuses from having early voting polls.
"For college campuses, [the directive] is a challenge, right," McMillan said. "If you have a parking space or you are parking on a college campus, there's some kind of permit that is a part of that."
The policy was subsequently struck down by a court, but Governor Ron DeSantis signed bill SB 7066 into law last year, which imposed those same restrictions.
Secretary of State Laurel Lee issued a revised directive the day prior to settling the lawsuit, rejecting the directives of her predecessor.
"This does not mean that every early voting site must have a certain number of non-permitted parking sites available," Lee's directive states. And on the matter that "buildings such as student unions are not appropriate sites for early voting, those directives are withdrawn in their entirety."
Orange County Supervisor of Elections Bill Cowles said UCF maneuvered around the directive by cordoning-off permitted parking spots by the on-campus polling site, but there were concerns with the law DeSantis enacted. 
"Just like the groups that filed that lawsuit, us supervisors had many concerns about the legislation requirement about having adequate parking spaces for voters was going to be a major issue, not only with early voting, but even in some cases at polling places," Cowles said. 
The COVID-19 pandemic, however, does pose potential issues for UCF's on-campus polling site and those around the county as people are encouraged to keep distance among themselves.
"Will we have enough poll workers?" Cowles asked as he encouraged students to consider working polls in the coming elections.
Cowles said that if the pandemic extends into primary elections in August or the general election in November, his office would encourage students to vote by other means.
"We would definitely have vote by mail," Cowles said.
But that is if Florida's primary does not get postponed. Sixteen states, including New York and Louisiana, have already postponed their primary elections, according to the New York Times.
McMillan said that she wishes students remain civically engaged, despite the uncertainty of the moment. 
"When I graduated, you know, in 2007, the 2008 downturn was like on the horizon and it was hard to be hopeful," McMillan said. "I want college students to still be hopeful about what's possible."