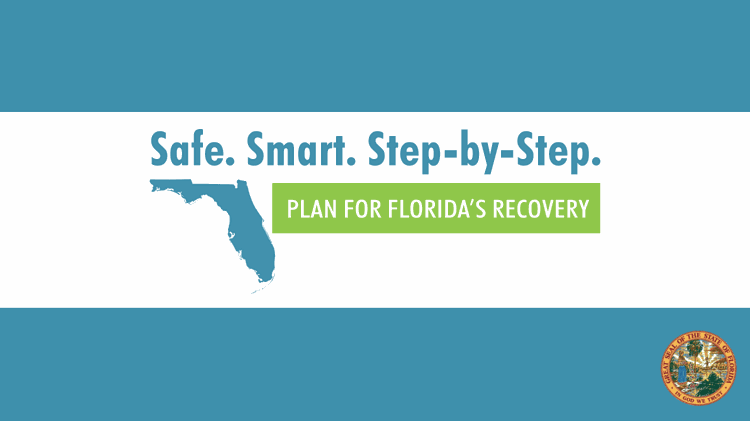 Entertainment businesses can now operate at 50% capacity with social distancing and sanitization protocol, Gov. Ron DeSantis said in a news conference on Friday. 
Businesses in this category include, but are not limited to, movie theaters, playhouses, concert venues, auditoriums, bowling alleys and arcades. Those businesses have not been operating since the state entered lockdown in prevention of COVID-19, he said.
Apart from these businesses, DeSantis said restaurants, pubs and bars are allowed to open their doors again to the public and patrons are now allowed to choose bar-top seating.
Bars and pubs may also welcome patrons inside up to 50% capacity; however, patrons can choose outside seating, which can be done at full capacity while adhering to social distancing, DeSantis said.
Patrons may only receive service if seated, he said. In terms of retail establishments, he said stores may welcome guests to full capacity as long as social distancing and sanitary protocols are employed.
Recreational businesses, such as gyms, do not have to worry about keeping limited visits and they may also operate at full capacity as long as they practice social distancing and frequent cleaning of the equipment and space, DeSantis said.
He also said that if pari-mutuel facilities seek to join the reopening, a request may be submitted to the Department of Business and Professional Regulation. The request must include an endorsement from their county mayor, or county administrator if there is no county mayor, he said.
Pari-mutuel is a gambling method and, according to the Department of Business and Professional Regulation, it is allowed for horse racing and games such as poker in Florida.
"We want to give our pari-mutuels in Florida the ability to present a safety plan as a way to move forward," DeSantis said.
He said personal service businesses such as tattoo parlors and tanning salons may also operate while adhering to the guidelines set by the Florida Department of Health. He also said it is important to have state universities open and operating again.
Therefore, state universities have "developed a task force" to create a structure to have campuses up and running by fall and DeSantis said universities will be presenting their plans on June 23.