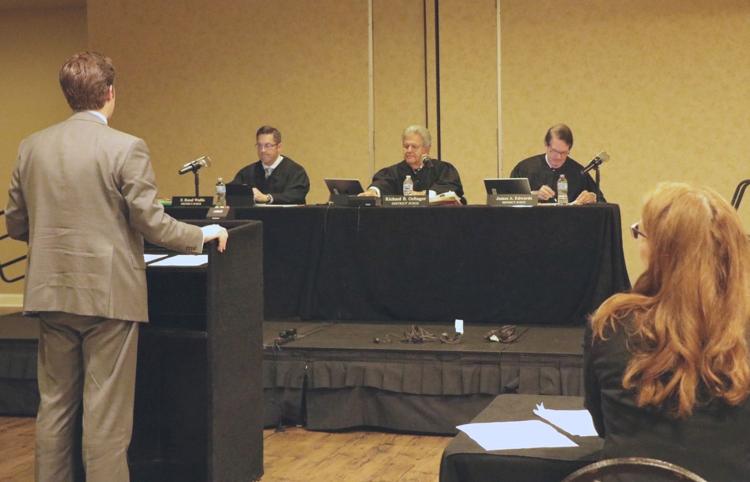 UCF's Department of Legal Studies hosted the Fifth District Court of Appeals Tuesday in the Student Union's Key West Ballroom.
Marc Consalo, interim director for the Center for Law and Policy with UCF's Department of Legal Studies said the Fifth District Court of Appeals is housed in Daytona Beach, Florida, so the event alleviates the need to travel to see these proceedings.
"By bringing them here, we give our students the opportunity to see the practice of appellate law in a real world setting," Consalo said. "It doesn't have to be shown through video or talked about in a textbook. We can give them a real life opportunity to see how the justices are and how attorneys perform oral argument."
The Fifth District Court of Appeal was created by the 1979 session of the Florida Legislature. There are 13 Central Florida counties that make up the court, including: Hernando, Lake, Marion, Citrus, Sumter, Flagler, Putnam, St. Johns, Volusia, Orange, Osceola, Brevard and Seminole.
The prosecution and defense presented oral arguments before the court for each case. Each case will have its own independent ruling, and that ruling will be in the form of a written order at a later date.
The written order will either affirm the lower court's decision, reverse the decision or reverse it with instructions for the lower court. It could potentially lead to another trial.
Judges Richard B. Orfinger, F. Rand Wallis, and James A. Edwards heard three cases Tuesday night.
State of Florida v. Favian Rivera
This case involved the appeal of Favian Rivera's conviction. He was convicted of a life sentence for the first-degree, premeditated murder of Hector Jorge-Pabon and aggravated assault with a firearm in December 2014.
Rivera pled not guilty to the charges in September 2016. He was convicted on both charges in April 2017, according to court records.
Orange County Circuit Court Judge Heather L. Higbee sentenced Rivera to life in prison in April 2017. She ordered that he must serve no less than 25 years in accordance with Florida Statutes, according to court records. 
On appeal, Rivera's counsel argued that his life sentence without the possibility of a judicial review hearing after 25 years is unconstitutional and improper.
Defense counsel also argued that the trial court abused its discretion by refusing to allow him to cross-examine his already-convicted co-defendant about his negotiated sentence with the state.
Defense attorneys Amy Weber and Kevin R. Holtz represented Rivera on Tuesday.
State of Florida v. Mitchell Aaron Needelman
In October 2017, Mitchell Aaron Needelman was convicted of bribery, conspiracy to commit bribery, bid tampering and official misconduct for his actions while serving as the clerk of court for Brevard County, according to court records.
Following the trial, a juror approached the defense counsel with allegations of jury misconduct. At the hearing, a juror confessed to doing independent research on the case when all jurors are advised not to investigate any aspect of the case.
It was determined that Needelman was prejudiced by the jury due to the improper research done by the juror, and the trial court ordered a new trial on all accounts.
On appeal, the state argued that the trial court mistakenly ordered a new trial on the bid tampering and official misconduct charges as improper research had no relation to the two charges.
Attorney Pamela J. Koller represented the state of Florida and defense attorneys Lisabeth Fryer, Warren W. Lindsey and William Ponall represented Needelman.
Phillip Morris, USA Inc. and R.J. Reynolds Tobacco Co. v. Fontaine Wallace, personal representative of the estate of Robert E. Wallace.
Robert E. Wallace started smoking at 15 and died in 1992 at the age of 50 due to lung cancer. He left behind his wife, Fontaine Wallace, and their two children. His estate sued Phillip Morris and R.J. Reynolds for the wrongful death of Robert Wallace, asserting claims for liability, negligence, fraud by concealment and conspiracy.  
The Wallace's case stems from the Engle v. Liggett Group Inc. class-action lawsuit filed in 1994. The case argued that tobacco companies put dangerous, addictive tobacco products on the market while hiding the dangers of smoking, according to court records.
In 2006, the Florida Supreme Court upheld the initial ruling.
On the night of the initial trial, the appellate attorney asked Fontaine Wallace the amount of damages she believes she should receive in this lawsuit. She stated $800,000 to $1 million, as well as $250,000 to each of her children.
Following her deposition, she then made a correction on her statements. Prior to trial, the estate moved to have the deposition statements excluded from evidence at trial, and this motion was granted.
Following the trial, the jury awarded Fontaine Wallace $6 million in damages and each of her children $3 million. An additional $16 million in punitive damages to the estate from Phillip Morris and $8 million in punitive damages from Reynolds were also awarded. A total of $36 million was awarded to the Wallace estate.
Morris and Reynolds appealed a final judgment in favor of Fontaine Wallace, personal representative on the estate of Robert E. Wallace. On appeal, the appellants believed the court erred when Fontaine Wallace's deposition about compensatory charges was excluded from testimony.
Student Reactions
Political science major Karla Cruz, 20, said seeing the trials at the event eased her mind about entering the law profession.
"What I saw today is that lawyers really are just normal people," Cruz said. "Movies like to glorify and show that trial is a very serious and uncomfortable environment, but the judges were very nice and it was nice to see."
Students said this event gave them the opportunity to experience a real life trial and see how it actually works.
Legal studies major Sophia Lopez, 20, said she appreciates having events like this on campus.
"You see a lot of things for engineering and science, but you don't see many events for pre-law, so it was really awesome for them to come out here," Lopez said. "I got to experience something I may be doing one day."
News Editor Marianna Wharry contributed to this report.