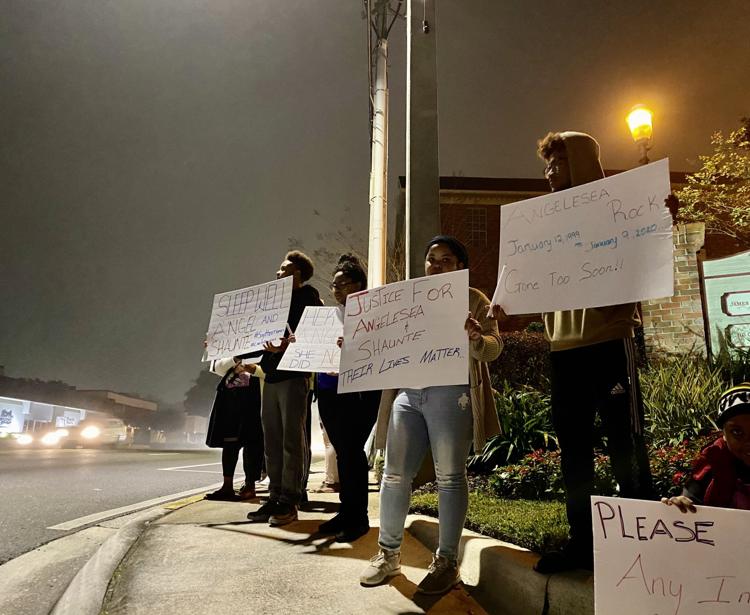 Family and friends gathered Thursday morning before sunrise to remember the lives of two UCF students, Shaunte Chambers and Angelesea Rock, who died in a car crash on Jan. 9.
The group stood with posters and candles on the corner of 600 East Colonial Drive where the accident happened. The candlelit service was organized by Marcia Mcintyre, Rock's mother, who remembers her daughter dearly.
"Angelesea was an amazing daughter, amazing child, and a young lady with limitless possibilities," Mcintyre said. 
The accident occurred at 2:40 a.m on Jan. 9 according to Orlando Police spokesman Sgt. David Baker. 
Baker said officers were called to a crash involving a Volkswagen Jetta and Ford F-150. Baker said the truck was driving erratically and slammed into the Jetta.
Baker said two other women that were in the car with Chambers and Rock were taken to the hospital in stable condition. Baker said police K9 and helicopter found a subject hiding nearby the crash. Baker said when the police arrived on the scene, there was no one in the other vehicle.
A man believed to have been in the truck was found hiding on the north side of the lake, according to police.
It's unclear why the man exited his vehicle and hid by the lake but it will all be part of the ongoing investigation, Baker said.
"Decisions about whether charges will result from the crash itself will likely take at least two [to] three months because those decisions are made at the conclusion of the investigation," Baker said. 
Among the group remembering Rock and Chambers was junior kinesiology major Tia Butterfield, who had been friends with Rock since middle school.
"I saw her the night of the accident at Gilt [Nightclub]. I was strolling and she was hyping me up, 'go Tia, go Tia!'," Butterfield said. "I'll definitely miss her beautiful smile and her lively spirit."
Donovan Chambers, Shaunte Chambers' brother, was at the service as well.
"Shaunte is amazing, beautiful, intelligent, strong," Donovan Chambers said. Shaunte is everything that you would want in a person. What happened is a tragedy. Justice for Shaunte and justice for Angelesea."