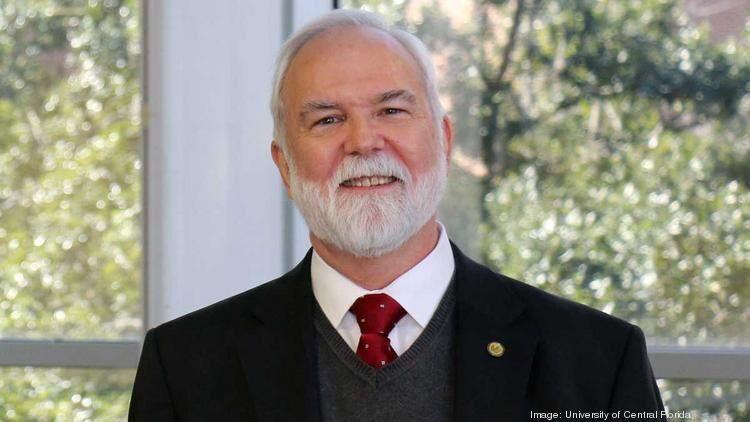 The United Faculty of Florida at UCF council raised concerns over UCF President Alexander Cartwright's unilateral appointment of Provost Michael Johnson in a Jan. 31 statement.
Although not required, the appointment of a provost is traditionally done through a national search where several candidates can apply and share their vision for UCF should they get the position, according to guidelines from the Office of Institutional Equity. President Cartwright appointed Johnson as provost without conducting a national search.
Johnson served as interim provost for two years, and Cartwright announced the appointment on Jan. 18, saying in a statement that the decision was made after consultation with the Board of Trustees and the UCF community.
Johnson spoke at the faculty senate meeting Thursday about his perspective on his role as provost and addressed the concern that because of his unilateral appointment, he will only serve the president.
"I don't think any decent administrator, and I hope I'm one of them, just does what their boss wants all the time," Johnson said.
Johnson said that although his position is dependent on the president's will and can be removed at any time, he will make decisions based on what will be best for the university, even if it means disagreeing with the president.
"If at some point it's in a direction that I think is inappropriate, if I think we're doing things that are bad for faculty, if I think they're poor for our students and I don't think it's because we have no choice but because we're making bad choices, it's my responsibility to walk away from that," Johnson said.
Cartwright was not present at the meeting to comment on his decision.
Robert Cassanello, UFF president and associate professor of history, said that as a faculty member, he felt he was not given the opportunity to provide feedback on Johnson's performance as interim provost.
"President Cartwright said, 'I spoke to the university community.' Well, he didn't speak to faculty," Cassanello said. "He didn't speak to me."
Cassanello said he would have asked Johnson where he was on important issues and his goals for the university had there been a national search.
"He could have addressed them, but we didn't get that opportunity because President Cartwright didn't allow it," Cassanello said. "So, this is a really serious thing in my opinion."
Talat Rahman, member of the UFF council, said she felt that holding a search for the provost position would have benefitted not just the university community but also Johnson himself.
"In an open search, he may have still been the top candidate for a variety of reasons, but it sets up this dialogue in which everyone in the university participates," Rahman said. "A lot of times you get ideas, even the candidates get ideas, from what others are saying."
The UFF statement was drafted and approved by a majority of the council members, who raised concerns over the process which led to Johnson's appointment to the provost position.
"The absence of a national search denies the university community an opportunity for dialogue and input for a critical position at the university," the council said in the statement. "The appointment of a provost without faculty input disregards those who rely on that officer's leadership to uphold the integrity of our academic mission. And it abandons shared governance."
The issue of shared governance has also been discussed in relation to Florida SB 520, which if made law would exempt identifying information about any individual applying for the position of president of a university from the public record unless that individual makes it to the final applicant pool.
Shelley Park, UFF council member, said that within both the UCF chapter and statewide, the UFF has been deeply concerned with recent bills in the state legislature, including Senate Bill 520.
"They speak to a climate in the state of Florida that has become, frankly, increasingly authoritarian and is increasingly interfering with the educational missions of schools, both K-12 and colleges and universities," Park said. "I think this is the broader context within which we become seriously concerned with President Cartwright's unorthodox decision to unilaterally appoint the person who oversees UCF's core academic mission."
The bill is controversial because it privatizes the presidential appointment process at universities, which is a process that those in opposition to the bill believe should be available to the public.
"This is not a question of privacy," Rahman said. "If you are going to be looking to serve as president of the university...people should be able to find out about what you have done in the past, and it should be an open process."
Park, a professor of philosophy, said that the president's appointment of Johnson raised concerns with the council over the decision-making structure at UCF. 
"I think we'd like to see a renewed commitment from the upper administration to the notion of shared governance, especially on matters related to UCF's teaching and research mission," Park said. "Governance needs to be shared with faculty."
Cassanello said that as a faculty member, he feels his opinion is not valued by the university's administration.
"The administration does not care what faculty think and I think if they cared what faculty think and if they tried to find a way to access the thoughts of faculty, the experience of faculty, the university could run better," Cassanello said. "It could be a better workplace."
Johnson will serve as provost for five years, after which faculty will be given the opportunity to share their thoughts on his performance in the position as part of an evaluation process. Johnson's two years as interim provost will count toward the five-year term.
"It is not just the president or just the provost who makes the university," Rahman said. "The university is made by its faculty, by its students, by staff, by everyone who is there. So, I think it is important that input be taken from all stakeholders."
UCF spokesman Chad Binette stated in an email Monday that as UCF aspires to become the world's leading research university, Johnson is the ideal leader to help Cartwright develop and implement the strategic plan and create UCF's new budget model. 
NSM Today reached out directly to Provost Michael Johnson, but he did not respond to a request for an interview.