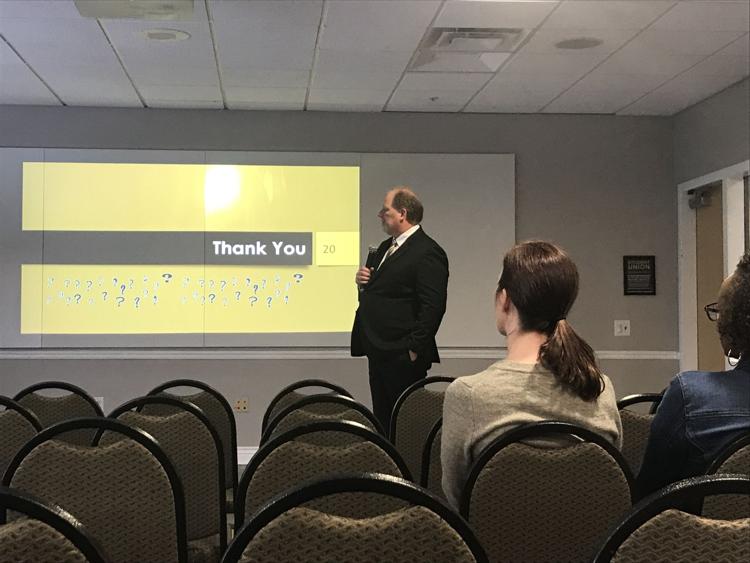 Christopher Ingersoll was the final candidate of four to present his case as to why he should become the founding dean of the new College of Health Professions and Sciences.
The presentation, followed by a question and answer session, was held Monday afternoon in the Student Union's Garden Key Ballroom for the UCF community to attend. Approximately 20 faculty members were present, not including participants streaming the presentation live.
Ingersoll is the vice provost of health at the University of Toledo in Ohio, where he has served as a liaison between the provost and the health sciences deans since July 2018. He is also the dean for the College of Health and Human Services at the University of Toledo, where he has served as the academic, administrative and financial officer since July 2016.
In the past, Ingersoll also worked at Central Michigan University as dean and as director at the University of Virginia, Indiana State University and the University of Nevada. 
Nicole Dawson, Assistant Professor and Co-Director of Innovative Mobility Initiative Lab wanted to know why Ingersoll wanted to be dean at UCF.
"With all of your experience, it seems like taking a job at UCF would be a step back for you," Dawson said. "So why UCF and why right now?" 
Ingersoll said the idea of an emerging academic health sciences center made the opportunity to become dean of this new college interesting to him.
"If you think about specializing in the most complex and difficult diagnoses and treatments, the idea is that someone from the community should say, 'I have a really complicated problem, I should go to UCF to get that resolved,'" Ingersoll said. "That's the power that comes from this type of opportunity."
Ingersoll emphasized the opportunities that come with having an academic health sciences center, which allows a university to engage and serve the community through the practice of clinical care.  
"[An academic center] identifies the responsibility for conducting research," Ingersoll said. "A large research university has a responsibility to do impactful research."
Ingersoll said he understands that every institution is different, which is important to keep in mind. 
"I think I just know how to ask the right kinds of questions to find solutions for the college," Ingersoll said.
He also said that he has used his experiences to help shape his leadership approach, with trust and respect being the most important foundations.
"If you don't like me as a person but you trust and respect me, we can get things done," Ingersoll said. "Trust and respect are not something I can demand from you. I have to earn that from you."
Ingersoll said when it comes to leadership, the first thing on his mind is building trust with the people he works with. 
"I want to learn how to build the respect and trust of the people I work with and empower them," Ingersoll said. "That's the reason I got into administration and that's what I enjoy doing. When you empower people and they do great things, that is the greatest reward I can receive."
At the end of the presentation, faculty members spoke up about what they are looking for in a dean. Stability was high on the list of qualities.
Ingersoll said he thinks it is important that everyone is included in deciding the direction of the new college, instead of a dean coming in and taking over.
"I don't give a lot of direction, but I ask a lot of questions," Ingersoll said. "Usually in those conversations you can come to a mutual agreement on what the strategy and approach ought to be."
Evaluations for the candidates were open for faculty, staff and students to submit by 8 a.m. on Tuesday. The announcement for a chosen candidate has not yet been released.