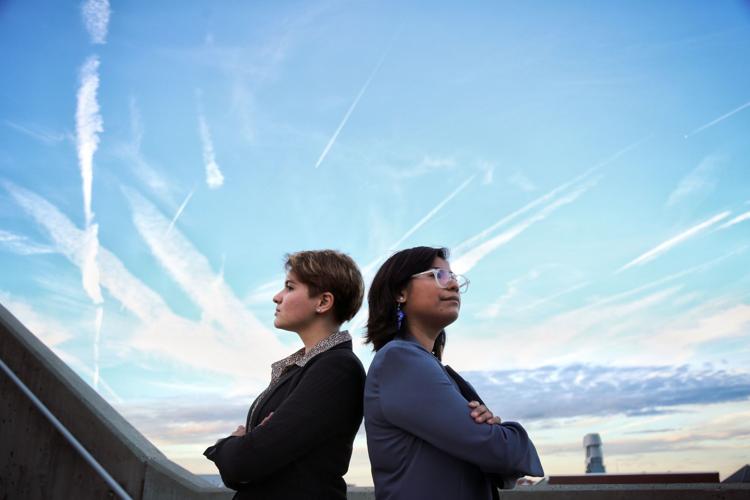 Emilia Kosonen, junior film major, and Karen Caudillo, senior political science major, officially announced their presidential candidacy on Thursday along with their campaign platform's slogan — "UKnighted for All."
"We wanted to show that we are here for all Knights," Kosonen said. "We want to include everybody in not only our platform but our future administration."
Kosonen said that the idea for the platform first came from the pair's shared desire to be there for students of all backgrounds and from diverse areas of campus life.
This election is Kosonen's presidential campaign debut, but this will be Caudillo's second time taking part in UCF's Student Government Association Student Body Presidential Election.
In 2018, Caudillo ran for president with Theressa Tong as vice president in their "IgKnight Your Possibilities" campaign. The pair lost to current President Josh Boloña and Vice President Jad Shalhoub in a run-off election.
Although this time Caudillo will be running as vice president with Kosonen at the helm, they said they don't look at their campaign as a hierarchy and want to divide the power equally between them as best they can.
"Just because it's president and vice president doesn't mean that I have or want to have more power over Karen," Kosonen said.
As UCF Student Body President, Kosonen would represent the student body on many university committees, including a seat on the Board of Trustees. Caudillo said that while the position is not extended to her as vice president, the pair will discuss and evaluate the position of being in those leadership positions as a team.
"It kind of proves our point with Karen running as president last year and running as vice president this year that we're equal," Kosonen said.
Despite registration opening in January, the pair said they'd been unofficially planning their platform since working together in the UCF senate, where they met in 2017 while running against each other for Chair of Student Body Advocacy.
The campaign ended with Kosonen and Caudillo receiving the same amount of votes, and the senate members elected Kosonen after a tie-breaker vote.
Caudillo was later elected as the SGA Vice Chair of Student Body Advocacy, which is when they said the planning for their campaign truly began.
"We've been working on our platform since then because we've been trying to envision how we can make student government a better place for students and how we can improve our campus," Kosonen said.
The "UKnighted for All" platform includes plans to make the Bright Futures Scholarships available to undocumented students, open a vegan restaurant in the Student Union to provide healthy dining options for students, invest in the arts, and advocate for wage increases for students, graduate assistants and professors.
Some of those improvements have already been put to action.
Caudillo, with the help of Orlando State House Rep. Carlos Guillermo Smith, filed a bill on Jan. 24, 2019, opening Bright Futures Scholarships to students under the Deferred Action for Childhood Arrivals, like herself, and students in Temporary Protected Status programs.
The bill, if passed, would expand access to state student financial aid awards to the 27,000 DACA recipients — 18 percent of which are enrolled in post-secondary education — and the 45,000 students in the Temporary Protected Status population.
"Just the fact that it was introduced and it's going to be talked about in debate is really important," Caudillo said. "We just want to make sure we're standing with all of UCF."
As for Kosonen, she has been championing for healthier restaurants and menus at UCF for two years. She said when she first got to UCF in 2016, she ran a campaign against Aramark, the customer service business that sponsors dining at UCF. In November of that same year, she said Aramark committed to implementing more humane conditions for their chickens by 2024.
She said it was during that experience that she first became acquainted with SGA and began to see them as a resource. She joined the senate the following year in 2017, and she succeeded in bringing a vegan food truck on campus that same year.
Despite the changes she wanted to see on campus, Kosonen said she never imagined herself running for student body president until this year.
"When I started to think about it, I started to question why I wasn't envisioning myself in that position," Kosonen said. "I think part of it is because we've never really seen women in that particular position of power."
Caudillo and Kosonen said they plan on supporting the arts by advocating for Phase Two of the performing arts center, which includes a 600-seat concert hall, two theaters with 520 and 225 seats, as well as a costume, scene and prop shop.
"Our band still performs at high school auditoriums," Kosonen said. "I've met with a lot of people from Marching Knights and other people from different arts organizations and everyone you mention Phase Two to are like 'Yeah, Phase Two; when's that supposed to happen?'"
They said they will also be pushing for career fairs that extend to the arts.
Kosonen said that even the career fairs held at the Rosen campus for the hospitality management students are limited. She said many students she spoke to hoped for more people coming in from the show business and the entertainment field. 
"We have arts students and film students who need more networking opportunities," Kosonen said. "Right now, our career fairs — as they stand — are pretty limited to business and engineering." 
When it came to making the final decision to run, she said Caudillo played a huge part.
"If we have these problems why can't we be the ones to address them?" Caudillo said. "You have to look yourself in the mirror and [ask] 'Why not me?'"
Caudillo said she's most excited to see Kosonen in different spaces learning how to best impact students. She said she recalled meeting women who'd experienced sexual assault on campus, students who suffered through homelessness and transgender students who struggled with their identities when she ran with Theressa Tong. 
"It was a lot of good moments, but it was a lot of serious moments where we felt like we weren't doing enough," Caudillo said. "I'm excited for Emilia to have that experience because at the end of the day it makes you a better leader as a whole."
The pair join three other presidential campaigns in this year's elections — Kyler Gray and Madeline Mills, Antione Fields and Darbi Welbaum and Ashley Stewart and Darwin Olcima.
Voting will run from March 4-6 on the Student Union patio or online at myUCF. Should there be a tie, run-off elections begin March 18.
Kosonen said their biggest concern is involving students at every stage of their candidacy. She said she wishes for students who have an interest in their platform — whether it be sustainability or diversity — to get the chance to participate.
"They have the power to make change and be empowered to make a difference," Kosonen said. "There are ways to make their voices heard."