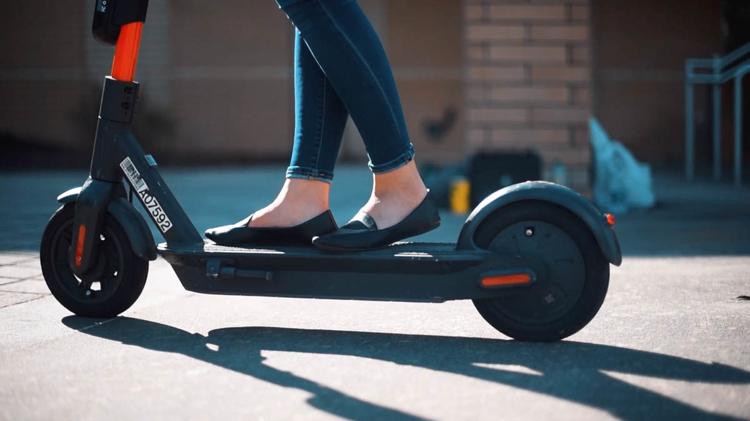 Students will be able to scoot to class and all around campus beginning in January 2020 with the launch of Spin e-scooters, according to a statement released on Monday.
UCF Student Government announced its partnership with Spin Monday morning and will bring about 300 e-scooters and 12 charging stations to campus at the start of the spring semester.
The program, overseen by UCF Parking and Transportation Services, will have different features and limitations not previously seen by Lime bikes on campus. According to a statement, Spin e-scooters at UCF are:
Only able to be operated between the hours of 5 a.m. and 11 p.m., minimizing the risk of impaired use.
Prohibited from exiting the perimeter of UCF's main campus.
Speed-regulated in pedestrian-heavy areas.
"Campus mobility is one of the most important factors in overall student satisfaction, and this micro-mobility partnership will increase access across our growing campus," said Emmett Davy, UCF SG Transportation and Safety Coordinator, in a statement. "Above all, safety remains our top priority as we try to ensure that students get where they need to go quickly and efficiently."
The app, available for iOS and Android users, allows users to scan the QR code on the top of the scooter to unlock it and pay for rides, which start at as low as $1 with an additional 15 cents per minute. Students who sign up with their Knights email are eligible for discounted fares.
"Our entire executive cabinet has been working diligently these past months to bring this new and exciting service to UCF," said UCF SG Director of Community Affairs, Kevin Olsen, in a statement. "This has been one of the most popular platform points and we are proud to be partnered with a company that we know will cater to UCF students' needs."
Students will be able to test ride the e-scooters at its soft launch on Wednesday at Memory Mall from 1 to 4 p.m., one of several events hosted by Spin to promote safety and parking training.