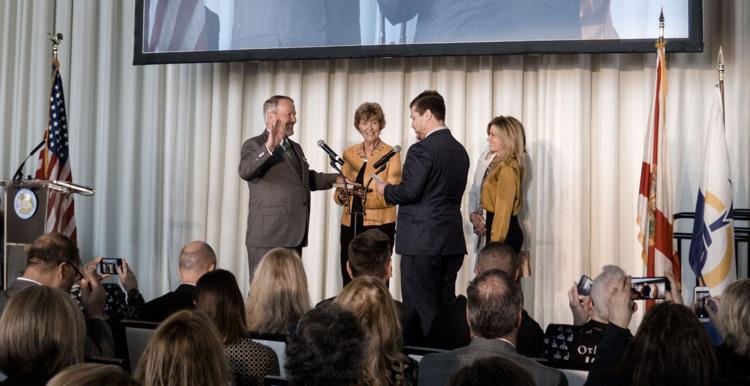 When Orlando Mayor Buddy Dyer's reinstatement speech was interrupted by an alarm on someone's phone, he went along with it.
"Alright, everybody set your alarm to vote on election day for the sales tax option that Mayor Demings is putting forward," he said.
It must have been the seventh interruption of its kind during the Oath of Office ceremony on Monday, Jan. 13, but Mayor Dyer seized the moment to sell an idea. With funding from a one-cent sales tax referendum, Mayor Dyer says that Sunrail and Lynx could potentially be combined and mutually expanded to reach as far as the Orlando International Airport.
Having been sworn-in to serve an unprecedented fifth term as Orlando's Mayor, Dyer is committing to reelection promises such as this that would greatly benefit many UCF students who struggle to commute.
For them, Orange County Mayor Jerry Demings' "Penny Tax" is in the spotlight, and it has nearly unanimous support from Orlando's government.
The tax was a controversial idea when Mayor Demings announced it last year, but Mayor Dyer now fully supports it, saying that the ~600 million dollars it could net annually would be a game changer for Orlando's Lynx and Sunrail systems. The benefits for UCF students relying on Lynx to get to class are some of the gold nuggets Dyer is panning for.
"In terms of UCF, a direct route between main campus and downtown campus is already in the works, but I think it's just as important to expand the bus service into some of the needier neighborhoods," Dyer said.
As UCF nears a student population of over 70,000, some may wonder why this hasn't been done already. City Commissioner Patty Sheehan would agree.
"I've been talking about beefing up the bus service since I got elected 20 years ago and it's ridiculous that we have to keep talking about this," Sheehan said.
Sheehan, Orlando's longest-serving city commissioner, was on stage before Mayor Dyer that morning as she swore to serve a sixth term in District 4. She says that Orlando has simply never had direct funding for Lynx.
"What we've always done is we've kind of cobbled it together, the city and the county has had to appropriate from our leftover funds," Sheehan said. "There aren't the surpluses that we used to have, so it's very very important for things like public transportation and affordable housing to have a direct funding source, and that's what Mayor Demings is proposing, I support it one hundred percent."
Commissioner Sheehan says that the biggest improvement, beyond Mayor Dyer's plan to integrate Sunrail with Lynx and expand the train's service to Orlando International Airport, will be committing to reliable 15-minute interval times.
"That's the thing, some of the interval times on these buses are up to an hour," Sheehan said.
Those who take Lynx to school aren't the only UCF students benefiting from Mayor Dyer's reinstatement.
Jonah Dearth, 22, is a digital media major on the game design track. He praises Mayor Dyer's push to bring Electronic Arts' Florida headquarters to the creative village in downtown Orlando. 
"The networking abilities that EA's going to bring with that development are big for sure," Dearth said. "It's a great move, hopefully one that says more about other studios in the future."
Dearth suggested that students in his track often worry they'll have to move to California for a job, but not for much longer.
Mayor Dyer says that EA's new headquarters should be completed in two years. The Creative Village as a whole is being groomed to act as an industry cluster for technology. 
"We've got about a half a billion dollars of real estate development that's gone on so far, but it'll probably be closer to two billion by the time we're done," Dyer said.
As the multi-billion dollar Creative Village continues developing close to historically disenfranchised neighborhoods on the other side of Parramore Avenue, Dearth worries that having a tech hub runs the risk of widening Orlando's class divide.
"I don't want Orlando to repeat the same mistakes that we've seen happen in cities like San Francisco or Los Angeles, really overcrowded cities that haven't accounted for real estate and housing for populations that they shove in," Dearth said.
Brandon Tang, 25, is another digital media major on the game design track, and was eating lunch with Dearth at the time. Tang spoke more optimistically about the Creative Village's future.
"I think [the money's] going to go into the right place, so it can spread, that's the best case scenario that most people hope for when they put money into any area," Tang said.
Amy Donley, associate professor of sociology at UCF, says that no "one thing" such as the Creative Village could have such an impact.
"The issue here is the entire structure," Donley said. "We either need jobs that pay a higher wage, housing that is more affordable, or both."
The current minimum wage in Orlando is $8.46 an hour. Professor Donley says that a livable wage for a single person with no kids in Orlando is now $12.70 an hour, inferring that many need to balance two minimum-wage jobs on top of school or otherwise to survive. With a child, the livable wage becomes 25 dollars an hour, or four minimum-wage jobs.
"Orlando has the biggest affordable housing crisis in the country right now, worse than San Francisco, Seattle, the places you're talking about," Donley said.
"We have a lot more people, a higher percentage with a higher rent burden compared to any community in the country, so if you can't afford your housing, you're one moment away from ending up homeless," Donley said.
According to an Orlando Economic Partnership report, an average of 1,500 people move to the area every week. In November, the Orange County Housing For All Task Force unanimously voted to move forward with a ten-year plan to allocate over 30,000 affordable housing units.
Mayor Dyer says that money from the penny tax referendum will be distributed to the county to help out after public transportation gets a fair share.
It's unknown if this term will be Mayor Dyer's last, but he and his commissioners chalk it up to four years of big plans ready to be delivered.
"I'm better prepared to be the Mayor of the city of Orlando today than I was 17 years ago, and I'm just as excited, probably more excited, because I know what lies in store for us," Dyer said.
As the ceremony was adjourned, Pastor Terence R. Grey said a prayer to bless all involved. Silence fell atop the hundreds of people listening.
Before Pastor Grey got to say "amen," he was interrupted by an alarm on someone's phone.