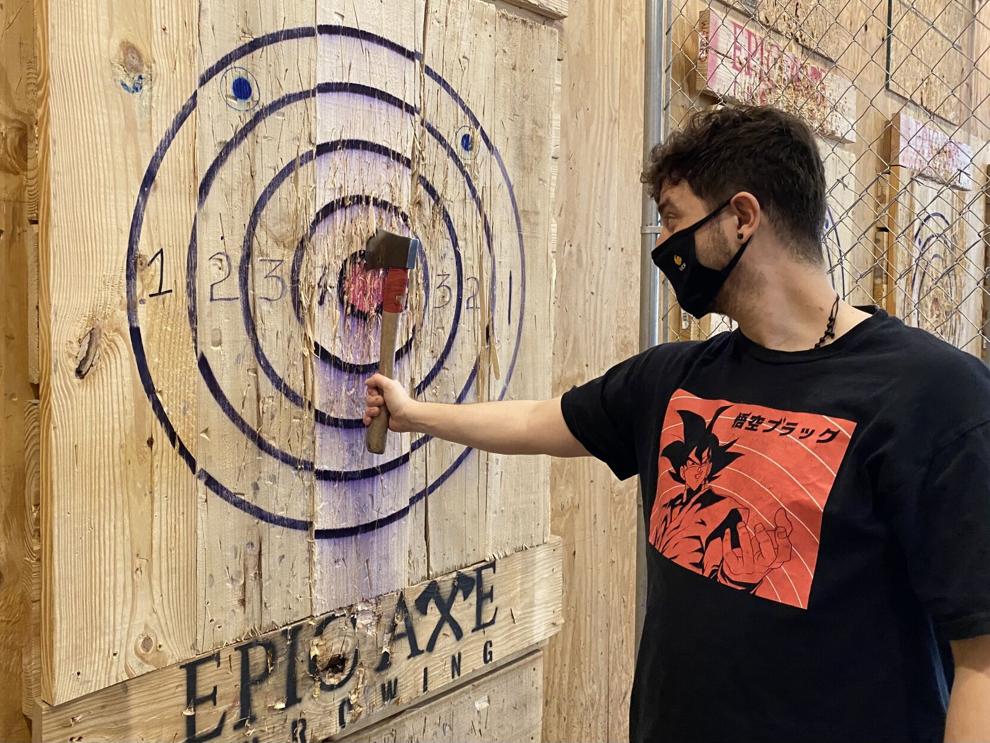 Masked, socially distant and hauling axes, students released their pandemic stress in downtown Orlando on Friday. 
Downtown Student Life hosted an axe-throwing event for UCF Downtown and Valencia students at Epic Axe Throwing in downtown Orlando on March 19. The event was organized for students to de-stress in a "fun, competitive way," according to the Downtown Student Life Instagram account.
Graduate student Wilson Liu said that this was the first time he heard about UCF using axe-throwing as a de-stressing event, but it was still successful in helping him release stress.
"Usually the way I hear about de-stressing events for college, it's like 'Hey, come and grab a free coffee,'" Liu said. "It's typical things like that, not events where you have to throw axes."
Students had to RSVP to grab one of the 20 spots available for the event and sign a required safety waiver before arriving at the venue. Although reservations are $25 per person at Epic Axe Throwing, the event was free for students who signed up.
For two hours, attendees hurled axes at cottonwood boards in hopes of hitting a bulls-eye. 
Nitin Bakshi, an international graduate student, said that the event was a good way to escape the demands of his interactive entertainment master's degree coursework.
"We barely sleep like, four hours a night because it takes so much time to even make something small," Bakshi said. "Here, when you're focusing on throwing your axes and you get into that zone, you don't think about all the other things stressing you out."
Joe Wiltrout, the manager of Epic Axe Throwing, said that it opened in October 2018 and was the first axe-throwing venue in Central Florida. 
"We had to close for two months because of the lockdown last year, but people still come in to have fun and release everything pent-up because of the pandemic," Wiltrout said.