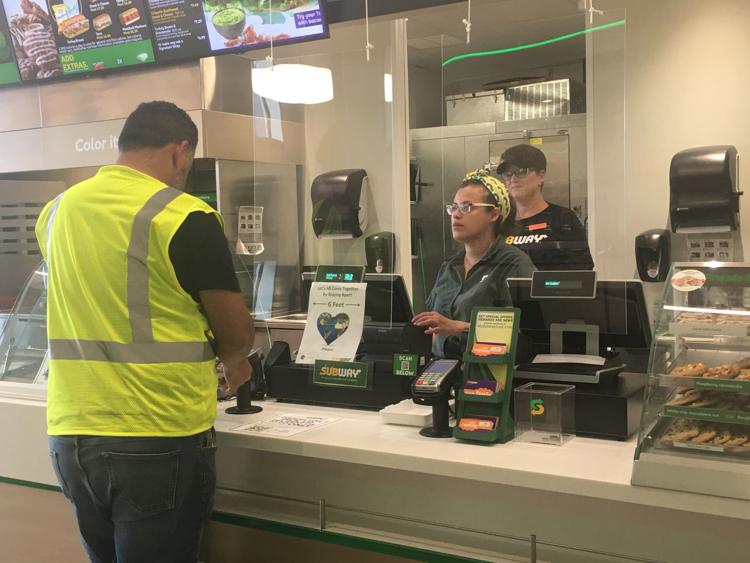 At UCF's downtown campus, there are three main restaurants within walking distance of the Creative Village area where students and faculty can go to eat.
However, since the start of the COVID-19 pandemic, these restaurants have seen a loss of revenue forcing some to temporarily shut down, including Dunkin' and the Shade Bar and Grill. 
Both Dunkin' and Subway are located in the UnionWest dorm building.
Subway is the only restaurant on the campus that is open and does not plan to close anytime soon, but there has been a decrease in store hours, Subway general manager Ruby Rodriguez said.
Regular Subway employees' hours have been reduced and they are now working single shifts, Rodriguez said. On top of that, there has been a decrease in student workers and many had to be transferred to other Subways in order to receive hours, Rodriguez said.
Once the pandemic has passed, however,  the student workers will be able to retrieve their positions at the UnionWest Subway, Rodriguez said.
The Subway inside UnionWest is also a cross-training store for the entire department, Rodriguez said. This means that when the store has slow traffic, Rodriguez will train an upcoming manager which could take up to four to eight weeks. Once the training is complete, that manager will be transferred to a different store, she said.
There has also been a decrease in customers. Typically, there would be about 500 sandwiches made a day, but now it has been cut down to about 100 sandwiches a day, Rodriguez said. 
Subway continues to stay open in order to serve the community, such as construction workers that are building new apartments next to or near the UnionWest dorms, Rodriguez said.
"I still feel like we should stay open not only for business," Rodriguez said. "I think we still have to stay open for our community."
While students who live in UnionWest are provided a mini fridge, according to the UnionWest website, the mini fridges do not have a freezer, making it difficult for student to store food long-term. Students are unable to buy fresh food, meat and freezable vegetables which could go bad quickly, Valencia political science freshman Timothy Pressey said.
"It's kind of hard to stock up on like fresh stuff," said Pressey. "There's like a time limit you have to eat it within."
Some students believe keeping Subway open gives the remaining residents a chance to eat healthy and obtain fresh food.
"I'm glad that Subway is available," Florida Interactive Entertainment Academy student Taylor Wellings said. "I feel like it gives you the most opportunity to have healthy food because they have those fresh vegetables."
Although students are able to buy sandwiches from Subway, others prefer to order out from a different restaurant or purchase food from the supermarket.
However, some items can be hard to obtain, senior legal studies major Bryan Arnold said. Arnold said he had to drive to multiple Publix stores in one trip in order to find certain items that have been sold out, such as spring water and hand sanitizer. 
Arnold said he goes grocery shopping once-a-week as a way to social distance but looks forward to going when he gets the chance.
"Now that we have nothing else to do going to the grocery store has become like a fun task."