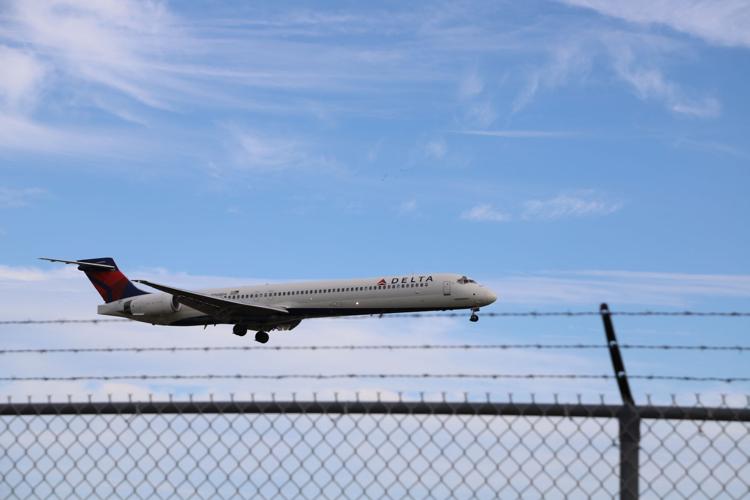 United Airlines and Delta Airlines are extending the window for flyers to change the date of their already-purchased flight tickets and use their travel credits, due to the COVID-19 pandemic.
United Airlines announced on Twitter Saturday that those who had travel plans that had been ruined, and had an electronic travel certificate for the value of their ticket, now have two years from the date it was issued to book a new flight and up to an additional 11 months to travel using that ticket. Electronic certificates are travel certificates that can be used toward transportation on any flight operated by United Airlines, Inc. or United Express according to the United Airlines website.
United Airlines is committed to doing what is right and fair for all of their members who's travels have been impacted by the coronavirus, United Vice President of Loyalty Luc Bondar said in an announcement on the United Airlines website.
"Over the years, our members have placed their trust and loyalty in United, and through the various initiatives we're laying out today, we are reiterating our mutual commitment and loyalty to them," Bondar said in the announcement. "When they are ready to travel with us again, we will be there for them. And in these unprecedented times where it seems like every day brings new challenges, it's an honor to share positive news that will – I hope – put a smile on the faces of our loyal customers."
Delta Airlines has a similar deal going on, allowing flyers to change their flights for up to two years without paying a change fee, according to the Delta Airlines website. Delta Airline tickets usually expire after one year of being purchased, but the company announced on Twitter Friday that it would be extending its policy so that those who had already purchased a ticket can travel through May 31, 2022. 
Delta Airlines is only allowing this two-year window option to customers who were supposed to fly in April or May and had booked their ticket by April 3, according to its website. Those who had their flights canceled or have e-credits for flights during that time are also eligible for this extension, according to the company's website.
Delta wants to thank its customers for being loyal during this time by providing them with this option, said Sandeep Dube, Delta senior vice president of Customer Engagement and Loyalty and CEO of Delta Vacations, in an announcement on Delta's News Hub website.
"While our focus is on keeping customers and employees safe and healthy today and always, you are a part of the Delta family and we know how important these benefits are to you," Dube said. "That's why as coronavirus continues to dramatically impact travel across the globe, you don't have to worry about your benefits – they'll be extended so you can enjoy them when you are ready to travel again."
Senior social work major Destinee Bailey said that she thinks it is a great idea that United and Delta Airlines are doing this as she said that her family can now use the tickets they purchased for her graduation another time.
"People like my grandmother were supposed to fly down for my graduation, but can't due to COVID-19, so I think offering an extension on when tickets can be used is great," Bailey said. "I am hoping that she can use the extension to come down if my graduation is rescheduled."
As for United Airlines, the company is working to change its policy to reflect that those who purchased electronic certificates now have two years to use them, according to the United Hub website.
Dube said that Delta will continue to make adjustments for the needs of their customers based on the impact of the COVID-19 pandemic.
"We are continuously monitoring how coronavirus impacts travel and will make additional adjustments to support our customers' needs as the pandemic evolves."