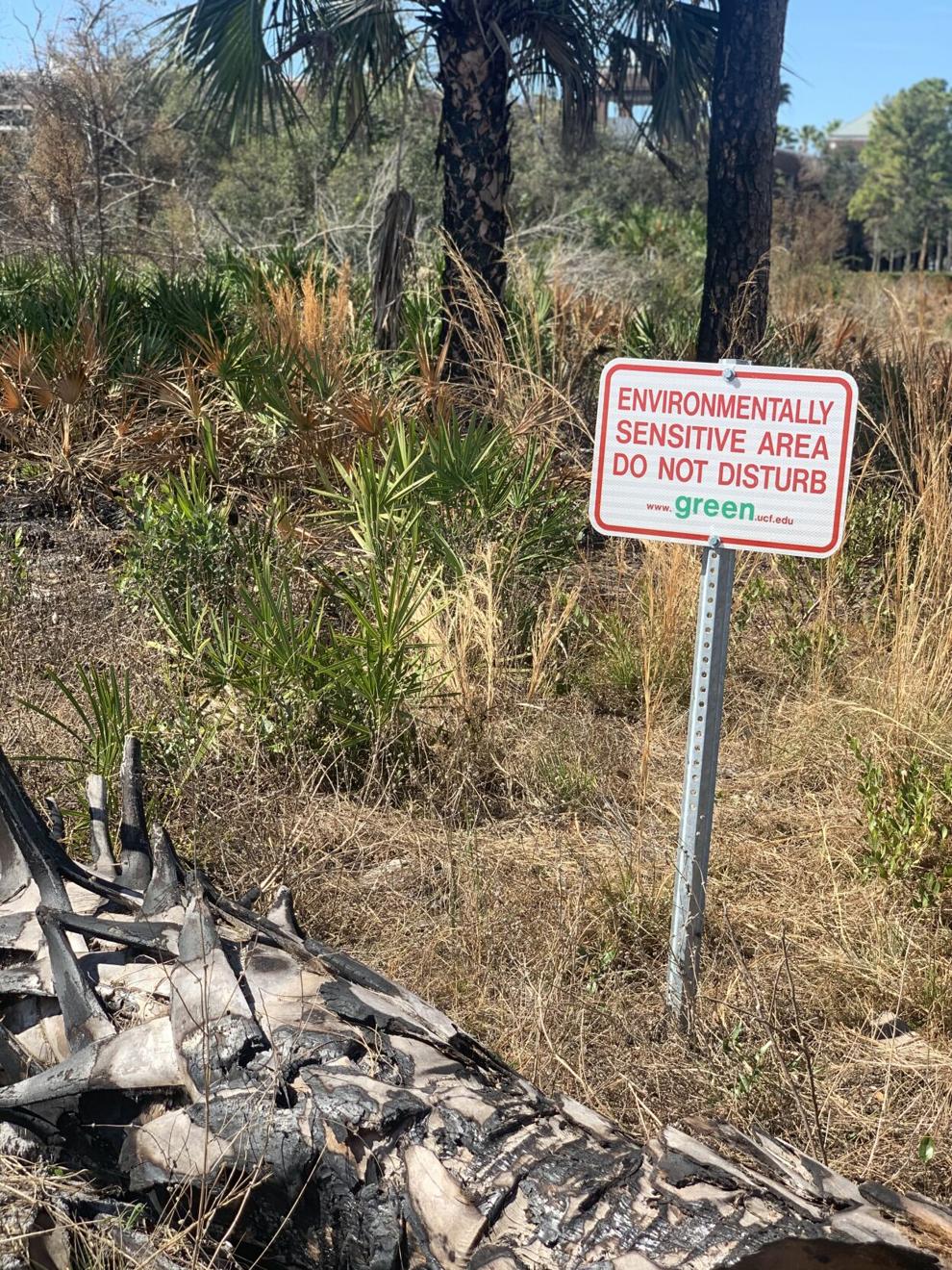 Impact from COVID-19 may have caused both setbacks and gains to UCF's path to sustainability and restoration.  
Yara Watson, a sustainability specialist for the Department of Sustainability Initiatives, said COVID-19 may have been a contributing factor to the reduction of emissions on campus that is outlined as part of the Climate Action Plan created in 2007. She said that with fewer people on campus due to COVID-19 regulations, she believes that UCF will hit the 2020 goal outlined in the plan. 
"The Climate Action Plan really came out of a commitment that President Hitt committed us to back in 2007," Watson said. "We were among one of the first universities to sign up for the American College and University Presidents Climate Commitment. That is where our commitment to becoming carbon neutral by 2050 came from. From that commitment, a Climate Action Plan was developed to steer us in how we were going to reach that goal."
Watson said that this plan also focuses on UCF's landfill diversion rate, collaboration with research initiatives, and curriculum integration. She said that according to the plan, the first target was to reduce emissions on campus by 17% by 2020, the second is 42% by 2030 and 100% by 2050. 
Although the 2020 emissions report has not been made available yet, she said in 2019, UCF reduced emissions by 12%. She said she is hopeful that when the data for 2020 is available, UCF will have hit the 17% goal. It is unclear how these numbers will change when UCF returns to full operations in the fall semester. 
Watson said that she does believe that COVID-19 has changed the environment on campus, but not in an obvious way. She said that since the campus has seen fewer students due to COVID-19, they have been able to rollback energy consumption, like turning off lights in buildings that are not being occupied like they used to be.
"So we have a lot of great technology in place and procedures to scale back buildings when they would be populated," Watson said. "This normally happens during planned break periods. So for example, some summer sessions over the holiday break, we set back some of those building's, you know, energy systems, lighting systems, so we're not using energy when the building is depopulated."
Watson said that the Office of Sustainability Initiatives did face large budget cuts since COVID-19 shut down campus last year. She said that although it did lose its entire student staff to the budget cuts, the office has been partnering with the Utilities and Energy Services to expand the Climate Action Plan in 2021. 
"It's going to be a year-long process with lots of campus engagement," Watson said. "There's going to be a couple of town halls, at least five separate committees, presentations to administration, surveys, so on and so forth, that we can get lots of feedback to veer the direction of the plan, and get lots of community buy-in so that implementation goes a lot more smoothly, so that plan is you know, going to be a full year-long intensive process."
While Watson believes that it will be a good year for the office, Emma Roehrig, the Student Government Sustainability and Innovation Coordinator, said that the cut to student staffing has set back a lot of the initiatives that the SG has been able to work on.
"So, before they had two outreach interns, two social media assistants, two reporting assistants, and then two engineering assistants. And now, all there is the director, Yara Watson," Roehrig said. "So it's gone from a staff of like 10 to one, which is pretty sad because they were doing a lot of great programming and outreach." 
She said that a lot of events have had to either be canceled or made virtual because of COVID-19 safety regulations, preventing projects that could better the environment to be canceled. She said that the biggest changes she has seen on campus have been things that students would not normally notice, even things that are not happening directly on campus.
Roehrig said that food waste from UCF's main campus used to be transported to the downtown campus and then the city of Orlando would take it to Harvest Power, a waste management facility that converts waste into clean fuel and landscaping material, like mulch and fertilizer. Harvest Power has shut down indefinitely, said Roehrig, causing the whole waste disposal plan to be reworked. 
"Unfortunately, Harvest Power has shut down, because they used to power all Disney, and then they would see their food waste from all Disney," Roehrig said. "And then with Disney not having the regular capacity, they didn't have enough to keep it going. And as far as we know, it's not opening up anytime soon."
Patrick Bohlen, the director of UCF's Arboretum, said that since there is less traffic on campus, the amount of waste has been reduced. He said that even though there is still a lot of trash to pick up, with the campus having a reduced population, there is a significantly smaller amount of trash generated. 
"There's a lot less just general trash on campus because there's fewer people," Bohlen said. "So whether they're intentionally littering or not more people just means there's more stuff that's that gets dropped or is around." 
Roehrig said that although a lot of plans had to be reworked due to COVID-19, there are still positive projects happening across all of UCF's campuses. 
"We have been able to still do a lot," Roehrig said. "Last week we implemented tower gardens at the downtown campus, we're still working on putting a garden at the Rosen campus for culinary students. It's gonna be the Rosen Diversity Garden, so it's championing biodiversity, as well as, like multicultural diversity." 
Bohlen also said that there has been a lot of landscaping that has been done on campus since the population was reduced, but also said that no one is on campus to notice the changes because of COVID-19. He said that in a normal school year, Memory Mall would be fenced off because it would become so damaged after tailgating, but that was not necessary this year due to the lack of students on campus. 
"It's easier to work on a campus without 30,000 people walking around," Bohlen said. "As a result, also, then we've been able to do landscaping projects pretty easily. We've been continuing and have done some major projects that people haven't noticed because they're not on campus."
Bohlen said that with fewer people on campus, they have also been able to manage the natural lands around UCF with prescribed burns, something that was more difficult to do with the campus at full capacity. According to UCF's Landscape and Natural Resources webpage, many native plants depend on these fires to regenerate, and that the prescribed fires help prevent wildfires that can ignite from Florida's frequent lightning storms. 
While it is unclear if going back to full capacity will change any of these setbacks and gains, UCF announced earlier this month that it will be returning to normal operations starting in the fall 2021 semester. Watson is staying optimistic, saying that UCF's commitment to the Climate Action Plan is unique and that UCF has made a lot of progress since committing to it in 2007, and will continue to make progress.  
"UCF is in a unique position because we're a relatively young University, especially compared to the land grant universities throughout the state. And so we've had a lot of growth since we made this commitment," Watson said.