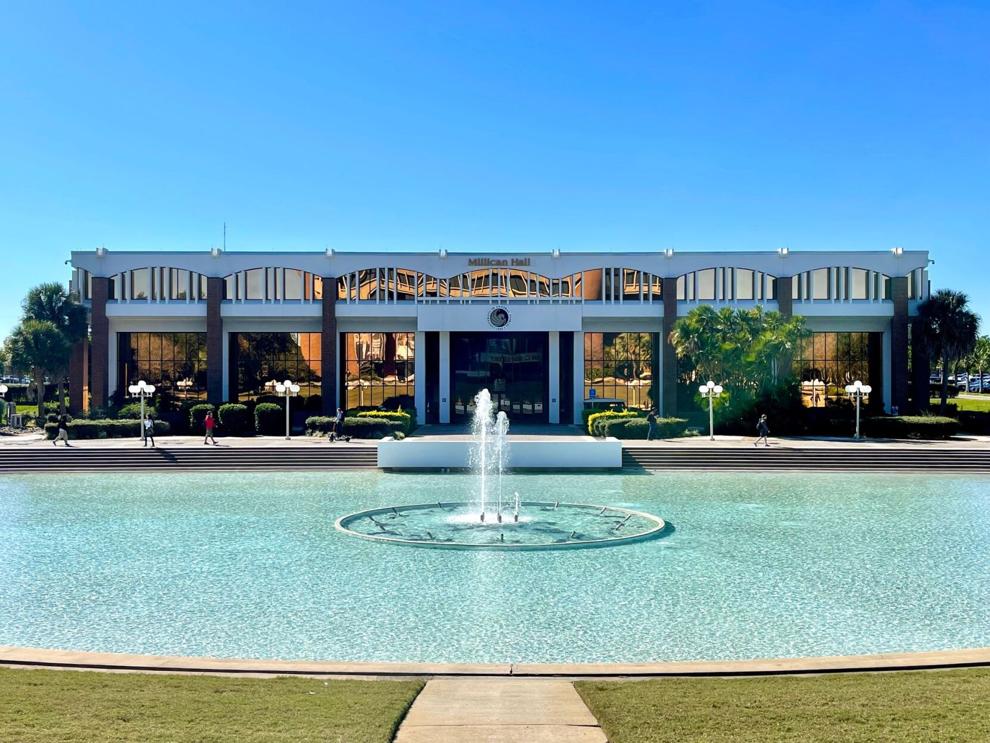 Though the High Education Emergency Relief Fund III application has been temporarily disabled over winter break, UCF students who have yet to apply will be able to do so Monday.
In 2021, UCF was granted HEERF II and III funding following HEERF I in 2020 to help with COVID-19 expenses for the school and to help provide financial support for students and employees who may have suffered pandemic-related losses. This was done in accordance with the federal government's Coronavirus Aid, Relief and Economic Security Act, also known as the CARES Act, an economic stimulus bill signed into law Dec. 27, 2020.
The bill adds up to $2.2 trillion of assistance for eligible Americans and immigrants. Of that money, approximately $14 billion was given to the Office of Postsecondary Education as the HEERF portion, which was distributed to private nonprofit institutions and public institutions, such as UCF. The school received almost $315 million for the full HEERF program, to which every student currently enrolled at UCF is entitled.
On April 29, 2020, UCF opened the application for HEERF I, followed by HEERF II on Feb. 11, which consisted of three rounds of disbursements in April, June and July. Applications for HEERF III opened Aug. 18 and have been put on pause until Monday in observance of winter break. So far, the school has disbursed approximately $123 million to students, but students have to apply to be eligible and receive the HEERF money.
The funds have raised controversy among UCF students, faculty and officials, mainly regarding their handling and distribution. Most recently, on Dec. 2, the UCF faculty union held a virtual press conference to raise grievances, accusing UCF for "sitting on" $112 million of government support for HEERF III while denying it to its employees. Robert Cassanello, president of United Faculty of Florida at UCF, took the lead.
"This is money that can go directly to employees," Cassanello said. "Now the employees mentioned in this passage we do not represent, and we cannot directly advocate for, but you can see that UCF has set no monies aside for these workers, and UFF-UCF would welcome some of the funds to be used for them to assist in the hardship caused by the pandemic."
Cassanello said documentation in the "Funds Expended Categories" section of the Department of Education's Education Stabilization Fund show how the institution could have supported the school and its employees but didn't.
"This could include computers, microphones, cameras, software, subscriptions to Adobe or website HTML creation software, for example," Cassanello said. "As well as assist in the paying of high-speed internet access to faculty and instructional support staff who had to upgrade their wi-fi speeds to accommodate virtual teaching."
As UCF became the largest university in Florida and one of the largest in the nation in terms of enrollment, a number of growth and development issues — wi-fi connectivity, adequate staffing and a tight student-teacher ratio — were investigated for the fall of 2021 semester, as the school resumed pre-pandemic operations.

Cassanello said the funds are meant to help UCF fund COVID-19 supplies, such as face masks, sanitizing stations and hands-free modifications around campus. However, he said the university's administration failed to provide faculty with appropriate personal protective equipment, like CDC-recommended N95 masks, because "it would be too expensive." He said the school gave them only cloth or "cheap, low-quality" paper face coverings.
It was the employees and UFF-UCF, Cassanello said, who had to foot the cost for safer PPE without reimbursement.
"It is difficult getting heard by UCF on this matter because when we speak about this specific federal funding, they assume we are demanding raises, and this is not the case," Cassanello said. "We want some of this money spent on UCF employees as appropriate."
For some students, the HEERF disbursement opportunities were not made loud or clear enough. Out of 20 students interviewed by NSM Today in September, only one said she knew about the HEERF III program. Ana Orth, a psychology sophomore and transfer student who received her emergency disbursement in the fall semester, said there was a clear lack of advertisement about the program.
Orth said the sharing of information and proper orientation about HEERF are extremely important and should be prioritized, as many students lack resources, or even mere essentials, since the pandemic hit. She said a flyer could have been placed at the library or Student Union, places that see a massive flux of students per day. Instead, Orth said disclosures for each round were limited to a few virtual notifications, without publicity or communication around campus.
"It was an effortless attempt from UCF to support its base during a worldwide crisis," Orth said. "If UCF spreads the word about HEERF, more students can take advantage of it and pay for their school expenses or supplies without financial aid."
UCF Communications Director Courtney Gilmore said in an email that UCF alerted students through various social media posts. She said UCF's official Instagram story, Facebook and Twitter posts reached more than 95,000 people combined, while numerous emails and other announcements were made to students. She said the application numbers indicate students are getting the message, with UCF disbursing more than $60 million in awards to over 30,000 students during the latest round of distribution that opened Aug. 18.
Orth said she found out about the program when one of her professors mentioned it during a Zoom class. After receiving the money, Orth said she was excited to share how HEERF helped her this semester, allowing her to purchase a new MacBook Pro to replace her old computer.
Using CARES Act money, UCF funded the TogetherAll program, a platform to give students another source of psychological and mental health support. Orth criticized UCF for prioritizing the launch of a mental health platform before the financial needs of students who may need resources and supplies to continue their education. 
"If students do not remain in the university due to lack of money, what good is the platform if only students are allowed to use it?" Orth said. "The focus and priority should have been on students' financial health."
Going as far back as May in UCF's social media activity, one post mentions HEERF II on Twitter for July 7 and, on Aug. 18, a Facebook post mentions the HEERF III round. 
In the Facebook post, several student comments express frustration for not being made aware of the program and having their education disrupted by a lack of financial support. Many shared the complexity of the application and the delay of disbursement, with some specifically citing their need for the relief money sooner in their pandemic-disrupted UCF journey — not now.
Since 2020, staff from the Office of Student Financial Assistance have been overwhelmed and understaffed, transitioning in-person services into online appointments due to COVID-19 protocols, which caused delays in many services. The office is responsible for disbursing HEERF funds to students
Alicia Keaton, director of the financial aid office, did not respond to NSM Today's request for comment via email. During a phone call, Keaton said UCF emailed all students enrolled in the fall semester about the HEERF III funding and that she recognized the money is helpful to students.
NSM Today also reached out several times to Financial Aid Coordinator Amethyst Castro, Office Support Assistant Marta E. Melendez Diaz, and the CARES Act at UCF staff to investigate some of the concerns surrounding HEERF III funding, including faculty and student claims and the discrepancy in numbers, but received no response.
Questions and concerns surrounding the administration of funds ultimately prompted a press conference Dec. 3, where Gerald Hector, senior vice president of the UCF Administration and Finance Office, said he wanted to clarify the nature and usage of these funds. The conference was accompanied by managers of different departments as well to go over the budget plan for 2022.
Hector told NSM Today on Dec. 6 that he did not see a reason for the lack of comment from UCF officials, as the program is "simple and straight forward to explain."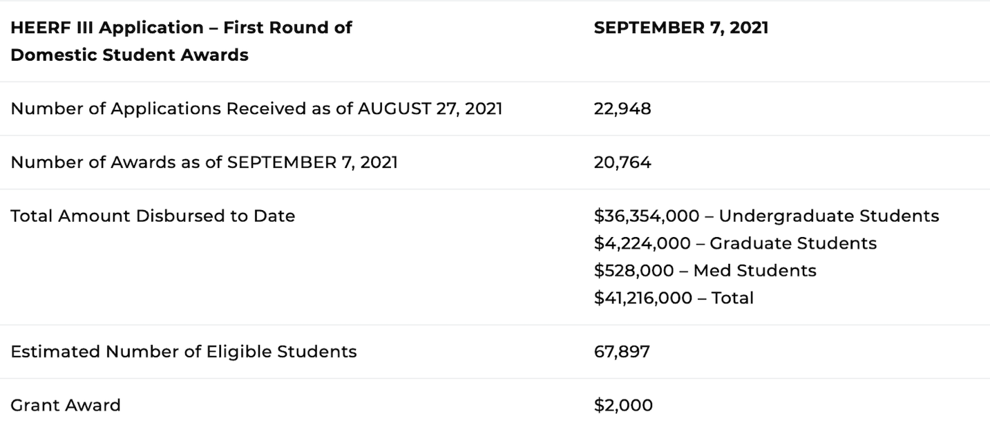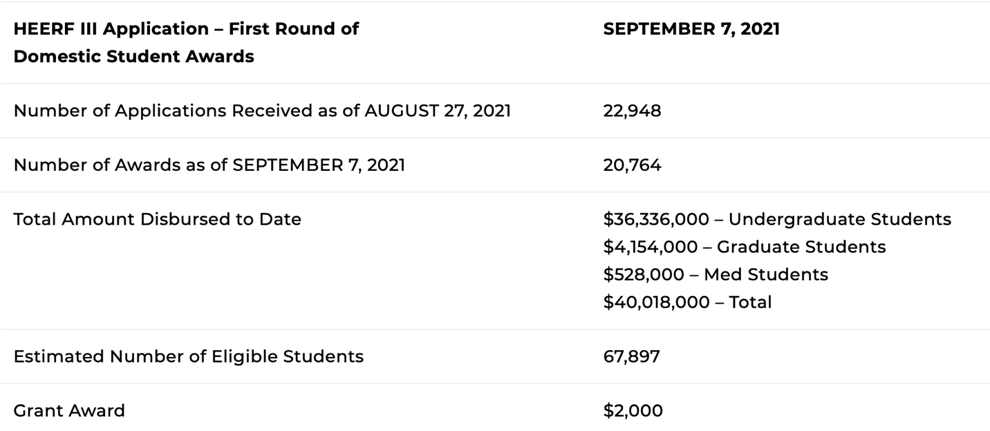 However, an attempt at full transparency was also complicated when incorrect data was posted on a UCF official report of the funding's allocations. On Oct. 8, a discrepancy of $110,000 was found in an unreliable report.
The total amount disbursed for the HEERF III round did not match the sum of the reported values. During a December interview with NSM Today, Chad Binette, the assistant vice president of UCF, was made aware of this discrepancy. The next day, a corrected report reflected the correct numbers.
UCF has been under scrutiny over government funds before.
The faculty union press conference in December raised the issue of mistrust of the school, specifically citing UCF's involvement in a 2019 scandal where the university's administrators were found to have misappropriated over $99 million of state money. The event made national headlines and forced the resignation of several school officials, yielding the current leadership.
Hector said apart from some sensitive history and errors, most of the concerns surrounding HEERF may stem from confusion and a lack of understanding on how the federal funding program actually works.
"We do not get money sent to us to put in a bank account," Hector said. "What we do is: After we've gone through all the criteria, selected (the) students, and the funds have been dispersed to the students, we then go and get reimbursed by the Federal Government — that's how it works. We have to follow our federal contracting rules."
Binette said UCF's latest report, which is not yet available online, will show the school has awarded students 94.3%, or $122.9 million, of the $130.3 million allocated to the student's portion of the funds.
"We continue to accept applications and award those dollars," Binette said. "There is $6,707,650 remaining."
While the faculty union claims UCF still holds some institution portions of the funds, Hector said this money is already allocated to some departments, which means it has not been spent yet. However, he said the university already knows where the money will be spent, such as the allocation of $18.4 million toward an HVAC repair project.
Hector said the impact of COVID-19 on the supply chain sector has caused delays in some services. He also said it has been hard to find contractors, which is why the project has not started yet. UCF has until May to use the money.
The federal government provides the Department of Education rules on how to use the money and eligibility of the program. According to Clause 10 of the Certification and Agreement documents, UCF needs to draw the money from a government account called G5 in order to distribute any award. The same clause states that if UCF has federal money sitting in an account for more than 15 days, generating interest above $500, the institution needs to return the money to the government account; UCF cannot delay disbursement to generate any profit for itself.
"People think UCF is sitting on that money in the bank account, and that's not true," Hector said.
While HEERF I and II applications are no longer available, HEERF III applications will be open for some time this spring and funds will continue to be disbursed as long as eligible students continue to apply for this round. 
HEERF offers up to a maximum of $2,000 per eligible student. It is not yet confirmed if HEERF III will be the last disbursement of the program.