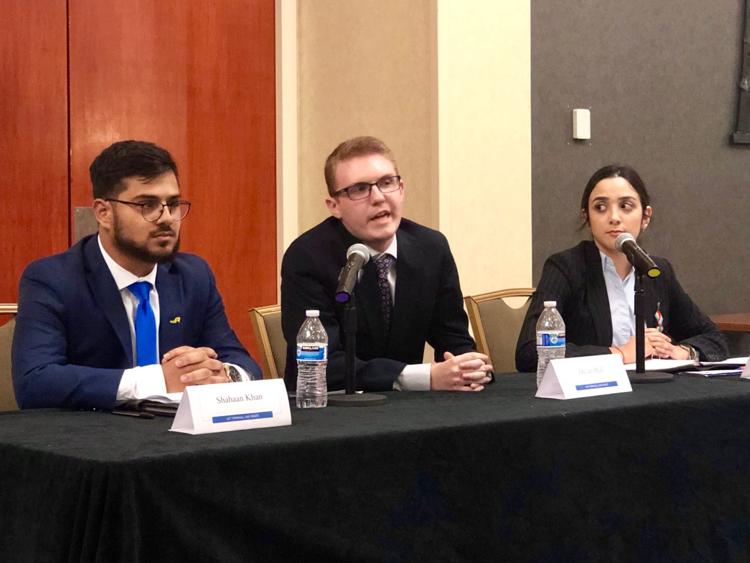 Controversial issues like climate change, gun control and free speech took center stage during a student political debate at UCF on Wednesday night. 
The executive and legislative branches of Student Government hosted the College Republicans and College Democrats at UCF for a town hall and debate at the Student Union's Live Oak Ballroom.
Over 150 students attended the event and another over 150 students watched through Facebook Live. 
The event was complete with fact-checkers and questions from students in the audience and from students watching online.
Three chosen debaters from each political party took turns answering questions at the podiums on the debate stage.
The Republicans surprised the Democrats when they officially agreed on human-impacted climate change as well as the dire need to address it.
"I just want to say I'm glad that finally both parties can acknowledge climate change," said Dylan Hall, freshman political science major and Blue Dog caucus chair for the College Democrats. 
Didi Malka, sophomore psychology major and the vice president of College Republicans, suggested a capitalist approach to combat the climate crisis, such as expanding nuclear energy.
Meanwhile Tanner Braun, junior political science major, who took the debate stage for the Democrats, advocated for more fundamental changes to the current infrastructure, such as switching to renewable energy sources and implementing government regulations as was done with the Environmental Protection Act, first enacted in 1973. 
"I think the biggest deal is that we actually kind of agree of climate change, that it's actually important to both sides," Braun said. "We just disagree on how to go about that. They seem to support capitalist intrusion into what should be a government affair." 
The Democrats, in turn, surprised the Republicans with their stances on free speech – recognizing the right for pro-life groups and right-wing extremists to exist and demonstrate on campus. 
"Despicable as they may be, they have a right to be there," Braun said. 
Luke Strominger, senior political science major and chairman of the College Republicans, said he thought it was an overall productive exchange of ideas with both sides remaining respectful to each other.
"Natural debate is what leads to solutions," Strominger said. "I think it went great. We had a healthy discussion on issues such as the environment and free speech." 
One of the loudest audience reactions of the night came when Malka addressed a question regarding what UCF and political parties should do to protect DACA recipients. Malka's answer focused on criminal behavior and illegal citizenship status. 
"They shouldn't be committing any crimes, but they are," Malka said.
Mostly students on the Democrat side of the audience reacted with gasps, jeers and laughter. Others were visibly stunned, with their eyes wide and mouths gaped open.
The rest of Malka's remarks could hardly be heard over the crowd's reactions. 
"They're not all criminals," Malka said. "No one is saying they're all criminals. The only people to blame here are their parents who brought them here illegally." 
Malka also said that 53% of immigrants commit crimes.
Gabriel Gómez, senior political science major and vice president of the College Democrats, who held the argument to protect DACA students, challenged that number and invited Malka to fact-check his information. 
Organizers of the event Zak Myers, the SG governmental affairs coordinator, and Rachel Friant, the SG governmental affairs and policy committee chair, served as the debate moderators, reading questions from students, keeping time and controlling the crowd reactions.
Friant interrupted from the moderator's table to read a note from the fact-checkers. The note said that the number of immigrants who commit crimes in the U.S. is closer to 6%. 
Another big crowd-reactionary moment occurred when Kelsey Hundley, the director of public relations for the College Democrats at UCF, made direct comments against men raping female students during a discussion on conceal carry.
The question was whether UCF students should be allowed their second amendment rights on the open campus. Nathan Schiffer, senior political science major and member of the College Republicans at UCF, argued that armed students could help lower sexual assault cases.
Hundley, who was debating for the Democrat side, held steadfast against the notion of allowing students to carry guns on campus and focused instead on the issue of rape culture.
"Men should stop raping women," Hundley said, to which the Republican side of the audience reacted with laughter and side comments while the Democrat side cheered. 
Schiffer said he found Hundley's comments unnecessarily scathing toward men and that they deterred the conversation from his point that UCF students should be able to carry guns around campus.
"I thought it was kind of disrespectful to be bashing men with regards to the sexual assault issue because it is true that most sex crimes are committed by men, but most of all crimes are perpetrated by men," Schiffer said. "And you can tell men to not rape all you want, but that doesn't mean they'll stop it and that doesn't mean that women will have the ability to avoid it, because men are in average larger than women. So I think that allowing women to carry on campus is extremely important so they can defend themselves."
No reasonable agreement or middle grounds were reached on gun control or DACA, which turned somehow antagonistic and were reduced to ideological attacks more conventionally heard on mainstream politics.
"It was a little hostile at times, but I think that's the nature of debate," Malka said. 
On other talking points, Malka denounced white supremacist ideology for the Republicans and, when asked about LGBTQ rights, he said that "human protections should apply to everyone," never singling out the minority group by name. 
Moments like these brought out some of the more visceral reactions from the debaters and the audience, but the general consensus was that the night was productive and successful to its end goal of opening a dialogue and politically engaging UCF students.
Mike Peksinski, an undecided freshman in the audience who identifies with the Republican side, said he was glad to see both sides willing to maintain a mostly civil demeanor through meaningful debate.
"I think what people should take away from tonight is that we're open to having a discussion — that's the most important thing here," Peksinski said. "It's about presenting different sides to an argument, debating them and giving UCF students those ideas so that next year in 2020 we can go vote."
Myers and Friant said they put together this event to promote student civic engagement.
Friant also said she believes that the concept of students not wanting to get involved in politics is a myth and that the question is more about how to get them started.
"I thought one of the highlights from tonight was how much discussion — real tangible discussion — happened," Friant said. "I think it's events like these that help connect students to the resources that they're looking for. We look forward to hosting an event like this again in the spring."