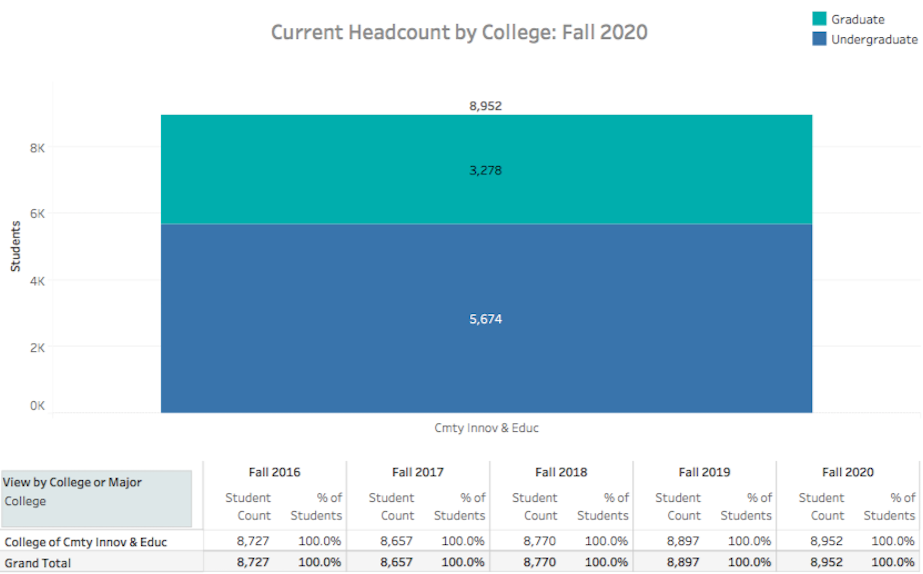 Even in the face of impacts caused by the COVID-19 pandemic, Kira Merkley knew her college would always find a way to remain on top. 
"The school is really supportive of the people who are already in the college," said Merkley, a sophomore majoring in student education. "And I know there's always efforts being made to recruit more people, especially into my major."
Merkley is a part of UCF's College of Community Innovation and Education. With six separate departments and two schools within the college, CCIE is the culmination of multiple UCF programs over the years being reorganized into one entity with a strong connection to the downtown campus.
The Institutional Knowledge Management "Interactive Facts" website offers free access to various forms of data pertaining to UCF, including data from CCIE. An examination of the enrollment data available for all students within the College of Community Innovation and Education shows the 2020 fall semester garnered their highest enrollment amount since 2016.
"What we see in interactive facts for the fall 2020 final numbers is a total of 8,952," said Orin Smith, the accreditation analytics and assessment specialist for CCIE. "That's about a 60% student increase year per year."
Smith said the enrollment numbers from Interactive Facts should not only be accurate, but also reflect enrollment numbers from programs that currently exist under CCIE but were once separate programs before the reorganization efforts.
"Even prior to reorganization, there were efforts to seek out new populations of students," Smith said. "They've seen consistent enrollment for the most part."
Beginning in 2016, the total enrollment for the fall of that year was 8,727. This decreased to 8,657 for 2017, increased to 8,770 for 2018, and increased again to 8,897 for 2019. Finally, the enrollment total recorded for the past fall semester in 2020 was the highest since 2018 and listed as an increase to 8,952.
The increase came at a unique time, as impacts on higher education began to emerge due to the pandemic. According to the National Student Clearinghouse Research Center, public college institutions across the country lost 4% of student enrollment during the fall of 2020. Despite this, CCIE's enrollment numbers managed to stay afloat.
Smith said one of the ways they believe enrollment is maintained is through high national rankings across various CCIE programs perpetuating an advanced reputation.
"A number of our programs have strong national reputations as experts in their field," Smith said. "Year after year, these programs demonstrate they're leaders within the field."
CCIE interim associate dean Dr. Alice Noblin said the college attracts working professionals through the use of online program learning.
"To have that flexibility for people who are already working so they can get their degree is what I think UCF online allows for," Noblin said."I think that has really influenced our growth."
Director of Academic Affairs Mariangelly Rente said that the pandemic offered an unexpected benefit for the college in that more attention was drawn towards their programs due to their sudden increased importance because of COVID-19.
"Given this past year, because of the infrastructure in place, we were in a position to transition to virtual space for all of our programs," said Rente. "The positive of the pandemic is that it has kind of shed some light into many of our majors that lead to careers that now the public knows more about because of public service from when they talk about essential workers."
CCIE continues its enrollment efforts through the current spring and upcoming fall semester, offering innovative programs based in community efforts for students like Merkley.
"More people want to help their community, and this college lets you do that," Merkley said.