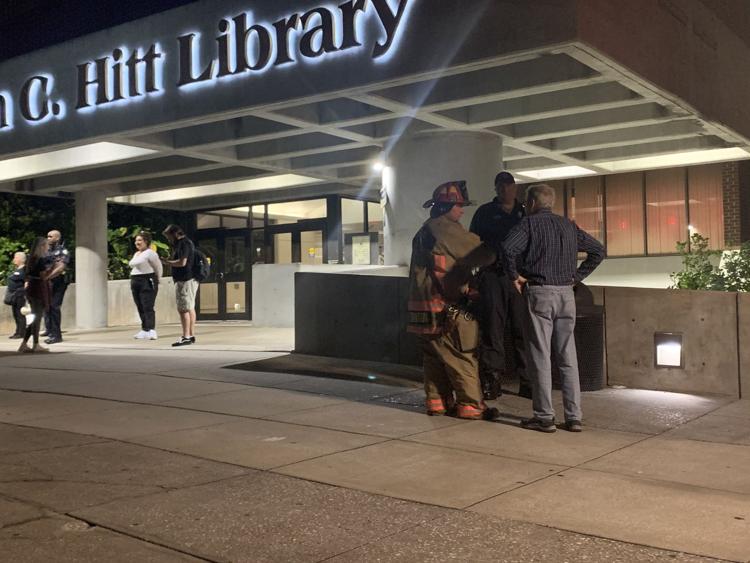 UCF's John C. Hitt library was evacuated Wednesday evening after a pipe busted on the third floor, leading to flooding, according to UCFPD.
A UCF Alert was sent out at 8:25 p.m. to inform students of the flooding and to steer clear of the area. No students were injured and everyone was able to make it out of the building, library employees said.
By 8:55 p.m., the flooding had been stopped and was contained to a corner on the third floor, according to UCFPD. 
At 9:12 p.m., another UCF alert was sent out informing students that the library would be closed for the night as authorities responded to the leak and recommended students to go to the All Knight Study locations on campus.
Junior anthropology major Marabelle Krzyzaniak said she was trying to finish a paper when she heard the blaring of the fire alarm.
"I jumped at first due to the noise," Krzyzaniak said. "But then I calmly got up and walked out."
Senior Jada Reyes said she was working her normal shift behind the reference desk when the alarm went off.
"At first I didn't think much of it, because of the construction the alarm had gone off before," Reyes said.
Major concerns for Reyes are potential water damage to the books and possible flooding in the newer areas of the building, she said.
"Books getting wet is the worst thing that can happen to books, besides a fire," Reyes said. "And if the flood occurred in the part of the library that isn't open yet, that is a concern as it was just built."
UCFPD wrote in a tweet that there was "no indication of damage to books" shortly after the leak was contained.
Krzyzaniak was happy at the response time and way that the employees reacted to the alarm and helped direct students outside.
"Everyone seemed pretty calm, given the situation," Krzyzaniak said. "At least now I can finish my paper."