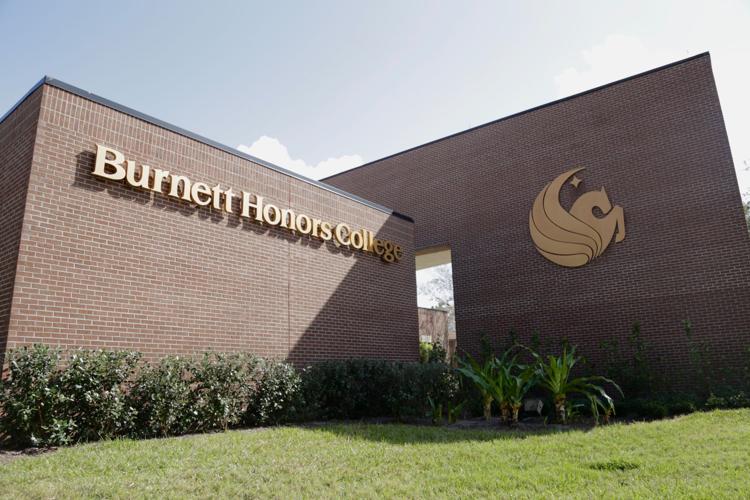 As UCF began to move classes to remote instruction, due to the COVID-19 pandemic, students at the Burnett Honors College spoke up about the environment's shift.
While some of them were okay with online classes, others were worried about whether they can adapt to the environment of online teaching.
The purpose of the college is to provide students opportunities to take honors courses, or for junior and senior students to do an honors undergraduate thesis, according to the BHC's website. The classes offered include honors general education courses, interdisciplinary seminars and directed readings.
According to Institutional Knowledge Management, the BHC has a total of 1,765 students as of the spring 2020 semester. 
Stephanie Wiglesworth, a junior advertising and public relations honors student and a student assistant, takes Developmental Psychology. Wiglesworth said her professor has utilized Zoom once-a-week to teach the class and let students present their paper analysis.
"It's just a really complicated situation we are in, I don't think there is anything that he could necessarily be doing better," Wiglesworth said.
Wiglesworth said it has been a challenging transition for her internship, but the college has been accommodating, and it's fortunate that students can do projects remotely. 
"With Burnett, I have just been really lucky," Wiglesworth said. "I've heard about a lot of university workers, and office assistants are dealing with it in a completely different way."
At the BHC, some faculty are also students.
BHC sophomore marketing intern Margo McCoy was supposed to start her internship on the day UCF moved classes to remote instruction. She said that although everything became remote, UCF still gave her the option to take it as a vacation and start her internship in fall, or to work remotely.
McCoy chose to work remotely.
"It's a little bit difficult in terms of not being able to go directly speak to your supervisors and check in with them every day," McCoy said. "They have been really great in helping me adjust to working remotely and learning everything right off the bat."
Other students said the transition was not comfortable for them.
Freshman psychology major Grace Lanier takes an interdisciplinary seminar of psychology and philosophy. Lanier said that one of her classes offers optional discussions as well as optional Zoom calls, but students are not very engaged; a majority of students did not attend the class, she said.
"We are pretty much limited to these online postings, which I don't mind because they are pretty standard, but it definitely does impact the information that I am getting from the course," Lanier said. "I haven't really learned anything since we have switched to remote."
Some students at the BHC have said that they do not offer many courses that are specifically geared to be online during normal semesters. The BHC works closely with students to provide an intimate and direct meeting place to study, according to the BHC's website.
Thus, for some students, such as Lanier, it is difficult to remain motivated.
Junior advertising and public relations major Ashley Rickman said that it was a difficult time for her because her major classes are limited at the BHC.
The limitation has brought up concerns for her future semesters among the campus closure caused by COVID-19, Rickman said. She said she hopes to graduate at the end of the spring 2021 semester, but she is worried about taking enough online classes to meet the BHC's requirements.
"I've just had to add on two random honors classes to finish up my requirement," Rickman said. "It's pretty stressful because those are classes that I don't necessarily need to take but to satisfy the honors requirement, and it's adding to my hard classes."
Rickman said she understands that the BHC promotes smaller class sizes, which is why students do not focus on online classes. At the same time, she said, she feels the honors college should be more accommodating of all types of students, especially during this time.
"It's going to be a lot harder adjustment for those honors students," Rickman said. "Think about someone coming into honors for the first time next semester, and they have to take these courses in honors. The honors college isn't going to be prepared to offer those courses online." 
Students said they were hoping to have more information about what options of classes and positions at the college they will have in the upcoming summer and fall semesters.