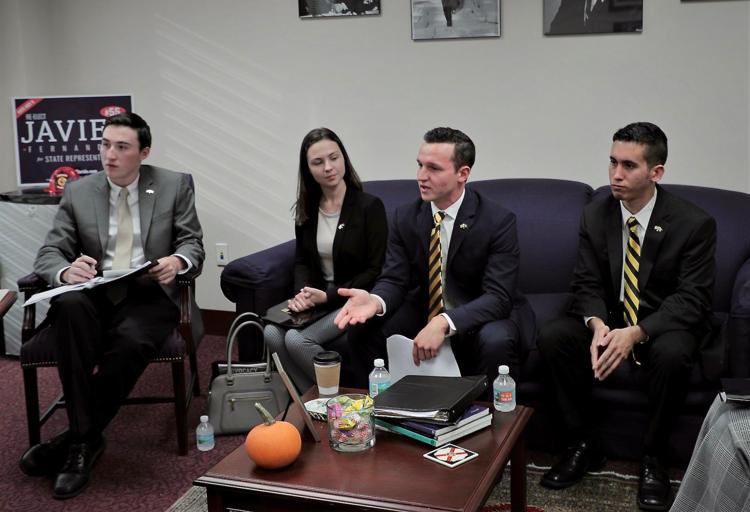 Rob Gray was senior in high school, sitting at his computer in his bedroom, when he received a confirmation email with some big news.
He would be awarded a full Florida Bright Futures Scholarship.
"I just started yelling and hollering," Gray said. "I went downstairs, and I told my mom and she gave me a big hug. It was really exciting because that meant that I could go to a good school."
The philosophy and economics freshman at UCF said that Bright Futures was something he was determined to get since he moved to Florida five years ago.
"I saw that Bright Futures was a thing, and I told myself, as a freshman in high school, 'I got to get this. This is what I need,'" he said.
Florida Bright Futures Scholarships is a state funded program with three tiers of awards. The top tier is the Florida Academic Scholars Award, for which students need a combined SAT score of 1290 or an ACT composite score of 29; the second tier is the Florida Medallion Scholars Award, for which students need a combined SAT score of 1170 or 26 on the ACT; the third has different requirements. 
Rob Gray's story is exemplar of the impact these scholarships can have on students' lives. Since 2011, the Florida legislature has been increasing the SAT score eligibility requirements for the Florida Bright Futures Program, which now only covers 20% of high school graduates, according to the College Board annual report.
With the passing of house bill 190 on July 1, the SAT score minimum was raised yet again, meaning UCF stands to lose over 4,400 students in enrollment, as it stands now, said Media Relations Coordinator Rachel Williams. 
"Bright Futures is super important for our university students to be able to go to college, get their education and be successful without having to jump through hoops," said Zak Myers, student government governmental affairs coordinator "The idea is that students who are willing to work hard during high school should be rewarded, but admission and eligibility requirements keep going up."
With the new bill, students entering college in 2021 will now need SAT scores of 1330 for the top tier award or 1200 for the second-tier.
Williams said that roughly 7,700 students enrolled at UCF in the 2018-19 freshmen class and that, out of those, 3,255 received the Florida Academic Scholars Award, and 2,524 received the Florida Medallion Scholars Award. This means that almost three quarters of the freshmen students enrolling at UCF come in through Bright Futures Scholarships.
"Based on their test scores, there would be a 44% reduction in the number of students awarded the academic level, and a 32% reduction in the number of students awarded the medallion level, under the new changes," Williams said. 
Rob Gray is one of five boys in his family, each just a year apart, who will all be of college age at the same time. He said his widowed mother has made it very clear to them they needed to get scholarships, otherwise she can't help them pay for schooling.
His brother, Sam Gray, a high school senior, has a current SAT score of 1220. Though he is studying and plans to keep taking the test, Sam Gray doubts he will be able to pull up his score much higher.
"We'll probably have to take out loans for him," Rob Gray said. "He's trying to compensate with a baseball scholarship but, because of the cost of tuition, he will probably go to a small college rather than a university like UCF."
Their mother, Robi Gray, said that there was no way she could provide her children with an exceptional education on her own. She said their financial situation has been tough, as her husband was the family's sole source of income before he passed away two years ago.
"This scholarship has given us a chance to get past that," Robi Gray said."This scholarship has given my son the room to succeed. He now has opportunities to show off his excellence."
Karemah Manselle, the associate director of UCF Student Financial Assistance and a UCF alumna, said that these changes in the legislature are not without reason.
"The legislature proposed to change the test scores because the national average on those stats has gone up," Manselle said. "There have been some changes with the SAT and there is no longer a point reduction for incorrect answers."
Manselle said that education is an "ever-changing paradigm," which forces the legislature to revisit how they are applying practice and funding.
"It's not uncommon to see legislation change after testing changes," Manselle said. "That's not to say that students won't be adversely affected by this change."
Alternatively, Manselle said that the ACT score requirements were not raised for the top tier award, and for the second tier it was actually lowered.
"One thing I keep telling high school students when we do outreach is to take both tests multiple times," Manselle said. "I think it's more critical than ever before for students to figure out which test works best for them."  
Interval Vice Chair John Aloszka from the Florida Student Association said they are still deciding their official stance on the proposed legislation, as it needs to be reviewed by all 12 student body presidents.
"That said, I can tell you that, historically, FSA has not supported any efforts to make receiving Bright Futures more difficult," Aloszka said.
Rob Gray said he thinks it's important to remember that raising the bar only makes academic progress an issue of class divide, as students with stable financial backgrounds statistically perform better than low-income students, though they may arguably not have as dire a need for financial relief.
"The goal is supposed to be attainable, a motivation to work hard and earn a higher education," Rob Gray said. "But now, it's get the scholarship or be in debt. That's the bottom line."