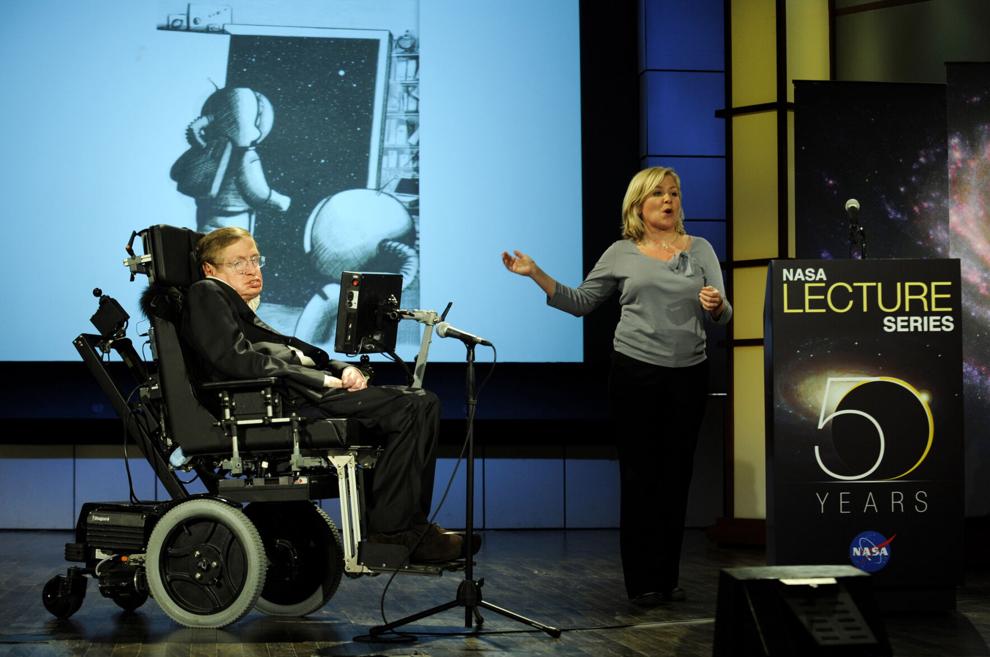 The UCF Center for Microgravity Research is one step away from becoming "The Stephen W. Hawking Center for Microgravity Research and Education."
The UCF Board of Trustees unanimously approved the renaming Thursday. Elizabeth Klonoff, vice president for research and dean of the College of Graduate Studies, said the final hurdle is the Space Florida Board of Directors' approval of the name change. Dale Ketcham, Space Florida's vice president of government and external relations, said via email the date for that vote has yet to be decided.
If approved, UCF will become the first research center in the U.S. to be named after Hawking. The University of Cambridge in the United Kingdom is the only other university to have a research center named after Hawking, according to UCF Today.
Hawking was a world-renowned theoretical physicist at Cambridge, the press release states. Hawking was born Jan. 8, 1942, and died March 14, 2018, according to his official website. Hawking's daughter, Lucy Hawking, told UCF Today that her father would have been "proud of this collaboration with the U.S. physicists of tomorrow."
For CMR Director Josh Colwell, having Hawking's name attached to the center is "surreal." Hawking wrote a letter Feb. 18, 2011, which gave UCF and Space Florida his consent "to incorporate and register a not-for-profit corporation that includes my name in its name," according to the Nov. 18 BOT agenda. Klonoff briefed the board on Hawking's letter in a committee meeting in late January 2019, the agenda states.
Robert Hawking, Hawking's eldest son, visited UCF in December 2019, and Klonoff said the biggest concern of his father's estate was preserving Hawking's legacy. After further inspection, Klonoff said the estate was comfortable attaching Hawking's name to CMR.
Colwell said the center's renaming has taken 10 years to be finalized because of "legalities." Given the large gap of time, he said it's still hard to believe it will soon be official.
"There were several occasions where we thought, 'Oh, it's going to happen, (then), well it's not going to happen,'" Colwell said. "So, I kind of was like, 'I'll believe it when I see it.'
"So, now I'm seeing it. ... It's exciting and a little bit unreal."
As he was getting his degree in electrical engineering, UCF President Alexander Cartwright said Hawking was someone he looked up to. With his personal admiration for Hawking, Cartwright said having permission for UCF to attach his name to CMR helps give the center national credibility, as well as demonstrates the kind of work it's doing. 
"Being able to connect our center with his name makes a significant difference, in that people start recognizing that he recognized that this was a great place for some of the work that he was doing," Cartwright said. 
Colwell said some of the projects the center has done include students flying their experiment to a space station, flying numerous suborbital rockets and students boarding the first flight of the Virgin Galactic spaceship. 
UCF will pay $20,000 to Hawking's estate for legal fees related to the contract negotiation, according to the BOT agenda. The center's renaming also serves as "a strategic move" in facilitating the university's goal of "becoming the world's leading public metropolitan research university," the agenda states. 
Should UCF get approval from Space Florida, Klonoff said becoming the first U.S research center with Hawking's name will help give the university national recognition, illustrating that UCF is "doing cutting edge space research."
"This will really allow us to shine a light on the kind of space research we're doing at UCF in a way that we haven't been able to do," Klonoff said.