Diego Molina isn't a victim of gun violence nor has he ever been close to anyone affected by gun violence.
Still he marches. He participates in demonstrations, registers voters and passes petitions on the issue.
After the Pulse nightclub shooting, Molina said he knew he wanted to do something but did very little.
After the Parkland shooting, however, he stepped outside of his comfort zone and joined the March For Our Lives movement, as did a million other Americans and even more people around the world.
Sitting in his bedroom, the junior political science major reflected on what got him involved in gun control activism.
"I just got tired of seeing all these headlines about people dying and all that, and the lack of action," Molina said. "Let's do something about this. People are dying. Kids are dying."
Molina's reaction is one side of the spectrum when it comes to Floridians on the issue of guns.
According to the Pew Research Center, in 2017, the U.S. broke peak records of gun violence, and active shooter incidents have more than tripled over the last decade. In response to this, Florida gun laws have become increasingly more permissive of gun ownership and carry.
Following this trend, Republican Rep. Anthony Sabatini, District 32, introduced House Bill 273 on Oct. 1 to eliminate a required permit to conceal carry, and House Bill 6001 on Aug. 8 to remove gun-free zones like schools and college campuses.
As sexual assault cases at UCF have increased by over 82% over the last 10 years, many Republicans argue that students carrying guns on campus is the only answer, while many Democrats counter-argue that it could serve to aggravate sexual assault.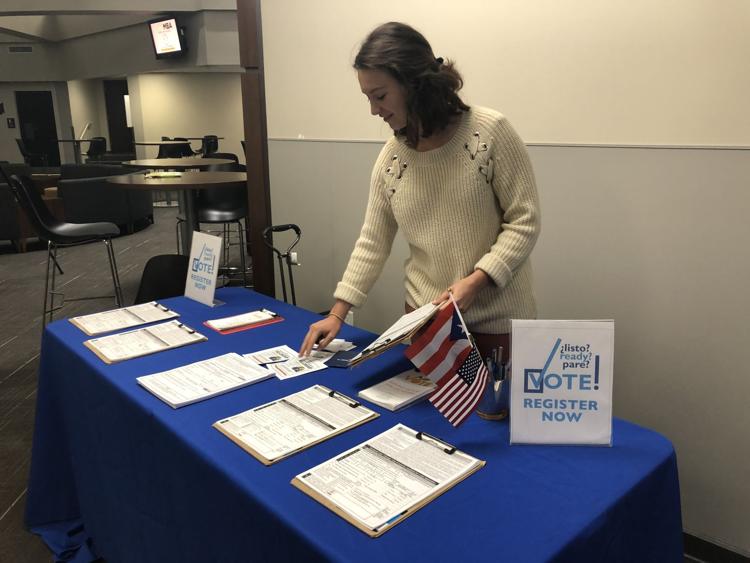 "I have my conceal carry and I would be happy if I was able to carry on campus," said Nick Baio, a political science senior and central regional director for the Florida Federation of College Republicans. "Not only am I able to protect myself, but I'm able to defend as well. Giving women the option to fend off sexual offenders is a great idea."
Brandon Wolf, Central Florida development officer and media relations manager for Equality Florida, the state's largest LGBTQ advocacy group, said he supports legislation for gun control and that law makers should stick to facts and not theories.
He said this at the Gun Violence Prevention Town Hall on Nov. 18, hosted by the College Democrats at UCF, where a panel of state representatives, candidates, and gun control advocates spoke with students and attendees. 
"While [there is] the idea that a gun on campus could help fight sexual assault, we need to look at what a gun can mean to sexual assault in terms of coercion," Wolf said. "If rape has gone up, it may not be the best idea to throw guns in the mix." 
Yanni Psareas, treasurer of the College Republicans at UCF and senior political science major, said he supports Sabatini's bill for guns on campus. He said that gun-free zones make no sense and that it is like putting up a target for attackers.
"If I want to protect my house, I'm not going to put a 'gun-free zone' sign out front," Psareas said. "Gun-free zones just make it possible for bad people to commit all sorts of atrocities."
On the other hand, Wolf said he disapproves of "live testing" new ideas, like guns on campus and arming teachers, at the cost of people's lives, instead of doing what he said is already known to work.
"We know that disarming dangerous people works," Wolf said. "Let's put it this way — we have more guns than people in the U.S. So, if more guns mean safer, then we would be the safest country in the world, and we're not."
In 2005, Florida became a "No Duty to Retreat," or "Stand Your Ground" state; in 2008, Florida became a "Take your gun to work" state; in 2011, Rick Scott signed a law penalizing the regulation of firearm sales; and as of 2019, school employees and teachers who receive "special training" may carry firearms on school grounds.
If Sabatini's bills pass, it will make Florida the 17th state allowed to open carry with a permit and the 13th state allowing concealed carry on campuses.
According to Sabatini, guns on campus is not only about preventing rape, but about dealing with active shooter situations.  
"How many mass shootings must we witness before we allow law-abiding citizens to defend themselves?" Sabatini said on Facebook on Aug. 8.
Yet recent polls by the Pew Research Center show that most Americans are now in favor of stricter gun laws. This is reflected in bipartisan efforts like the current petition to Ban Assault Weapons Now, or BAWN.
BAWN is a movement proposing that a Florida Ban on Semiautomatic Rifles and Shotguns Initiative appear on the general election ballot on Nov. 3, 2020. It would require 766,200 valid signatures by a deadline of Feb. 1, 2020 to move forward.
Rep. Carlos Guillermo Smith, District 49, who called America's gun violence issue a "public health crisis," just re-filed for the ban of assault weapon sales in Florida with House Bill 627. Smith has introduced three consecutive pieces of legislation to ban assault weapons sales in Florida. All three have died in committee without a hearing.
"We need to bypass the legislature," Smith said. "On the legislature it won't pass, but on the ballot, it's got a very good chance."  
Zak Myers, government affairs coordinator for Student Government, said the official stance of SG aligns with the Florida Student Association to oppose concealed carry on college campuses. 
"I think that gun control at large is a multi-faceted problem, so trying to tackle just one area of it — whether that's just regulation, just mental health, or just safety infrastructure — if you do any one of those three alone I don't think that that will ever solve the problem," Myers said. 
Baio said he supports constitutional carry laws and that students should be more open-minded, making the issue about the right to self-determination. 
"You don't have to like guns to be a constitutional supporter and to support the freedoms of every American," Baio said. 
Molina said the second amendment is safe, but that it is important to ensure just as much that students are also safe.
"We have the right to life, liberty and happiness," Molina said. "We shouldn't have to fight so hard for the life part."