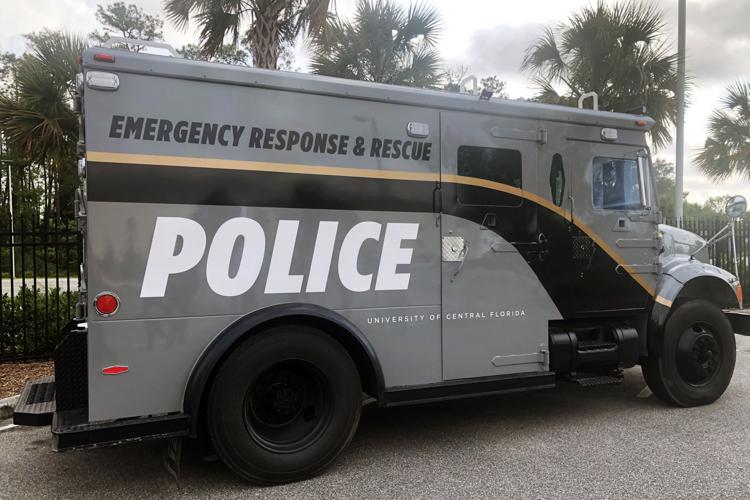 The UCF Police Department received a brand new emergency response and rescue vehicle Friday to support the department's Heavy Response Team in responding to critical incidents.
"I hope we never have to use it, but it's there if we need it," police Commander Scott Freeman said at a press conference Friday morning. "We train with it regularly, and our team is very comfortable with it. We are excited to have it in our fleet."
Brink's, a company that specializes in cash management and transportation, donated the vehicle to UCFPD through the company's Armored Vehicle Donation Program, according to a press release from UCF Communications Associate Director Courtney Gilmartin.
The Armored Vehicle Donation Program is a way for Brink's to donate retired transportation vehicles to police departments instead of scrapping the vehicle. The vehicle is the perfect tool for not only the HRT, but for all police personnel to use at any time to rescue people from a threatening environment, said police Sgt. Adam Casebolt, a member of UCFPD's HRT.
UCFPD Chief Carl Metzger pointed to several different instances that have taken place over the last few years where a rescue vehicle could have saved lives. He said the 2017 Las Vegas shooting is the most obvious example. 
"If we have wounded victims from a sniper attack, how else can you get to them and rescue them without putting officers and other lives at risk?" Metzger said. "This vehicle will allow us to do that and make all the difference in the world … The purpose of this vehicle is to save lives."
HRT members receive specialized training in tactical deployment and civilian rescue missions. Together, the truck and team would play a crucial role in eliminating the threat and saving lives in the event of a major emergency on campus or in the community, UCFPD wrote in a press release.
"Unfortunately, events in the world and even within our own community have indicated that we need additional tools and training to help prepare us for responding to any type of threat or incident," Casebolt said. "This truck does that — along with the training we receive."