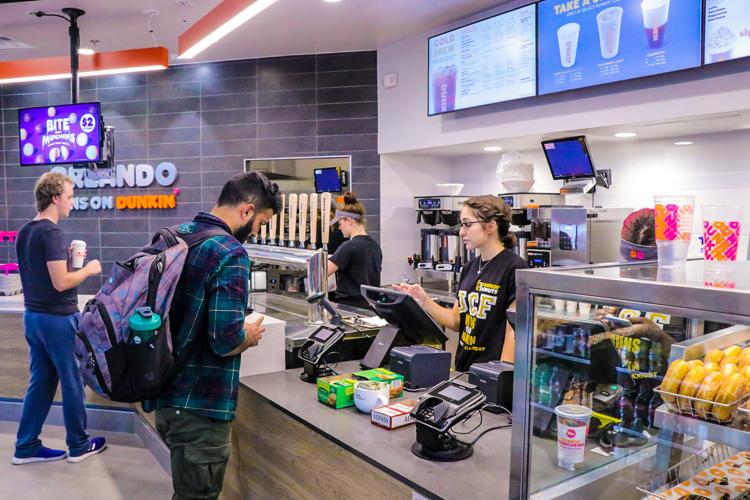 For entrepreneur and UCF alumnus Ishmam Ahmed, providing a fair and livable wage for his employees has always been a priority.  
"I used to pay my interns $10 an hour," Ahmed said. "I don't really see any problems with me, as a student, hiring my friends and paying them $10 an hour. It's not that big of a deal." 
Ahmed, 24, owns a realty company called Emerald Partners, and while he paid his interns above the minimum wage, that isn't the reality for a lot of workers in the state. However, it might soon be. 
On these upcoming elections, voters in Florida will decide whether to increase the state's minimum wage with Amendment 2. Amendment 2 would increase Florida's minimum wage from $8.56 in 2020 to $15.00 in 2026.  
The last time Florida voted to change the minimum wage was 16 years ago. Terri Fine, a professor in UCF's School of Politics, Security and International Affairs, said getting this amendment on the ballot is a big deal, due to the hurdles it had to go through. 
"It's because the legislature didn't want to raise the minimum wage," Fine said. "The only way to make it happen then was through citizen petition process, so that's where we are today." 
In September, Monmouth Poll found 67 percent of registered Florida voters said they were going to vote in favor of the Amendment.  
William Blount, a senior mechanical engineering major, is one of the supporters of the amendment and said it will provide a better and more reasonable wage for workers, especially college students. 
"I've talked to my friends about it, and it's generally a positive reaction," Blount. "We're all college students and we all want to be paid more." 
Blount said one of the things that frustrates him is that, on the ballot, it said the amendment is going to hurt the state budget and he believes that scares voters. 
"Florida doesn't like giving power to the people with amendments, and that's kind of the way they do it, they scare people off," Blount said. "People who have no idea are going to go in, see it and think 'I better vote no.'" 
Blount said this amendment has the potential to help a lot of people in the state.  
However, not everyone is convinced. Julie Oriente, a junior clinical psychology major, works while going to school. Her father is an owner of a construction company and her mother works at Publix. Oriente said she and her family oppose the amendment. 
"I think that over time it is possible to get the minimum wage there, eventually, but not in a period of six years," Oriente said. "I think that's way too quick, especially since the minimum wage for Florida hasn't been increased by more than three dollars in the past 15 years." 
Oriente said the amendment isn't worth it with the tax raises and the inflation that would come after, as well as the loss of small businesses. 
"It would reduce jobs, because the people that need to pay $10 to each employee can't afford that," Oriente said. "The only people I feel that can afford that are bigger businesses that can support paying $15 an hour." 
Another critique of the amendment is how it will affect minority groups, such as people of color, immigrants and women.  
"That's going to shrink the resources and opportunities for growing those entry level positions," Fine said. "We see that there are not only wage differences but race differences, gender differences within those pay categories. You have far more white males at the top than minority females at the top." 
In the wake of all this discussion, the state is still feeling the effects of the COVID-19 pandemic. Almost 40,000 workers filed for unemployment in the beginning of September. 
Oriente said the amendment isn't the right timing, especially with more alternative labor replacing human workers.  
"Technology was big before the pandemic, and now people are just implementing it more," Oriente said. "These technology matters are only going to increase, whether or not we have the pandemic, why would we want to take it away." 
Blount said he doesn't like how people are using COVID-19 as a reason to not pass the amendment.  
"I think one of the things that people don't get about it is that this doesn't actually do anything for another year," Blount said. "The first minimum wage increase is in September of 2021 and from there, it doesn't get to $15 until 2026, at which point, COVID will be a story we tell people." 
Ahmed, who is also a supporter of the amendment, said corporate greed is one of biggest reasons he has seen business owners be against raising the minimum wage. As a business owner, he said he finds it frustrating.  
"Even though I have my own company, what are my main expenses?" Ahmed said. "All I care about is having my tuition being paid off, my rent and my food. And a car. I don't need a Bentley. I'm happy with a Toyota Corolla." 
Regardless if the amendment is passed or not, Ahmed said he will continue to advocate for livable wages for workers and provide for his employees.  
"If my workers are happy, then that's cool," Ahmed said. "At least I go to bed knowing that they aren't stressed out because of me. I can sleep easier at night knowing that my fellow peers are doing good."