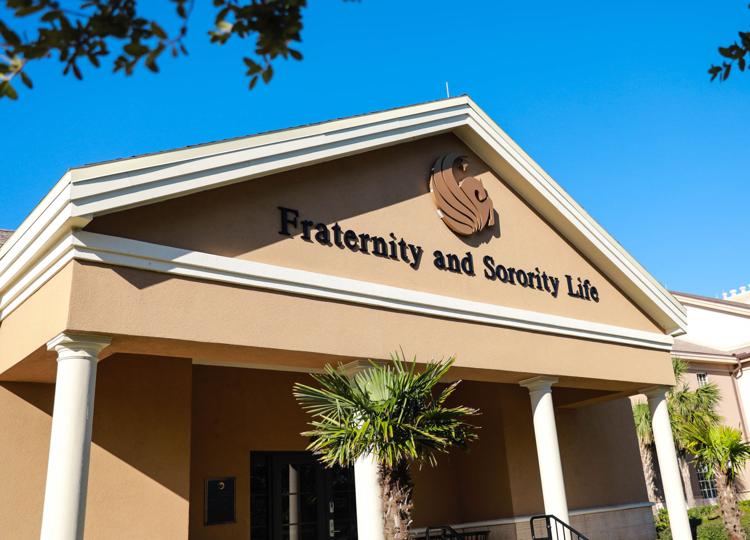 The Nu Delta Chapter of Alpha Epsilon Pi announced Thursday that it will be ending its affiliation with UCF effective immediately.
The fraternity said it will rename itself the Alpha Epsilon Pi Nu Delta Chapter of Central Florida, according to a letter from the chapter president to the Office of Student Conduct.
Alpha Epsilon Pi was placed on interim suspension on Feb. 28 and will face a student conduct hearing on June 12, university spokesman Mark Schlueb said in an email.
Schlueb added that this comes after a complaint from a pledge who alleged multiple incidents of hazing, rampant alcohol and drug use, threatening behavior and unsanctioned events, among other allegations.
"While the Greek system benefits many of our students, we cannot tolerate allegations of misconduct or actions that endanger our campus community," Schlueb said.
The chapter said reasons for ending its affiliation with UCF include the lack of fairness and justice in procedural hearings administered by the Office of Student Conduct.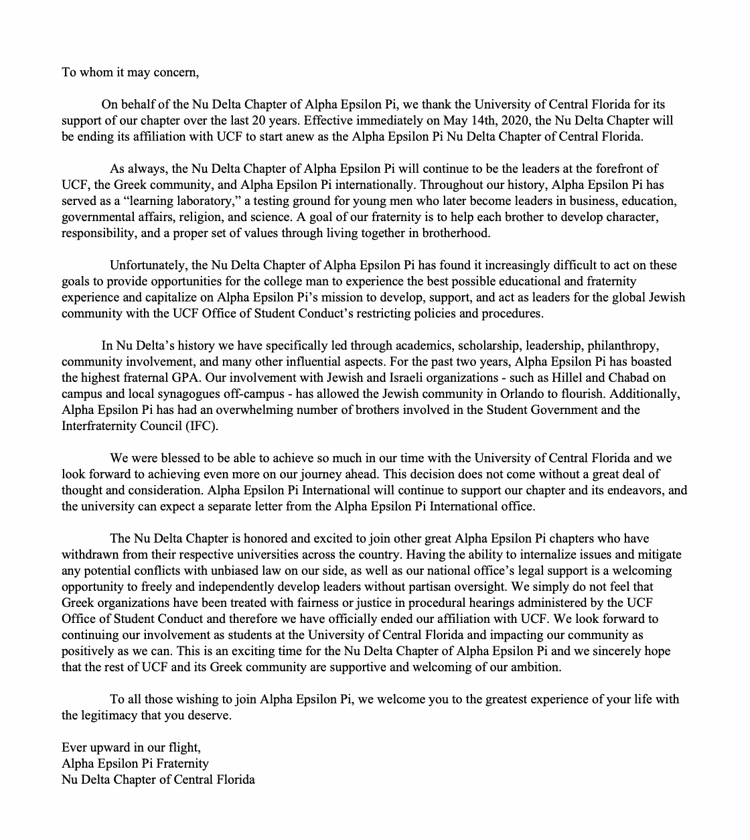 "Unfortunately, the Nu Delta Chapter of Alpha Epsilon Pi has found it increasingly difficult to act on these goals to provide opportunities for the college man to experience the best possible educational and fraternity experience and capitalize on Alpha Epsilon Pi's mission to develop, support and act as leaders for the global Jewish community with the UCF Office of Student Conduct's restricting policies and procedures," the letter said.
On Feb. 27, the Office of Student Conduct received an anonymous incident report involving Alpha Epsilon Pi and drug use, alcohol use, a "porn binder" and hazing, according to the investigative summary provided by UCF. The fraternity was placed on organizational interim suspension the following day.
Despite Alpha Epsilon Pi's disaffiliation with UCF, the organizational review process will still move forward with the Office of Student Conduct, Schlueb said. The group can decide their level of participation in the process. 
Alpha Epsilon Pi was founded at UCF in 2000 and has been involved with Jewish and Israeli organizations including Hillel and Chabad. 
Although the chapter said it is no longer affiliated with UCF, it will still allow members to join in the future, the letter said. It will also continue to be recognized and supported by Alpha Epsilon Pi International.