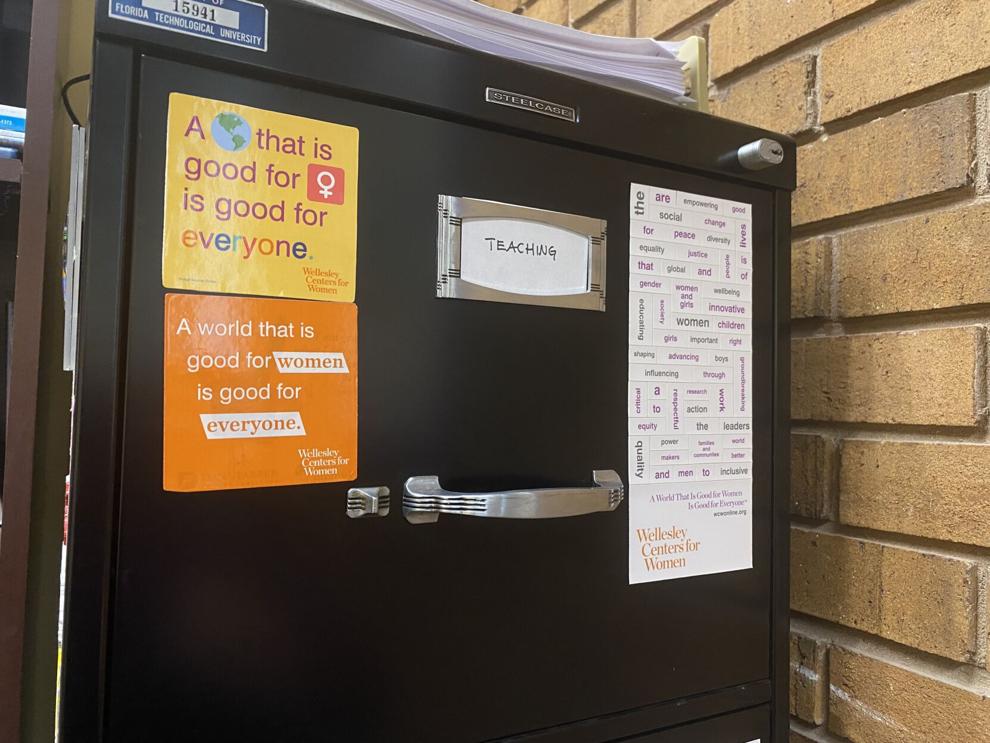 Two brightly colored signs on Alison Cares' cabinet read "a world that's good for women is good for everyone."
Cares, associate professor in the department of sociology, first came to UCF for the opportunity to do more research and be part of a department that has a strong focus on domestic violence research. She said she also advocates for the importance of having women in various leadership positions and professor roles.
Over the past five years, female students have made up the majority of the student population, yet female faculty make up less than half the total faculty.
As of fall 2021, UCF female faculty made up 45% of the total faculty population, according to the Institutional Knowledge Management. Male faculty made up 55%, according to the IKM.
The IKM also reported that in fall 2021, there were 39,192 female students enrolled at UCF while there were 31,190 male students.
"Our leaders need to reflect who our faculty are and who our students are," Cares said. "I don't think you could put a price on those coming up being able to see somebody who looks like them and has maybe shared some overlapping experiences with them."
A data request of the IKM showed that in fall 2017, female students made up 55% of the student population. The same year, UCF had 43% female faculty members and 57% male faculty members.
Junior psychology major Nancy Walters said it is important to have female professors in the classroom as it shows young women that it is possible to grow into a leadership role dominated by men.
"There are some circumstances that require one style of leadership or the other, but I have always felt more comfortable with female leadership style," Walters said. "A well-functioning business or organization should have a balance of perspectives and personality types."
Anna Marks, senior accounting major and president of The Women's Network, is not surprised at the statistics. The Women's Network is a UCF club dedicated to encouraging women and professionalism.
"Thinking about that makes me value my women professors even more, that they were able to break into something like that," Marks said. "And it inspires me to continue to work my way up the ladder."
She appreciates having women as superiors and in higher leadership positions, women who can speak to the feminine aspect of her experience, Cares said. Cares said there are also women who can relate to her being a mother.
Cares said that on UCF's academic side, there are various women in leadership roles, but they are still the first or one of the first women to take that position.
Cares said some of the first academic female leaders at UCF include Dr. Theodorea Regina Berry, vice provost for Student Learning and Academic Success and dean of College of Undergraduate Studies; Dr. Adrienne Otto Frame, interim vice president of Student Development and Enrollment Services; and Dr. Andrea Guzmán, vice president for the Office of Diversity, Equity and Inclusion.
"In my opinion, UCF has worked pretty hard to create the environment where women feel like they can achieve the same as their counterparts," Marks said.
Marks said that taking the time to reflect on what has changed and what issues women are still facing is a very important topic. She said she encourages the amplification of female voices and promoting women for specific leadership roles. 
Being a role model and being a woman in a position of leadership shows other women it is achievable, Marks said.
"UCF is a young institution. I think that's helpful in some ways. We have less to undo," Cares said. "That also means a greater responsibility. We don't have as much of an excuse."
Cares said it is important to support and encourage women through hiring and promoting women, making appropriate leave policies. She said this includes having places where women can pump and being accepting of all kinds of women - for example, gender neutral bathrooms.
"I want those on the path behind me for there to be less rocks in it," Cares said. "A wider path, clearer path. A more accessible path."