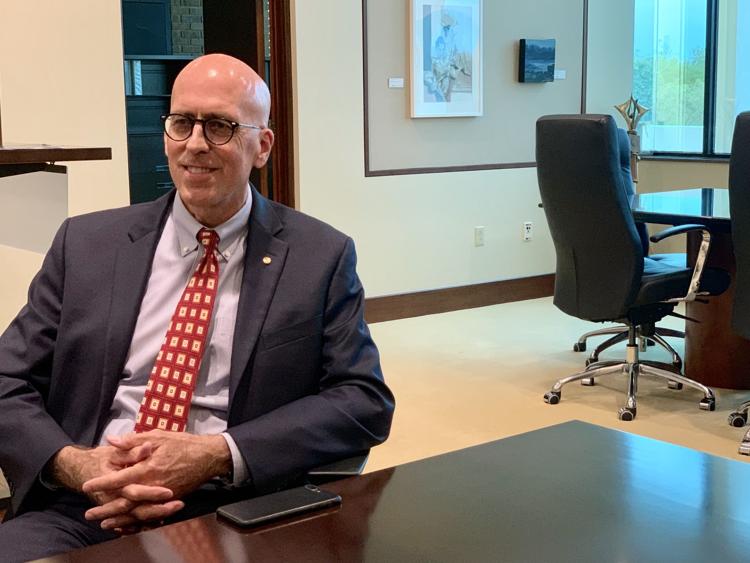 Interim UCF President Thad Seymour said he sees an opportunity to move the university forward. 
"I'm just so confident, as I think we all are, in what the future holds and I am eager to continue to help us drive in the right direction," Seymour said.
But the former vice president for partnerships and chief innovation officer, who according to the university, also served as the vice provost for UCF Downtown, filled this position after what he said has been "a tough few months." 
The UCF Board of Trustees voted Seymour in to fill the presidency position temporarily on Feb. 21, after former President Dale Whittaker's resignation was accepted by the board. 
Before Whittaker's resignation and Seymour's appointment, UCF enacted 20 changes, including new funding approval requirements for the Board of Trustees and the creation of the Chief Accountability Officer position.
Despite these revisions, the Florida House public integrity and ethics committee announced Thursday that $85 million of misused funds were used on past and projected construction projects at the university.  
However, Seymour said he believes the results of the investigation will only help improve the university.  
"What happened doesn't define us," he said. "In fact, I think this will make us better." 
Now, Seymour said he has four main priorities in response to the investigation:
Strengthening operations at the university by hiring a chief financial officer, a chief operating officer and other senior leadership positions — along with financial management training for leadership and the board
Rebuilding trust "externally" and within the UCF community 
Expanding resources by securing and protecting funding from the Florida State Legislature 
Investing in the "excellence" the campus provides
Freshman Student Government Association Senator Carlos Oquendo said while he believes that controversy might have hurt the university's image, it will not have lingering effects.  
"I think that is stuff from past leadership that's no longer here, so I don't think it should hurt them enough to ruin their reputation forever," said Oquendo, political science and philosophy major.
Seymour said he wants to make sure the process to pick UCF's next president is seamless. 
"It really is about helping lead a team to move through this transition as quickly as possible and position the university to recruit the best possible long-term leader," Seymour said. 
However, sophomore advertising and public relations major Natalia Uribe said she believes the process to find UCF's next president should not be expedited. 
"The search shouldn't be rushed and [university officials should] take their time," Uribe said.
With almost a month in office, Oquendo said he believes Seymour should focus on restoring the UCF community's confidence. 
"After this resignation, many students were not feeling as secure and as confident about the leadership at the university, but I think that this new role that this president is taking will give him the opportunity to reach out," Oquendo said.
The board is expected to consider Seymour "to serve as the university's interim president until a permanent president is named" during Thursday's meeting, according to a Wednesday press release from Assistant Vice President for News and Information Chad Binette. 
The timeline for when the presidential search will begin is also expected to be discussed Thursday.