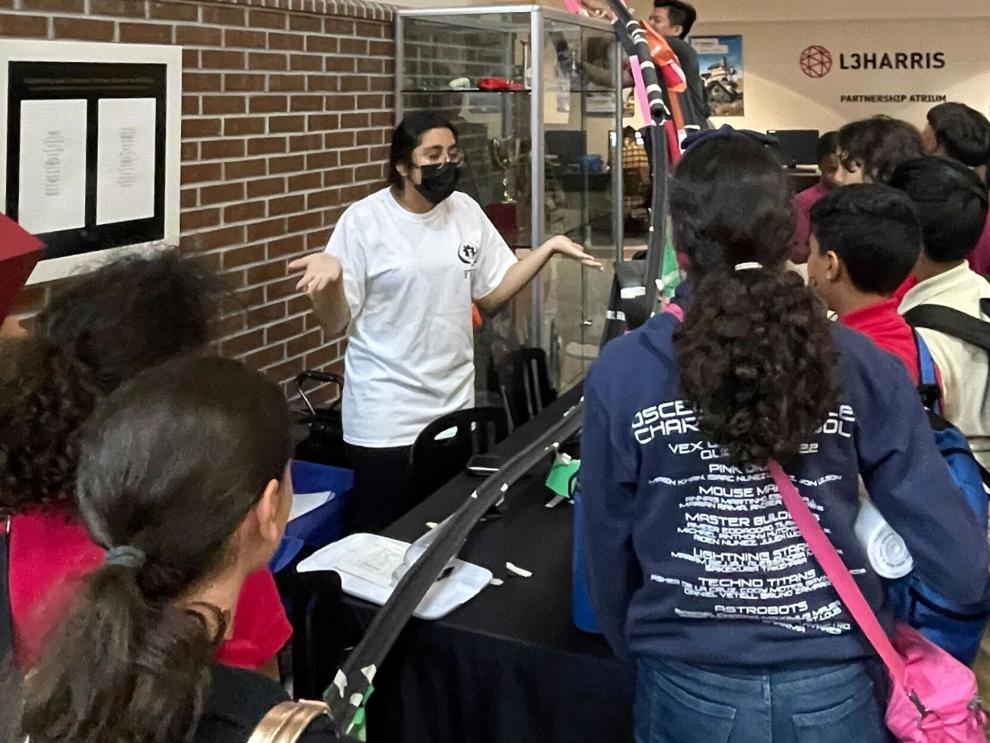 UCF's engineering organizations inspired the next generation of STEM students through hands-on activities at the annual Engineers Fair on Wednesday.
"People look at rocketry and advanced engineering as a barrier, as a wall, but the reality is that it's not," said Daniel Sherlock, president of Knights Experimental Rocketry. "It doesn't have to be complicated, so if the students know that it's accessible, that one day they can do this, they're more likely to join the field."
UCF's Engineering Leadership & Innovation Institute celebrated Engineers Week Feb. 20-25, a tradition nationally recognized by the engineering community. During the week, the club held an Engineers Fair for third and fifth grade students from the Orlando Science Charter School. Different campus organizations volunteered their time and resources to set up nine interactive projects for the two grades of science, technology, engineering and math students that visited the university. 
Sherlock said Knights Experimental Rocketry did a show and tell at the fair. The club had displays of rockets they launched, including a hybrid engine they launched in Mexico, for the kids to look at and feel. 
"We have a lot of rocket parts that they can touch," Sherlock said. "I think it's really important for them to feel it, so they can imagine what it is and what it's for."
Sherlock said he helped found Knights Experimental Rocketry last year, which has now grown to 150 members. 
"Rocketry has a very unique way of bringing some passions out in students who are going into this field of aerospace, and also it provides us skills that will prepare us for the professional industry," Sherlock said. 
Meredith McCaslin, a fifth grade gifted program teacher at the Orlando Science Charter School, said every one of her kids but three signed up for the field trip to UCF out of excitement for the fair.
"It gets them interested in careers for the future, for a lot of my kids want to be engineers, they want to work for NASA, SpaceX, so this helps them to hone in what they want to do," McCaslin said.
She said about 150 fifth graders came on the field trip and were wowed by the projects, but also by the size of the university.
"They are just amazed at how large UCF is, you know, they are used to their tiny world and it doesn't only acclimate them to different STEM activities but acclimates them to college," McCaslin said.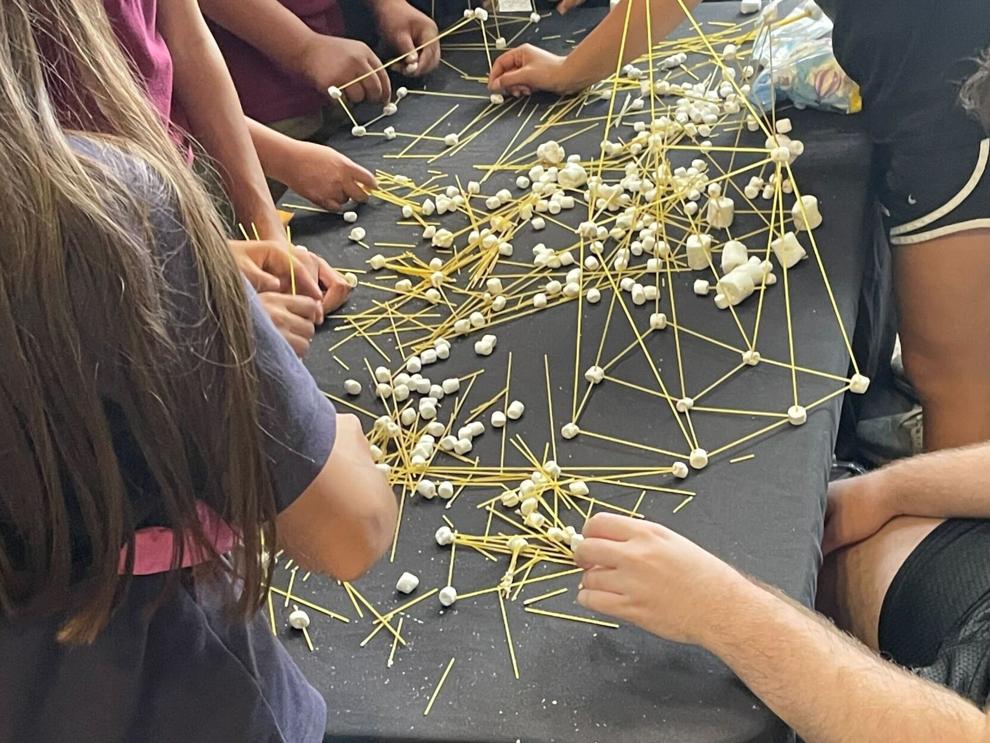 Industrial engineering sophomore Jason Srouji volunteered at the event, and said a few of the students were even talking about which college they would go to after taking part in the activities.
"A nice handful of them were like, 'yeah I might come here, I'm going to come to UCF when I graduate high school,' they're already planning that far ahead," Srouji said.
Srouji worked at the mechanical engineering table where he made solar-powered ovens with the kids out of a shoebox, aluminum foil, black construction paper and plastic wrap. 
"It's such a fantastic way for me to give back to the community, inspire future generations, and just make a difference and do something else other than homework and classes," Srouji said.
Students were also able to learn about industrial engineering at the fair, and participated in an elaborate human knot activity put on by industrial engineering senior Rachel Gomez.
Gomez said the kids grabbed each other's hands, but not the person next to them, and had to work together to untangle themselves. 
"It's a big teamwork activity because our engineering isn't necessarily building everything, we kind of make things better and improve processes," Gomez said. "So then at the end, we ask them, 'what worked, what didn't, if you were to do it again what would you change,' because that's the type of questions we ask when we look at stuff."
Christopher Fransisco, data science junior, said by volunteering his time he hoped he would provide kids with memories of their activities at the fair. 
"I think it's important for the kids in order to engage them into these concepts in a fun way so when they have a real physics class or engineering class, they can look back and map that experience onto what they are learning in class," Fransisco said. 
Danielle Guillen, a fifth grader who attended the event, was excited by the activities she got to participate in. 
"I kinda was pretty good at the spaghetti thing and the electric thing was really interesting, and I really want to go to that rollercoaster thing, I just think it's really cool," Guillen said.
Guillen said she is in the gifted program at her school and is working on "hard" math, including ratios. She said this is because students in fifth grade are actually doing seventh-grade level math at the Orlando Science Charter School. 
McCaslin, her gifted program teacher, said her students needed to be kept engaged and entertained while learning.  
"It's nice in that they have that higher order level of thinking, but these kids can also be very passionate so you have to keep them entertained a lot more to have in-depth knowledge," McCaslin said. 
Srouji said he wasn't thinking about college when he was their age, and was glad the students were so excited about engineering.
"A passion starts very young," Srouji said. 
Shane Van Horn, industrial engineering senior and the student director of the Engineering Leadership & Innovation Institute, said the number of kids who attended the fair has doubled from 150 to 300 after both of the charter schools campuses became involved this year.
When asked if more schools and kids will be allowed to come in future years, Van Horn said he couldn't see why not.
"We doubled in size this year, if we can nail this down and make sure we have 300 kids there's no reason we can't handle 500 kids, 600 kids," Van Horn said.