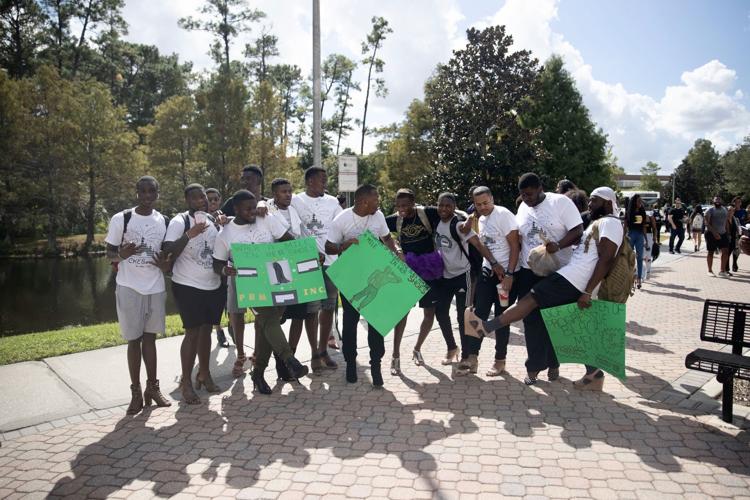 Stilettos, wedges and high-heeled boots were the footwear of choice as roughly 20 male students wiggled into their footwear before participating in "A Mile In Her Shoes," a walk that took place outside the Student Union Thursday afternoon. 
This walk was hosted by Progressive Black Men Incorporated as a way to raise awareness on UCF's campus about domestic and sexual violence against women. This was the first time the organization held this event.
Justin Thicklin, the press and publicity chair for PBM and coordinator of the event, said it was important to raise awareness about abuse against women and provide support for those affected.
"We're standing in the gap and raising awareness about domestic violence and sexual assault because it's important to keep the women in the UCF community safe," said Thicklin, a senior human communications major. 
The event brought a crowd of nearly 50 people who walked from the Student Union patio to Memory Mall and back all while drawing curiosity and support from bystanders along the way.
Thicklin said it's important for men to stand up for women affected by domestic violence. He said men in the UCF community should continue to work alongside the UCF Police Department and Victim Services to help deal with situations that have resulted in domestic or sexual abuse.
Thicklin invited the UCFPD and members of Victim Services to participate in the walk. He said it was important for everyone to be involved in the "movement."
UCF Police Officer Dawn Ferrara said this activity was a great way for men to gain a perspective on what women may go through. 
"A lot of times, male counterparts don't know what it is that females go through nor how to empathize with them," Ferrara said. "'To walk a mile in her shoes' was something that was difficult for most of the men, but they were able to do it. It looked easy but it wasn't as easy as they thought it would be."
Ferrara said it's important to note that domestic violence is not always targeted at women but goes both ways with men becoming victims too. 
"If a female abuses a male, he may not report it because he's embarrassed," Ferrara said. "A lot of the time, those types of assaults go unreported."
In the 2018 Uniformed Crime Report released by the UCFPD, the police reported one aggravated and one simple assault case while in the year prior five simple assault cases were reported.
Ferrara said there are a number of ways to get help if you're a victim of domestic violence including going to UCFPD or contacting Victim Services. Victim Services provides confidential advocacy and support to the UCF community 24 hours a day, seven days a week.
UCF students can also receive free-of-charge psychological services at the Counseling and Psychological Services campus agency.
PHOTOS: UCF hosts walk for domestic violence awareness month
Members of Progressive Black Men Inc. raise awareness to sexual and domestic assaults offenses against women with their "A Mile In Her Shoes" walk Thursday. Members wore high heels and held signs as they walked from the Student Union to Memory Mall and back. 
Health administration graduate student Darrius McFadden said it was important for him to attend the event in support of women who may be victims of the violence. 
"I want to bring more attention to the cause," McFadden said. "Women not only face domestic violence and sexual abuse but can also fear sex-trafficking which can take a toll on their mental health."
McFadden said he hopes this event inspires more men to be mindful in their actions toward women.
"Women are one of the most precious things on earth to me besides kids," McFadden said. "We need to take better care of them."
UCF has a zero tolerance policy against domestic violence that shows itself in the university's campus wide campaign titled, 'Let's Be Clear.' The campaign speaks out against sexual harassment, sexual assault, relationship violence and stalking.
More information on domestic violence awareness or ways to get help can be found on https://letsbeclear.ucf.edu or https://police.ucf.edu. If in an immediate emergency, dial 911.