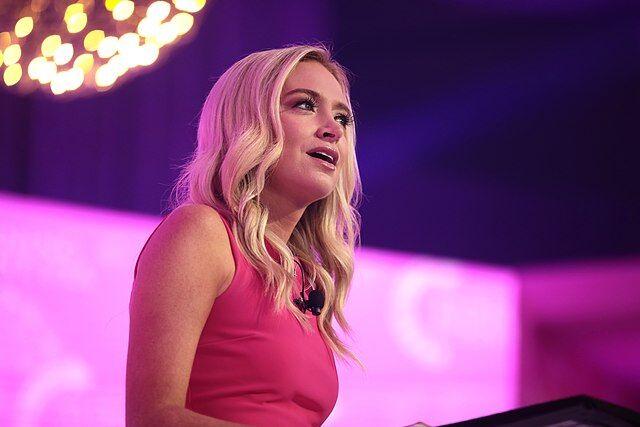 Kayleigh McEnany's upcoming UCF visit is already exposing rifts within the political spectrum of the student body. 
The former White House press secretary's scheduled visit on Oct. 20 has sparked a mixture of responses after Student Government Senate voted to bring her to campus. 
Some students said it's an opportunity to "promote freedom of speech" and political engagement, while others said it's an "embarrassment" that is unrepresentative of UCF and will "start protests."
Whichever the perspective, McEnany's visit was the hot topic of the evening at the Sept. 9 meeting. 
"A speaker who has a proven history of racism, homophobia and sexism is a slap in the face to me and those like me," said Paola Pérez, a Venezuelan immigrant and political science senior. "To clarify, this is not about conservative views. This is about hate."  
Passions were high as SG Senate voted on the third reading of Fiscal Bill 53-06, which proposes the use of $17,930 of Activity and Service Fee funds to help bring McEnany as guest speaker for a crowd of 300 students at UCF.
Activity and Service Fee funds are student funds allocated to the Senate Working Fund, intended "to fund events, projects … and promotional materials for registered student organizations." 
The UCF chapter of Turning Point USA pushed for the bill, offering to contribute an additional $17,930 of its own money, totaling a cost of $35,860 for the visit. The funds will cover the speaking fee, online promotions and UCFPD security for McEnany. The bill passed 19-11 with three senators abstaining, polarizing politically active students.
Jesse Wooten, president of TPUSA at UCF, said he was disappointed to see the lack of support from his fellow students and organizations. The emergency management senior said preserving a safe environment for free speech on a college campus is important and something conservatives don't get to enjoy anymore. 
"We are so underrepresented, conservatives on campus," Wooten said. "The left will say, you know, 'I'm scared to voice my opinion in classes,' but no, it's us who can't voice our opinions in classes. We're the ones who have to pretend to be something we're not." 
Student voices have sharply contrasting views, a sign indicative of potential demonstrations on campus once the speaker from the former Trump administration arrives. Dylan Hall, College Democrats at UCF president, said protests are not a question but a certainty.
"This is bound to start protests, and College Democrats will be involved in some capacity," said Hall, also a political science junior. "Obviously, we always want to make sure that these protests are peaceful." 
Hall said the protests are not about complaining. Rather, the student governing body at UCF has clear conservative influences, he said, which skew the possibility of fair and unbiased processes. He said they also don't reflect the overall liberal, more inclusive spirit of the school.
"I wasn't surprised (when they passed the bill); it was expected," Hall said. "Student Government traditionally has loved to post resolutions saying they stand with the Asian American community, that they stand with the LGBTQ community, but when they finally have a chance to actually do that, they don't. UCF Student Government is extremely performative in all of its activism." 
While Hall said it is "infinitely easier" for right-wing groups to get SG approval on their speakers, Wooten said all registered student groups have this same opportunity and would be welcome to bring their own speakers. 
"We're all students here - Democrat, Republican - I don't care what you are; you all pay dues, you're all entitled," Wooten said. "I would support them; I would 100% support another side, as I wish they had supported us. But they didn't, and that's fine." 
Ashley Tourscher, the College Republicans at UCF treasurer, said her organization would be happy to get another point of view on campus, if only left-leaning organizations would use their platforms to their convenience. She said each group has designated funds they can dip into to use "as they see fit," just as her group did when they invited political commentator Ben Shapiro to UCF.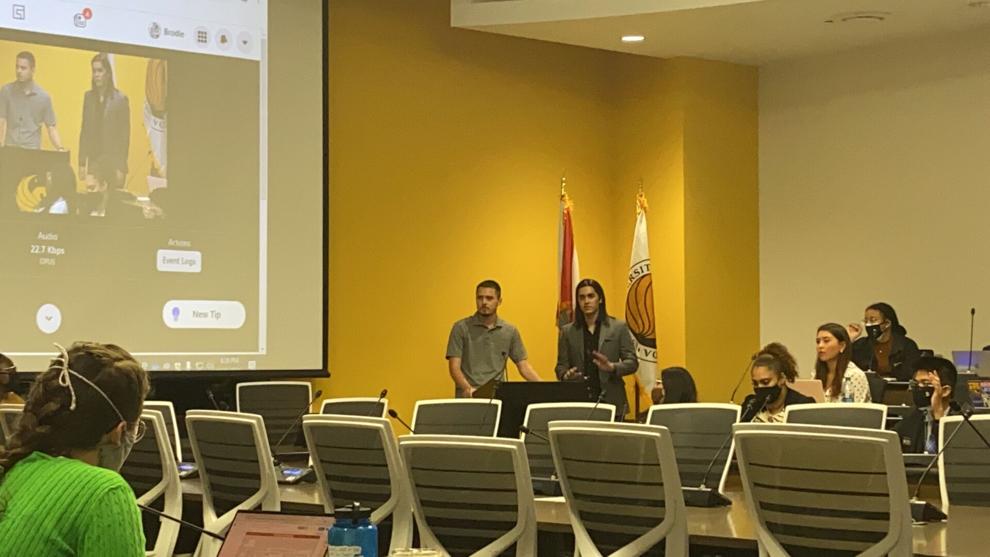 The business management sophomore said if left-wing students - such as Young Democratic Socialists of America at UCF and the Pride Student Association - brought a speaker to campus, her organization wouldn't protest but embrace it.
"We really do encourage the College Democrats and YDSA and PSA if they want to bring a speaker, they should," Tourscher said. "It's up to them. I mean, student fees go toward that for a reason." 
But using student fees to pay large sums of money for speakers is precisely the issue some take with this visit, like political science freshman and activist Michael Kostis. Kostis said he does not want to shut down differing viewpoints, but he said he does want students to be mindful of any ulterior motives a speaker may have to accept an invitation to campus. 
"I just want us to wisely choose where our money is going," Kostis said at the meeting Thursday. "Somebody with a net worth of $2 million, to come and speak to us — if she wouldn't come because she's not getting that money, then she really doesn't care about us at all. Bernie Sanders, somebody brought him … he wouldn't want that money; he would come because he cares." 
Wooten said he insists McEnany is a good guest for students: An empowered and experienced woman, who at 33 was already working in the White House.
"Our goal here is not to bring her to campus to offend people but to listen to her story," he said. "I am for peaceful protest. I hope they would come inside and ask questions; we have a Q&A that is going to be opened up to the students.
"And I hope people utilize that because, how can you know and understand opposition if you never talk to them?"
But Hall said he will not be "indulging" McEnany by attending the event. He also said College Democrats at UCF formally withdrew from participation in any future SG events until further notice, as this is not the first time SG shows favoritism toward Republican students. 
He said SG officials intervened last minute to bring up arguments "out of nowhere" to pressure the Senate into voting favorably. Most notably, he said SG brought up the risk of a "threat" that TPUSA could sue UCF if McEnany's bill was not passed. Hall said the withdrawal is not because of the Senate's decision to bring McEnany, but because these "deliberate efforts" reflect a concerning lack of impartiality from SG.
"It's very clear that the students of UCF don't have an ally in Student Government," Hall said.
SG Vice President Austin Wilson flat out denied Hall's version, calling it an "inaccurate account of the events." He said in a statement that SG believes "it is important for there to be checks and balances within the branches." He also said in the statement that the Legislative Branch of SG is able to exercise its ability without Executive Branch involvement. 
"We are not aware if TPUSA or College Republicans mentioned during their part of the meeting content related to a potential lawsuit," Wilson said in a statement. "This perhaps could have been mentioned by a student in open forum, where all students are given the opportunity to use their voice. At no time was pressure applied by the Executive Branch to vote in favor of this bill." 
Other SG members said the decision was not based off anyone's personal or political preferences, like Sen. Allison Jimenez, who voted in favor of the bill. 
"Whether or not you think she is a good or bad person, or if you think she says offensive things, is valid," Jimenez said. "But it is not our job to base our decision on (that)."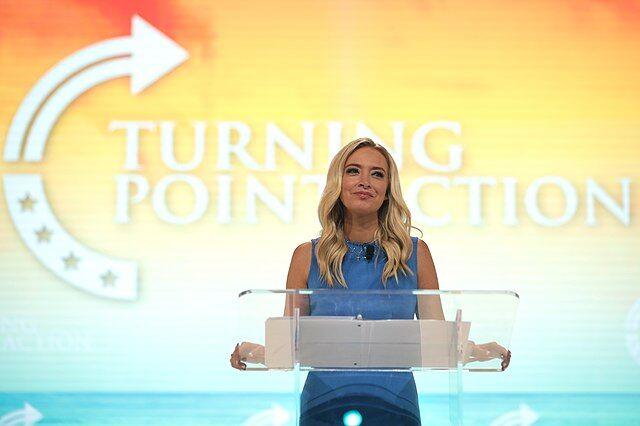 Yet Pérez, a board member of College Democrats at UCF, said she was disappointed by SG's decision and doesn't understand what influenced it. After all, she said, emotions and opinions were not all that were brought up at the meetings: numbers and facts were, too.
"Our petition against Fiscal Bill 53-06 has 366 signatures from solely UCF students, which is a larger number than could even attend (McEnany's visit) and is more proof that this event is harmful to our student body," Pérez said. "If the emotional detriment that bringing McEnany on campus would cause students isn't enough, I hope the physical impairment will be: Putting aside COVID-19, an event like this is bound to start protests from UCF students, as it should."
Michael Sharino, secretary of TPUSA at UCF, questioned whether or not COVID-19 was the real reason opponents of the bill were concerned about its passage. He said such reasoning is a double standard and not a genuine argument. 
"I have heard from a lot of you senators that COVID-19 is an issue for you and is a big reason why you could potentially block this bill," Sharino said. "But I can't help but notice that if this truly was the real reason, you wouldn't have allowed ... a drag show in the Pegasus Ballroom; you wouldn't allow the UCF-Boise State football game to happen; the UCF Knighting; the Fetty Wap concert; and in-person classes to be held."
But Hall said double standards go both ways. To Hall, if SG was considering facts, he said members would have noted McEnany's reputation as someone who promoted misinformation about COVID-19, as well as her link to the administration credited with the Jan. 6 insurrection at the Capitol.
These connections, he said, could potentially harm UCF in the long run.
"Bringing all these conservative speakers will eventually start to embarrass UCF," Hall said. "I wouldn't be surprised if she's subpoenaed by Congress. UCF will be even more embarrassed when she has to explain her actions on one of the worst attacks on the U.S. Capitol in modern history." 
Sharino said the real reason behind the attempted bill block was because McEnany is a conservative, which he said stems from an emotional reaction and promotes bigotry.
"It's a sad reflection on our society and this country that we can't have freedom of opinions and ideas on a UCF campus," Sharino said, "because a group of students, who supposedly are young adults, do not posses the emotional maturity and stability to restrain their subjective anger and hatred toward a person instead of being respectful and tolerant of other people's opinions and values."