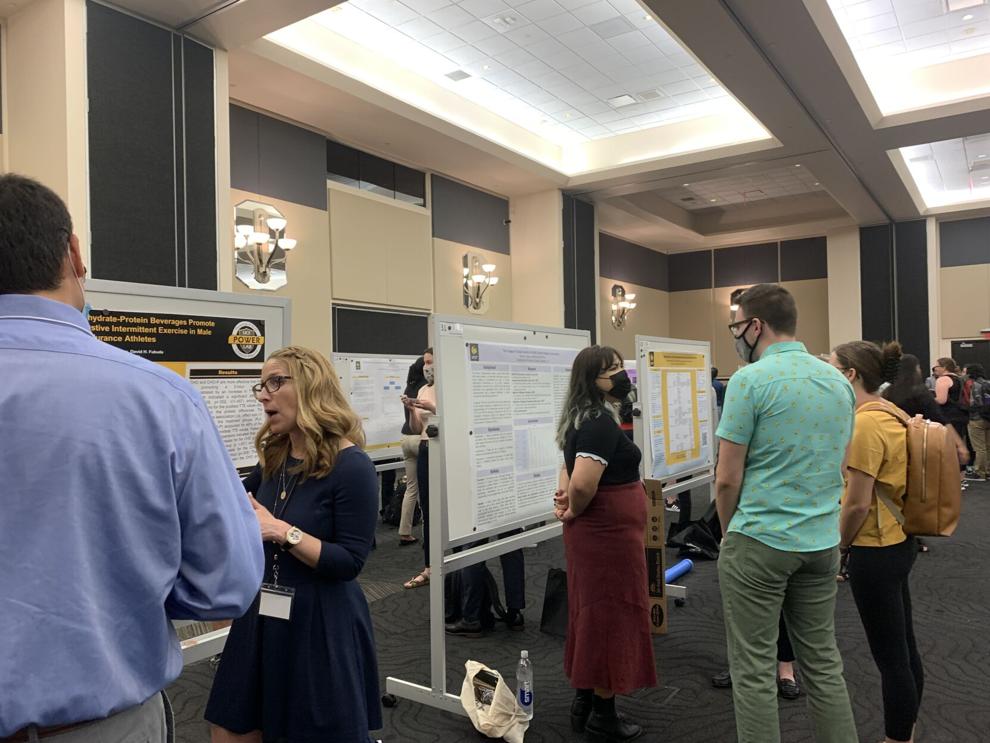 Hundreds of student researchers buzzed with energy and excitement while presenting their posters at UCF's first in-person Student Scholar Symposium.
As soon as people stepped through the entrance of the Pegasus Ballroom on Wednesday, they were met with an eruption of sound and energy difficult to rival through virtual means. 
This marked the beginning of this year's Student Scholar Symposium sessions, which provide undergraduate and graduate students the opportunity to present their research to judges, faculty and peers.
"It's really exciting to have people on campus again, presenting their research and getting to interact with other people," said Tyler Campbell, assistant director of the College of Graduate Studies. "In an individualized zoom setting, it's kind of isolating in certain ways."
Over 700 students participated in the Student Scholar Symposium, with 453 projects being displayed. Campbell said that this includes 175 graduate projects, 263 undergraduate projects and 15 undergraduate research-intensive projects. 
Student Scholar Symposium is a part of Student Research Week, a celebration of scholarship and research achievements at UCF that began in 2007, and it combines previously separate events for undergraduate and graduate researchers. 
"It's really just a way to re-imagine what we were already doing and put it in a setting that's more collaborative," Campbell said.
COVID-19 forced the cancellation of Student Research Week in 2020, so the first-ever Student Scholar Symposium was switched to a virtual format in 2021.
The Student Research Week website described the event as having a "bold new look" from what people may have previously known. Campbell said this is due to the collaboration between undergraduate and graduate studies programs.
Senior economics major Megan Hoang, 21, said although she felt a bit nervous presenting her poster for the first time in front of judges, she was glad that the event occurred in person.
"It's really cool walking into the room seeing everybody's posters, seeing everybody just talk about what they're knowledgeable about," Hoang said.
Hoang said she would recommend other students pursue research, claiming it to be one of the most valuable things she has done in her undergraduate career.
"I've put a year into this. I've spent many, many hours doing my reading, doing my writing, performing my analysis," Hoang said. "I think it's kind of cool having everything lead up to being able to present and share my work."
Senior clinical psychology major Katelyn Yarbrough said she absolutely loves presenting in person.
"I think that when you have somebody physically here, you engage them better," Yarbrough said. "You can really express your interest, your passion and why it matters to the rest of the world."
After the poster presentation sessions ended, a celebratory reception and panel were held to further discuss the benefits of pursuing interdisciplinary research.
Panelists consisted of post-doctoral students, faculty and local business partners speaking on how student research helped shape their career paths. Panelists emphasized the importance of closing the gap between different disciplines by including all kinds of research.
Campbell said the judging of the posters is divided into two interdisciplinary categories: STEM and ASH, which includes arts, social sciences and the humanities. This year's symposium consisted of 319 STEM presentations and 119 ASH presentations.
Sophomore psychology major Maya Senecharles, 20, presented research examining the underrepresentation of Black women in entertainment and the correlating effect it has on their self-esteem.
Senecharles said that as an arts-oriented student, research was a great skill for her to pursue and that she wants to continue to learn more about other underrepresented groups in the future.
"It's pretty much opened a whole entire new world for me," Senecharles said. "It's good that students can learn to research because I think it's a really awesome skill that can help us in the future."
A common theme among faculty and students attending the Student Scholar Symposium was excitement and pride.
"You get to see all these students that have been working so hard on the research that they've been doing finally get the opportunity to celebrate themselves," Campbell said. "It's rewarding to see the looks on their faces and the happiness that they have."
Natalia Toro, Office of Undergraduate Research director, said that it was exciting to see people come together to learn from each other.
"Just to see everyone coming together, students who have never been exposed to research going and learning that their peers are doing this great work, and then finding their own way to research," Toro said. "And faculty go and see their mentees. It's just a great excitement."
Toro said she accredited much of the success of Student Research Week to the close partnership the OUR has built with the College of Graduate Studies. She said she encourages students interested in research to look into opportunities within their colleges and not be afraid to reach out.
"Once they take that first step, we are here to guide them along the way and get them connected to the resources that they need so that they can make that reality," Toro said.
Similar notions were discussed during the panel session, where panelists shared advice about not being afraid to fail and the importance of speaking up about your interests and ideas.
"Don't ever stop thinking about how the thing you're passionate about connects with the things other people are passionate about," said Jonathan Beever, founding director of the UCF Center of Ethics. "That's just so fundamentally important to making your research better."