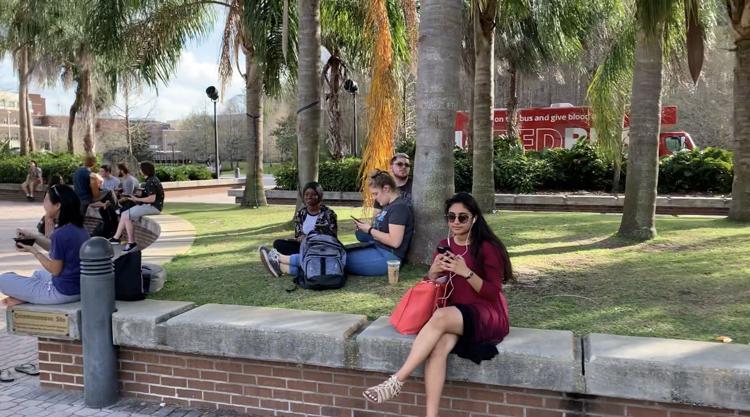 In a generation of advancing technology, it's easy to get caught up in what is happening on a screen — and much harder to pull away. 
A new study conducted by Michigan State University shows a connection between the use of social media and impaired, risky decision-making. The study defines risky decision-making as failing to learn from past mistakes and continuing down a path of negative outcomes — much like those who struggle with substance abuse disorders.
The study included a group of 71 participants. Researchers analyzed the participants' dependence on Facebook by measuring their feelings when they were unable to see or use the app, attempts to quit using Facebook and the impact using Facebook has had on their jobs or studies.
Richard Hartshorne, UCF associate professor and coordinator for the Instructional Design & Technology program in the Department of Learning Sciences and Educational Research, has conducted multiple studies on social media addiction. Hartshorne said he believes there will be a growing number of college students addicted to social media in the coming years.
"We are going to see it grow even more in the future because there's a lot of research on high school students — the college students of tomorrow," Hartshorne said. "Their [social media] use is significantly higher than current college students."
The number of social media users around the world for 2019 is estimated at 2.77 billion compared to 2.62 billion in 2018, according to Statista, a company that has established itself as the leading provider of market and consumer data.
Hartshorne said he believes there will be an increase in social media addiction because college students are prone to addictive behavior in general due to their vulnerability and fear of isolation, shame, humiliation and more.  
"[College students are] going through major life changes [and] major developmental changes, so they're looking for ways to cope with some of those, and social media is one way," Hartshorne said. "It allows for addressing some of the issues associated with the developmental and life changes." 
UCF graduate student and senior interdisciplinary studies major Haley Dorsey said she believes social media can become an addiction when a person allows it to consume their identity.
"When the lines get blurred of who you are on social media and who you are in real life, it's easy to get addicted because when you post a picture it's easy to get affirmation," Dorsey said. "But how regularly are we a part of communities that are vocally affirming us?" 
In the National Center for Biotechnology Information journal, a branch of the National Institutes of health, Griffiths said information about digital literacy should be embedded into the work and educational settings in social media apps to help increase awareness and combat addiction.
NCBI researchers suggest social media operators, such as Facebook, start using behavioral data to identify excessive users and provide strategies to limit time spent on the app. According to the study, the online gambling industry uses similar systems to combat gambling addiction.
Dorsey said she often catches herself having a hard time pulling her eyes away from her phone screen. 
"It's just so easy to scroll," she said. "When you're bored or out in public and don't really know anyone, it's easy to just go back into your own little personal world."
However, not every college student feels the need to be on social media. Haley Szabo, senior communication sciences and disorders major, said she doesn't have Facebook or Twitter accounts, and her roommates just recently made an Instagram account for her last year.
"I didn't wanna be on [social media] all the time," Szabo said. "I saw what it did to my friends all through high school and college obsessing over it — constantly being on the apps and updating their profiles — and I didn't want that."
While social media does have benefits for users such as connecting with friends and family and sharing information in real time, its dark side can come out when individuals feel unable to pull themselves away, Dar Meshi, lead author and assistant professor at MSU, wrote in the university's study.
Developing a better understanding of the drive for excessive social media use will help to determine if it should be considered an addiction or not, Meshi wrote in the study. 
"Social media is a good way to keep up with people and have those connections," Szabo said. "But some people have a way of taking it way too far."