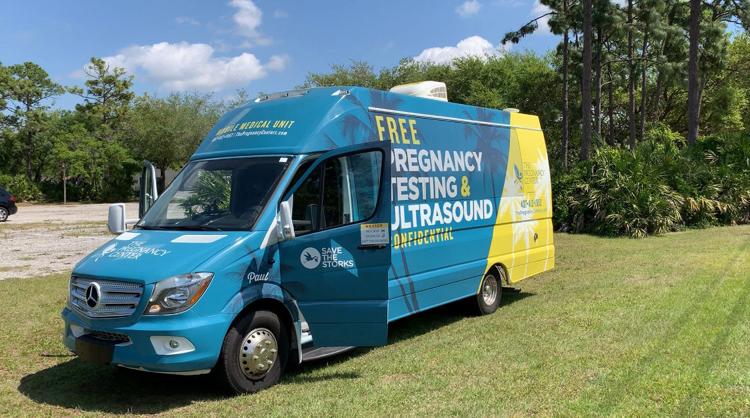 The Pregnancy Center, a nonprofit that has been serving women in Seminole County for over 20 years, unveiled the first mobile pregnancy testing unit to wheel around Central Florida in January.
After the Trump administration's motion to block funding from Planned Parenthood in February, women may be left searching for places to turn when facing a potential, new or unplanned pregnancy. Options like this could help provide them a destination.
Amber Dunson, registered diagnostic medical sonographer and mobile unit manager, said that while these mobile pregnancy units are sparsely operated around the country, there is definitely a need for the services provided on the bus.
Services include a free pregnancy test, first ultrasounds and private counseling about what kinds of options there are for those who are or may be pregnant, along with various educational resources, Dunson said.
Dunson said the organization especially wants to help expectant women in the UCF area make the best choice for themselves, given their three options are parenting, adoption or abortion.
The Pregnancy Center's mobile unit is in the UCF area every Tuesday and has been parked at the University Carillon United Methodist Church off of McCulloch Road from the beginning of its operation, according to Dunson. 
Dunson said that in January and February combined, the mobile unit saw 12 people.
"In the month of March, we actually took spring break off, and we have already seen like 15 or 16 people ... which is great because that means the need is there, and we are meeting the needs of the community," Dunson said.
The Pregnancy Center has two offices: one in Sanford, Florida which has been open for 20 years, and the other in Oviedo, Florida, which has been open for five years. It sees about 200 clients at the two brick-and-mortar offices every month, according to its website.
"We are definitely seeing more women [on the bus] than we anticipated," Dunson said.
She said this is because some women may have initial worries about boarding the bus.
"Even I concur with the idea about a bus being creepy," Dunson said.  "I feel like the idea of getting on the bus is a little creepy, but once you come in, it has like an office feel to it. It has kind of a medical feel to it — it's clean, it's sterile and it's just inviting."
She said the great thing about the mobile unit is that it can go wherever the need is. But right now, the organization is trying to decide where the best place is to put it in park.
Dunson said the mobile unit always has a doctor on-site to forward any test results or ultrasounds for the patient when she gets in touch with the health provider of her choice.
Along with that, she also said the mobile unit follows all patient privacy laws, as stated under the federal law restricting release of medical information.
Dunson said that while its services do revolve around the woman's health during her pregnancy, the center does not ignore the men involved that are looking for guidance and information as well.
Dunson said that like a typical doctor's office, the bus's office portion is completely soundproof and private. If a patient chooses to bring her partner along, he can always consult Mike Scalzo, the driver of the unit, with any questions, comments or concerns, or even just to chat.
Scalzo said that the driver cab of the bus comes equipped with features specifically for this purpose. 
"We've got two front seats, and these seats will swivel so that we can face each other," Scalzo said. "So that while his wife or girlfriend is in the back getting tested or getting a sonogram, we can discuss his situation and just kind of feel him out and see how he feels about what is going on in his life with the pregnancy."
In this way, Scalzo said he hopes to give whatever confidence or advice he can give to these men and help them better understand what their partner is going through.
As for where it will be in the future, Dunson said the bus is definitely here to stay.
"Our goal is to get closer to campus or just maybe on University [Boulevard] to where people can see us — where they know how to reach us and where we are," Dunson said.
Belle Kerr, junior English major on the technical communication track, said that she thinks the mobile pregnancy center would be very beneficial to the UCF community, since not only does it provide free services that are otherwise very expensive, but also as much information as someone could need when deciding what to do with their pregnancy.
"If they let blood drives, food trucks and protests on campus, [UCF] should let this bus on it too," Kerr said.