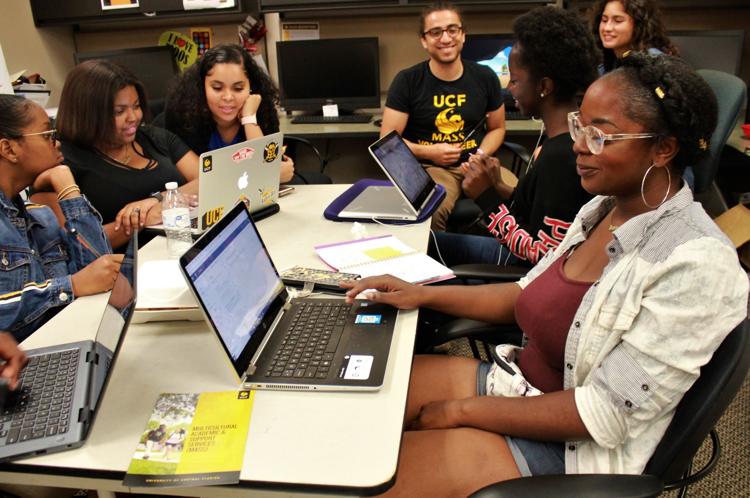 As a fourth-grader in the foster care system, UCF student Patrick Joiner bounced around 20 different classrooms and foster homes within a single school year.
Separated from his parents, siblings and grandmother as an 8-year-old, Joiner said he was always emotionally detached. He never settled down long enough to create lasting friendships, and he didn't focus much on school knowing he'd soon be relocated.
Joiner aged out of the foster care system seven years ago. Now, as a 25-year-old senior interdisciplinary studies major at UCF, his interest in school has increased as he grew older. He studies geophysics, planetary physics and astrophysics — "how to build planets," in his own words.
"In the foster care system, you get told, 'You can't do this' or, 'You're too stupid' on a daily occurrence," Joiner said. "But it doesn't matter what other people say, because you can do whatever."
Numbers are Growing
Florida's public universities have seen a 62% rise in the number of former foster care youth receiving tuition and fee exemptions over a six-year period — 2011-2017, according to the Helios Education Foundation, an organization that helps undeserved, minority and first-generation students achieve access to postsecondary education.
Florida is a national leader for promoting postsecondary education to young people from foster care, according to Educate Tomorrow, a nonprofit that promotes education for children living in poverty.
The Department of Children and Families established Florida's Positive Pathways Program in 2014 to improve postsecondary opportunities and career transitions for the more than 3,000 former foster youth currently attending public colleges and universities in Florida.
The increased statewide efforts are a part of a larger plan to increase the graduation rate of former foster youth and related populations of students, wrote Positive Pathways Director Steve Rios on the organization's website.
UCF's population of students who are former foster care youth has steadily increased over the last few years, according to Multicultural Academic and Support Services.  
The Knight Alliance Network at UCF was established in 2014 to provide support for students transitioning out of foster care and to help them achieve academic success.
KAN is led by a full-time director and employs part-time peer mentors to help students develop leadership skills, a survivor mentality and coping mechanisms to adjust to campus life, according to the Helios' education brief, "Promoting Degree Attainment Among Former Foster Youth."
Barriers to Success
As the liaison for Positive Pathways' university network, Tammie Nadeau, Florida campus coach for foster care alumni, has worked with KAN over the past three years and said she witnessed a growth in the program's participants.
"College completion is an important factor of health and well-being later in life," Nadeau wrote in an email. "Despite potential barriers to degree completion such as financial hardships, unmet health needs, homelessness and lack of social and emotional support, former foster care youth at UCF are overcoming barriers to student success."
Florida offers free college tuition waivers to former foster care youth and students who were adopted, according to DCF.  
"In 2010, after recognizing that many foster youths have difficulties completing higher education, the Florida Legislature extended the exemption to cover students until the age of 28," according to Helios' brief for Florida's foster youth.
As a former foster care youth who doesn't have the financial support of two parents, Janay Johnson, 22, said she is grateful for the free tuition and fee waiver because it completely covers the high cost of attending a university. 
Johnson, senior management major, had an atypical foster child upbringing, living with her grandmother less than a mile down the road from her parents.
Johnson said she and her five sisters lived in a six-bedroom house filled with babies, siblings, cousins and other various relatives coming and going. As a kid growing up in a house full of constant chatter and noise, she said college provided her an escape to a lifestyle she wanted to live. 
"For me and many former foster youth, college became a new start from a dark past," Johnson said. "UCF has a fresh environment, different culture and has allowed me to flourish, to find my voice and become better than who I was before."
Joining the Alliance
As a former foster care youth, Joiner started college eight years ago at Edison State College prior to UCF.  He said figuring out college alone was a challenge because he had no one to turn to for support and guidance or point him down the right path.
"I kind of had no idea what to expect," Joiner said. "My background didn't really afford me the time to actually understand what college was."
After starting at UCF and receiving an email from MASS to join KAN four years ago, Joiner said things got easier because a larger university provided him with a much larger network of people. 
"The people working in the MASS are like my second family," Joiner said. "I really appreciate the honesty and straightforwardness. Ms. Tammie [Nadeau] is like the mama bear keeping a watchful eye on all of us and helping when we need guidance."
The network plays an essential role in many UCF students' lives, Nadeau said.
KAN provides services such as transition support, peer mentoring, career pathways, overcoming barriers and disruptions, goal setting, graduate and professional school planning, financial literacy, coaching and intervention and pre-college support, according to MASS's website.
"Although it's not mandatory to participate in the network, the students who do participate do well," Nadeau said. "We encourage our students to have master's or doctorate degrees."
Overcoming the Odds
Transitioning to adulthood and settling into college can be a challenging for former foster care youth. Nationally, only 3%-11% of foster care alumni attain a bachelor's degree compared with the national college completion rate of 33%, according to the 2018 National Education factsheet.
Less education translates to lower wages and a higher likelihood of unemployment compared to that of the general population, according to a Helios foster youth brief.
As she prepares to graduate this semester, Johnson said she is excited to decorate her graduation cap with the famous Disney film quote, "I can go the distance," because she feels that the song symbolizes her journey through college.
"Every challenge, struggle and hurdle has made me stronger," Johnson said. "I had to build a strong exterior shell because I didn't want people trying to take advantage of me or view me as weak. All my life has been tough, but I'm working hard to combat the challenges of my upbringing to become an amazing person."
Johnson plans to become an entrepreneur and start a fashion-beauty business called "Flourishin". Never forgetting her roots and her upbringing, Johnson said the name of her business was inspired by the way she blossomed and grew during her schooling at UCF. 
Johnson is currently applying to graduate school and she said she plans on earning her Master of Business Administration degree, which would make her the first in her family to achieve both a bachelor's and master's degree, she said. 
Also graduating this semester, Joiner said he is looking forward to what comes next after he leaves UCF. He is going to take a year off before applying to graduate school, but he is determined to earn his doctorate and one day be called "Dr. Joiner" — possibly working for a university.
But for now, Joiner is working as a substitute teacher in different Orange County classrooms. When coming across students with similar backgrounds to his own experiences in the foster care system, Joiner said he recognizes these children need a voice of reason. He said he provides kids in the system with essential advice that he needed growing up.
"You're going to be okay," Joiner said. "This stuff ends eventually. Just stay focused and stay put. It doesn't matter where you come from — it just matters where you're going."