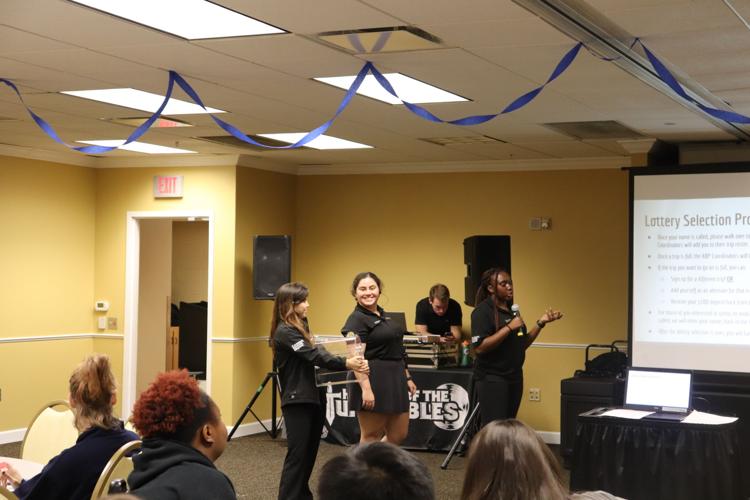 Volunteer UCF hosted a lottery on Oct. 24 that placed students in locations to provide aid to places that have been through disaster and poverty.
VUCF's Lottery Knight is an annual event that targets students who want to travel to different places around the world while lending a hand any way possible. This is done by organizing groups of students to travel to various locations in order to provide aid relief in any way. 
This was the 12th annual Lottery Knight, totaling 35 students in attendance who chose where they would like to travel using a lottery system. 
The title, "Lottery Knight," gets its name from deciding on where participants go by randomly selecting their names from a raffle drum. While no money is given back to the participants, the reward is being able to travel to different locations and help those in need.
"It's basically like winning the lottery by being able to travel to so many places," said Kimberly Albert, junior English major. "But the real fun is working with your friends to help those in need, while also making so many other new friends from those places."
Each participant paid an entrance fee of $100 to have their name added to the lottery. Before any names were drawn, VUCF leaders spoke about which locations they previously traveled to and what they experienced.
Among these was trip coordinator Natalya Reid, who will be leading her group to New Orleans to battle hunger and homelessness in the surrounding neighborhoods. This also involves her group working with Network New Orleans volunteers to participate in home rebuilding and assisting homeless shelters.
"Homelessness and hunger are found in more places than people think," Reid said. "I'm glad VUCF is giving us the platform to help many other places as well."
This year the participants will choose to travel to either Tallahassee, New Orleans, Puerto Rico, Atlanta, or Vero Beach Florida. Members will provide aid such as empowering those with disabilities in Tallahassee, helping the homeless in New Orleans and Atlanta, providing disaster relief for Puerto Rico, or cleaning the water at Vero Beach, Florida.
Samantha Gray, senior, biomedical sciences major, was one of the student's selected for the lottery who chose to assist with the homeless population of Atlanta.
"It's really eye-opening to tackle homelessness in Atlanta because, you never know what a person is going through until you see it," Gray said. "I'm just excited to work with my peers and lend a hand to those that need it most." 
Many of the new members discussed how they found about the event on social media and through friends. Additionally, more and more UCF students learned of this event during their orientation on June 18 and 19. 
"I think the future will only get better. The more people that know about our organization, the more people that will show up and be participants," Reid said. "In the future, we will only be bigger and better."
The next Lottery Knight will will be in February of 2020.