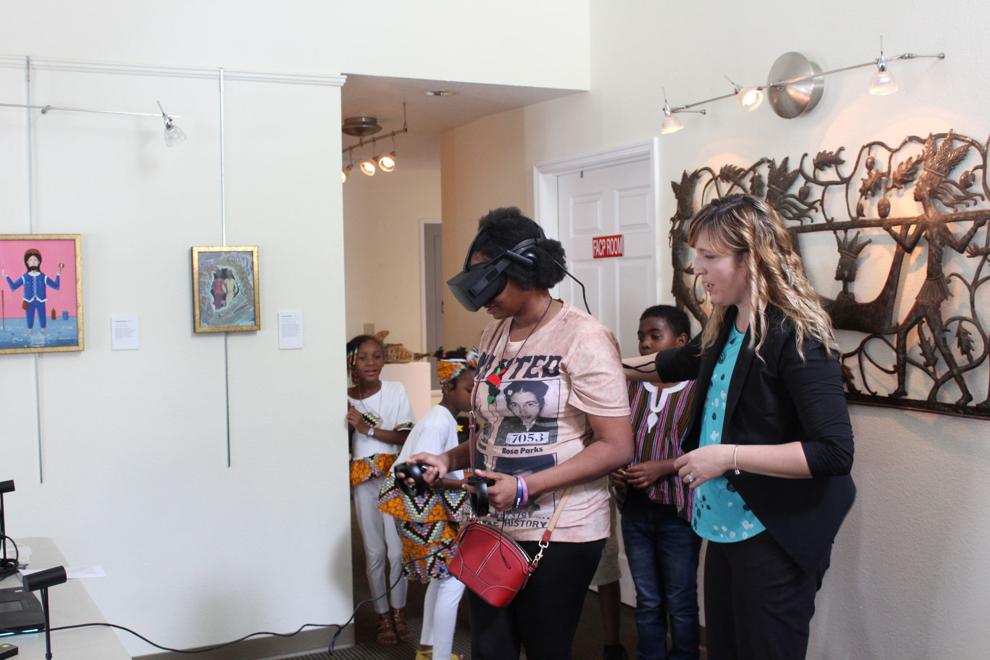 A virtual reality project made by UCF professors and students allowed participants to embody an African captive on Sunday at 1619 Fest.
Twenty-eight people signed up for the VR experience, which was presented in Winter Park.
The Middle Passage Virtual Reality Experience is an on-going interdisciplinary project that takes its participants through the course of the Middle Passage from Ghana to Brazil, according to the project's information page.
According to Digital History, the Middle Passage was a part of the Transatlantic Slave Trade in which African captives were taken to the Americas by European slave traders to be sold. Between 10 and 15 million African people were taken across the Middle Passage between 1500 and 1900. At least 2 million captives died.
Yovanna Pineda, an associate history professor and the principle investigator of the project, said that she was surprised to see how many people did not know about the Middle Passage.
"It motivates me more to continue with this work," Pineda said. "One student said that perhaps schools don't want to teach it because it's sad or nasty, but it's history."
Ezekial Walker, another associate history professor, said that he had previously participated in the VR experience and was not able to finish it because of uneasy emotions. A native speaker of the West African language Yoruba, Walker recorded Yoruba expressions heard while captives walk towards the ship, according to the project's information page.
"As an African, I have an emotional connection to this," Walker said. "This was an event of great magnitude for human suffering and helplessness and sorrow."
Pineda said the team's research involves measuring empathy through a three-step process: a pre-test, a post-test, and debriefing. They take note of any changes in perceptions of slavery and human trafficking.
She said the pre-tests and post-tests are surveys that ask about experience with VR and knowledge about the Middle Passage. The debriefing process is separated into two steps.
The first debriefing step allows the participants to "'unload' emotion, thoughts or physical discomfort," immediately after the experience. The second step is an interview about the experience a week after, Pineda said.
"This VR project is a new way of looking at history," Pineda said. "People forget that, historically, [slavery] wasn't an automatic process."
Pineda said she that she was inspired by teaching historical slavery and modern human trafficking in her history class. She said new students volunteered to contribute to this project since the project started in fall 2017.
Quintella Greene, a graduate student and research assistant for the project, said that she built the audio and soundbites for the VR last semester. She said that her goal was to evoke the terror felt by the captives with strangers on the ships.
The experience's sounds include crashing ocean waves, seagulls, babies crying and moving shackles.
"It's not just the fear of what will happen next," Pineda said. "It's the dissociation of beautiful sounds that now cause fear."
Assistant Professor of Games and Interactive Media Emily Johnson said that it is unclear when the project will be done. She said that the VR project focuses on dehumanization instead of the gruesome details of slavery.
"It's easy to ignore the past," Johnson said. "It's easy to whitewash the past. This project gives someone the ability to feel it for themselves."
UCF's history department, games and interactive media department, Africana studies program, computer science department, Center for Humanities and Digital Research and the School for Visual Arts and Design have been collaborating on this interdisciplinary project since fall of 2017.
Johnson said that computer science students volunteered for their capstone project after realizing the emotional impact. They used the Unreal Engine platform, a free program used to create video games.
Amy Giroux, an associate director for the Center for Humanities and Digital Research at UCF, said that Sunday's presentation was not the final product of the project.
Giroux said that she hopes for better graphics and a VR treadmill, a device that would make the motions in the experience smoother.
A work in progress, the VR project is currently limited in choices. Giroux said that she once had a participant tell her that the experience needs rebellious choices during UCF Celebrates the Arts in 2019, where the team displayed a prototype.
Giroux said that adding choices to fight back would also need to add the consequences of rebellion. Johnson said that with many improvements to make, they don't know when the project will truly be finished.
"It's the kind of thing that may never be done," Johnson said. "Like a game, like a book, there can be any development."