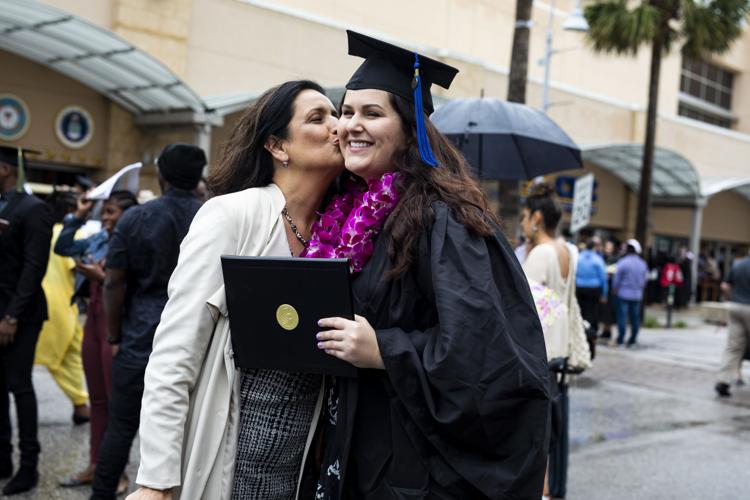 The UCF community can still rally behind its graduating seniors — virtually, of course.
As commencement ceremonies look to make the transition to online, UCF is encouraging friends and family of spring graduates to record and share a short video that will be shared on UCF's social media platforms from April 30 to May 2, the weekend originally scheduled for commencement, according to the university.
This idea stemmed from junior astrophysics, marketing and finance major Harper Cheyenne's longtime support for UCF and growing realization that graduating seniors need support from the community now more than ever.
She said she remembers sitting on her couch after just getting her wisdom teeth removed and scrolling through Instagram where dozens of UCF students were posting messages about remote learning continuing through the rest of the semester. She then emailed the dean of the College of Business that she had an idea, she said.
"I really just want to do something to ask people in our community to send us videos," Cheyenne said. "Just something congratulating the seniors and the catch is that it would be something fortunately that would be recorded that they could keep forever."
Cheyenne said she can't take the credit for coming up with this idea alone, however. This project is a collaboration between other students, alumni, athletes and faculty within the College of Business who have been working tirelessly to network and reach out to the UCF community to share videos, she said. 
The video compilation project titled "Lead the Charge!" will feature alumni, faculty, staff, fellow students, family members, community leaders, corporate partners and friends of graduates, according to UCF.
The 15-second video message can be personalized for students in specific colleges or for the entire graduating class, the press release said.
Although senior hospitality management major Ashley Stalvey still feels as though a virtual commencement won't fill the hole in her college experience, she said "Lead the Charge!" is a great way to keep seniors' minds off the current global climate.
"I think it's a great way for UCF to show their support of us students and for parents and faculty to congratulate us," Stalvey said. "Right now we're all stuck in this bubble of 'I'm not getting a graduation' and it's kind of making me forget about how my life will start after it."
Those who submit videos are asked to avoid mentioning the COVID-19 outbreak and instead focus on the accomplishments of the graduating class, offer advice and share what "Knight Nation" means to them, the release said.
"There's so many students that have been displaced, or their loved ones who have been displaced, or they've had loved ones affected by this," Cheyenne said. "So the idea is simply to just steer away from that conversation and highlight what graduates have done."
UCF alumnus Peter Bandel said he was proud to be associated with a university that is really stepping up for its students in a time like this.
"I think it's really important. Step up, charge on and just be there for each other," Bandel said. "We all need to band together. This is a very, very different time and it's something that people will remember."
After learning about the "Lead the Charge!" initiative, Bandel said he will submit a video to support the graduating seniors.
Videos are to be submitted no later than Monday to be included in the video project, according to UCF.
For more information on video suggestions, requirements and where to share videos, visit UCF.edu.