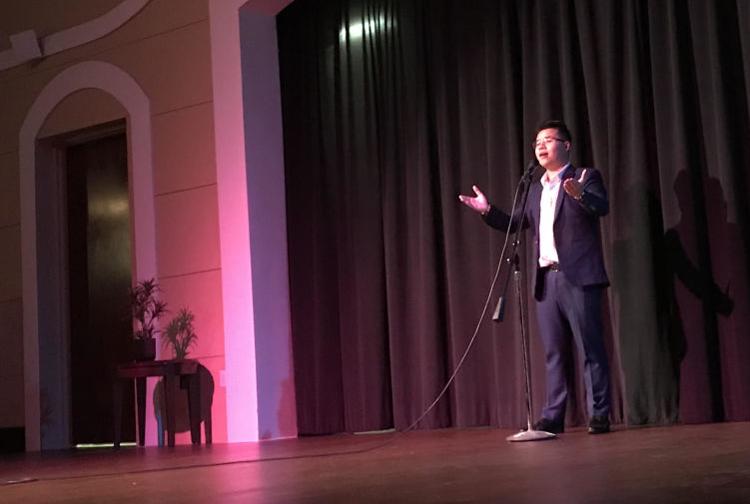 History was made Wednesday night in what was the best Rosen's Got Talent yet, according to the judges.
A Vietnamese singer and UCF student became the first contestant to perform a song in a foreign language at the event.
Steven Sang Tran placed second in the competition, but his performance stuck with the audience as he received a standing ovation.
"Music is universal, and I felt it even though I didn't understand the words," said Vanessa Blackmon, judge for Rosen's Got Talent.
Tran is a junior in entertainment management at the UCF Rosen campus. He moved to America when he was 17-years-old but started learning English when he was four. 
He performed the song "Conduong Toi," which translates to "My Path." He said the song represented his personal journey. 
"That takes guts do that, to come here and perform a song in a different language where most of us speak English," said Kaitlyn Hudgens, senior hospitality management major.
After his song, Tran shared his personal story with the audience about how his parents did approve of his aspirations.
"In my country if you are a singer you are considered a bad person," Tran said
Tran told the audience he had been kicked out of his own house for trying to be a singer. Despite receiving disapproval from his native country and his own family, he will continue to follow his dream.
"I am a singer," he said. "I will bring my heart to you by all the works. No one can stop you if you have something stick in your heart."
Tran will go on to perform at Knight's Got talent during homecoming week on Wednesday, Oct. 16. He will perform a cover of a famous Vietnamese song about the coming of spring.
"Come support me, support my future and my past," Tran said after the competition. "Without any of you guys I cannot do anything because I am singing for the audience."
UCF, known for its inclusiveness, set a record for diversity in 2018 with 47.3% of students being a minority, according to UCF. The university also has a 6.3% Asian population. 
The first place winner of Rosen's Got Talent will also go on to perform at Knights Got Talent during homecoming week.
"This was the best and most competitive year, and the decision was so tough," said Samantha Fox, Rosen's academic advisor and judge for the competition.
The judges selected Hayley Coates for first place, who performed a two-part dance routine. The first part was to the song "Finesse" and "Take it to da House" was the second part.
"I was speechless I wasn't expecting it, but I think that almost makes it more exciting when you're not expecting it," Coates said.
She had previously auditioned for the Orlando Magic dance team and made it to finals this past August. Coates said she will incorporate more audience involvement for her Knights Got Talent performance. 
As for Tran, he will continue to pursue his dreams. He said he aspires to create an English version of the song that he performed for Rosen's Got Talent, "Conduong Toi."