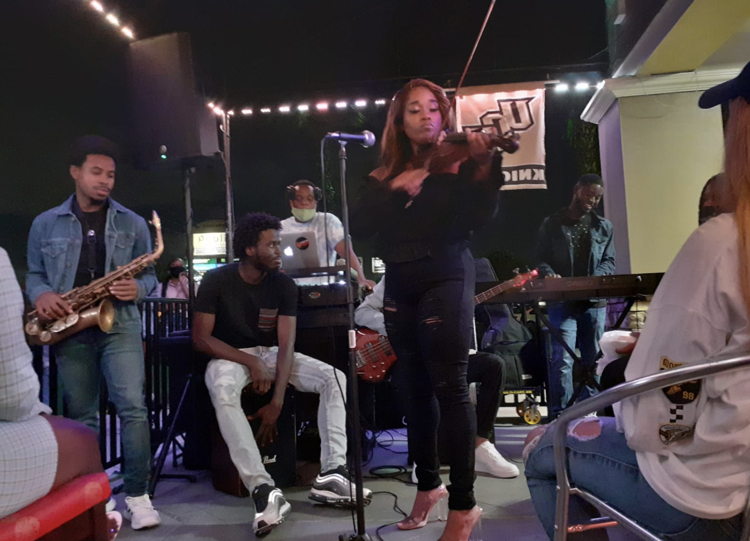 Alpha Kappa Psi and Club Kreyol came together to host Open Mic Knight, an annual event where UCF students showcase their talents. Attendees enjoyed violin and saxophone performances, spoken word, rap originals, dances and food during a night full of art and culture. 
The organizations made an open call on social media to UCF students and held the event at Jamaican Bar & Grill. 
Jennice Vernet, a member of both organizations and organizer of Open Mic Knight, said she wanted to bring people together and embrace their talents.
"I feel like UCF is such a big diverse place and I want to show off the Caribbean and show off the Black, and show people we are here," said Vernet, who is double majoring in film and mass media.
Gelsey Clerjeune, public administration major and president of Club Kreyol, said she decided to bring the event back given the high turnout last year.
"Because of the pandemic we have been isolated, but this brings everyone together and this gives a little of brightness in this dark time," Clerjeune said.
Among the performers was Karein Lacroix, biology major and vice president of UCF Gospel and Cultural Choir, who said poetry has always been a way to express herself.
Lacroix said she attended the event last year, but this was her first year performing spoken word.
"Open mic is a way to be expressive as people and in times like these, in this political climate and coronavirus, I feel like people are not talking about how they feel," Lacroix said. "But with events like this, people are getting together and talking about how they feel and it honestly helps your mental health a lot."