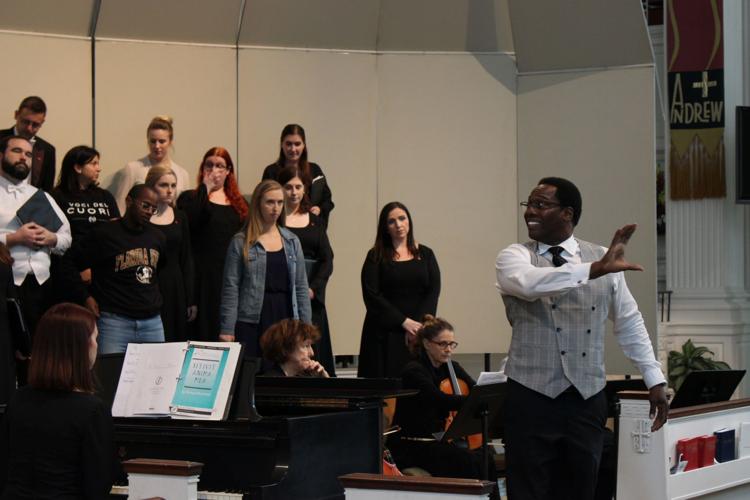 After David L. Brunner retired as the director of choral activities at UCF in December, a national search was conducted to find the perfect candidate for the job. 
Just a few months later, Jeffery Redding has been selected to take over as the new director of choral activities and is set to start this fall, according to a announcement posted to the College of Arts and Humanities website on March 6.
According to his biography, Redding pursued a Ph.D. in choral conducting/music education and a master's in music education from Florida State University, as well as a Bachelor's of Science in music education from Florida A&M University.
Redding worked as the director of choral activities at West Orange High School in Winter Garden for 20 years and he said he will miss it.
"My students are taking it hard," Redding said. "I love them and gave them everything I had."
Redding is a well-known conductor and clinician on a national level, according to his biography. Redding said he has led his choirs in performances at national, regional and state conventions of the American Choral Directors Association.
"We toured every year all over the country for people of all ages," Redding said.
According to his biography, Redding has been recognized for his achievements through awards such as the 2019 GRAMMY Music Educator Award.
Dr. Kelly Miller, an associate professor of music and coordinator of music education at UCF, took over all four UCF choirs this semester while the search for a new director was conducted and she said it was an amazing experience.
"Words cannot even begin to express what an honor and joy it has been to have the opportunity to work with all of the choirs this semester," Miller said. "I've experienced the talent, been blown away by the potential, and am thrilled for what lies ahead."
Miller also said she is excited about having Redding on board and about where the choirs are headed.
"I believe that Dr. Redding's musical knowledge, talents, skill, motivation and vision, along with his charismatic personality, will grow the UCF Choral Program on the exceptional foundation built by Dr. David Brunner," Miller said. "I am very excited to see what is ahead."
Junior music major Caroline Hart, one of Redding's past high school students, said she thought he'd be a great fit for the position and that his vision would take the UCF choirs far.
"I had a gut feeling that he was applying and, sure enough, he was one of the top three candidates," Hart said. "His vision is touching and changing lives and, seeing how West Orange grew, I know he really sticks with what he believes in and makes it happen."
Redding said he hopes to learn from the students and learn about the students, as well as grow together.
"We will have a song that we sing for every concert," Redding said. "I will bring some traditions with me."
Redding said he is excited to be a part of the UCF music department and is looking forward to starting this journey.
"Students and faculty can expect the best I have to offer," Redding said. "I respect and honor your past. Let's build our future. Go Knights!"