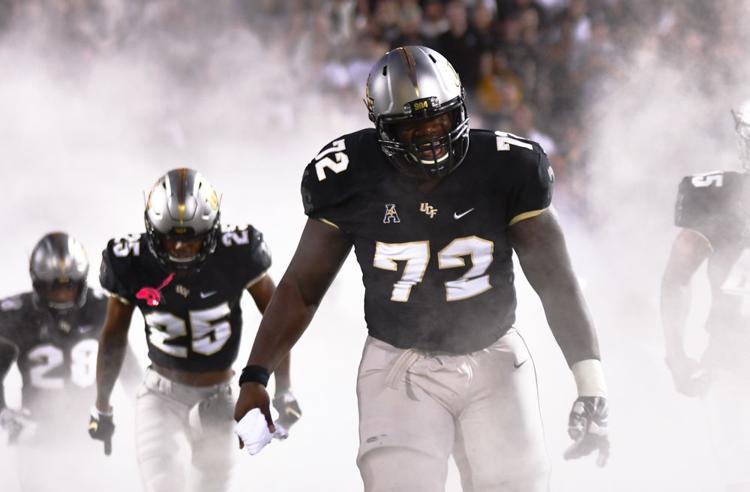 UCF football center Kelton Jordan "JJ" Johnson said he doesn't carry a lunchbox because he's not "that nerdy or vegan yet," but his car, nicknamed the "Vegan Mobile," says otherwise.
Johnson, senior human communications major from Jacksonville, Florida, said he has been eating meat for most of his life until he became a vegetarian, and then went vegan at the beginning of the year as part of his New Year's resolution.
If it weren't for his older brother Kaleb, current vegan and guard for the Baltimore Brigade in the Arena Football League, Johnson said he might not have become a vegan. He said he was always dismissive about it, but eventually decided to go vegetarian for a week. 
"I tried to incorporate the vegetarian lifestyle every day and that week turned into six months," Johnson said. "When those six months were up, for my New Year's resolution I decided to go vegan because of everything I learned during the process of being vegetarian." 
Johnson said he has seen a lot of health benefits since going vegan — he is more energized and agile and has noticed a decrease in his body fat percentage and an increase in his lean muscle mass. 
The senior center said he has also seen an improvement in his sleeping schedule. He sleeps with a Continuous Positive Airway Pressure mask because he suffers from sleep apnea, a sleep disorder in which a person repeatedly stops and starts breathing while sleeping.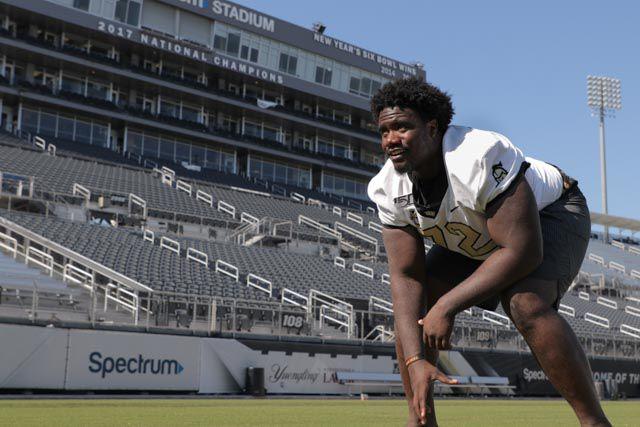 Carly Fancher, UCF Athletics director of sports nutrition, said there is no direct correlation between veganism correcting sleep apnea, but it is more of a domino effect. 
However, there are benefits of veganism when taking into consideration what Johnson's diet was like prior to going vegan. The biggest difference is the diet content. Fancher said eliminating heavily packaged items will lead, in partnership with a healthy lifestyle, to weight loss and body composition change, which takes determination.
"The one thing about him that has made him a successful vegan athlete is his motivation and his commitment to being a vegan," Fancher said. "It takes effort and it takes a lot of planning to make sure he is meeting his caloric needs on a fully plant-based diet."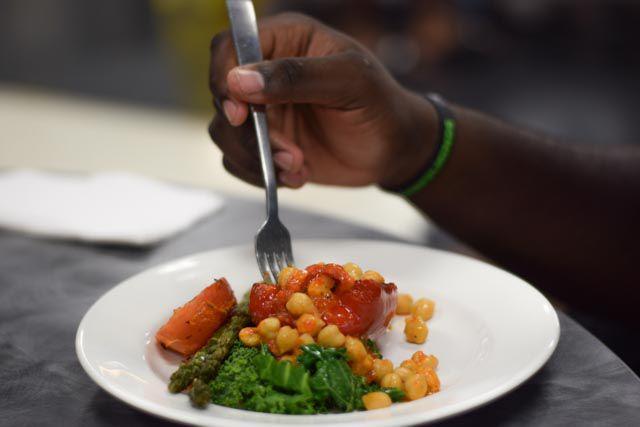 There's more to Johnson than being a plant-based athlete, however. He has been the starting center for the offensive line since his freshman season and he is an active member in the community. 
Johnson volunteers at the Ronald McDonald House at Nemours Children's Hospital in Lake Nona. He also regularly visits the Boys and Girls Club of Central Florida. He said he grew up in similar programs and was inspired by volunteers that visited him. 
"I just really have a passion for kids and I know that they're the future," Johnson said. "I've always wanted to be the change that I want to see in the world."
Glen Elarbee, UCF Football assistant offensive line coach, said Johnson is a leader and an unbelievable human being. 
"The amount he goes out of his way to help people and just be a kind human being," Elarbee said. "He has no reason to do some of the things he does for others, but always finds a way to make time for a kid or a stranger. You just don't always see that from kids at the college age." 
Johnson is on a national collegiate watchlist for a community service award, the Wuerffel Trophy. He's also up for two performance trophies — the Rimington Trophy, given to the best center in the nation, and the Outland Trophy, for best interior lineman. 
On and off the field, UCF football redshirt junior tight end Anthony Roberson, said he will miss his "brother for life." Johnson was Roberson's first friend on campus when they met in August 2016. Roberson said he will miss traveling together, running out of the stadium tunnel, celebrating after a touchdown and doing their special handshake.
Roberson said they always spend time talking about life and sharing music in the locker room after practice, well after their teammates have left. Thanks to Johnson always encouraging a plant-based lifestyle, Roberson said he even recently tried a vegetarian diet for a week.
"I love it so far," Roberson said. "I'm trying different foods and eating different types of vegetables and less meat. I feel amazing. Just throughout the day my energy level is higher." 
Though Johnson will be eligible for the 2020 NFL Draft and plans to start training after the last game of the season, he said he will miss the memories he made at UCF. 
Johnson said he has so much love for UCF and is trying to "go out with a bang" for his senior year before he gets ready for the next step. He also said he hopes to become a sports analyst one day.
"Hopefully after a very prestigious NFL career, I get some notoriety, and I'll be able to be on the big screen one day, recording the games and talking about giving my take on it," Johnson said. "Maybe, I could use my degree to further my message and even have my own vegan commercial one day."