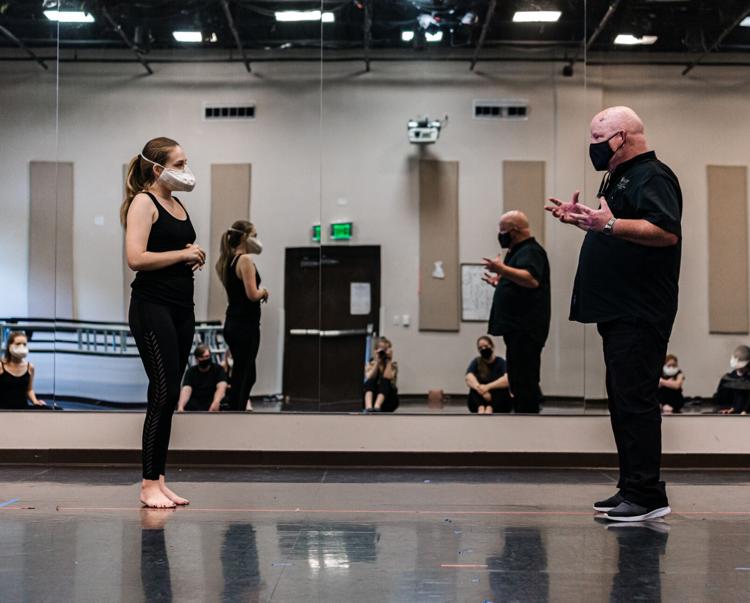 UCF is utilizing a special singer's mask to keep arts students safe, according to the University of Central Florida website. 
The concern for safety stems from research that singers and instrumentalists are at a high risk for COVID-19 because of the amount of aerosols they have the potential to generate, according to an initial CDC report.
UCF musical theater voice specialist and associate professor Tara Snyder said the singer's mask was designed by singers at Open Jar Studios outside of New York City.
"They have a metal wiring to make it look like a duck bill," Snyder said. "It is designed that way because of the way the material goes out from the face to allow more movement for the face and jaw."
Coordinator of music education Kelly Miller, who directs the men's and women's choirs at UCF, said the singer's mask makes it much easier to breathe while singing.
"You do not feel like you are sucking in a mask," Miller said. "So it gives you that free feeling of inhalation."
Michael Wainstein, director of the School of Performing Arts, said UCF's goal is to preserve as much of the normal student experience as possible, while also being cognizant of the safety issues.
"A lot of what we have been dealing with is deciding how we can do what we need to do within the perimeters of what is possible," Wainstein said.
While face-to-face singing is not happening indoors, Miller said when students do sing it is outside, socially-distanced and wearing the singer's mask.
"We are offering the most safe version," Miller said. "UCF has gone above and beyond to make sure we are adhering to guidelines."
Robby Stamper, a professional music director and teacher at Lake Highland Preparatory School, said while the singer's mask was initially thought to be a good solution, recent research proves otherwise.
Stamper said he and the staff at Lake Highland learned that a group of theater professionals and scientists experimented with the different types of masks and their levels of protection.
"They tested the N-95, the cloth mask, the paper mask and the singer's mask," Stamper said. "In the end, the singer's mask flopped with the least amount of protection." 
Stamper said that once Lake Highland was notified, they completely stopped the use of the singer's mask.
"They are great in the aspect that you can sing in them," Stamper said. "But the science says they are terrible when it comes to protection."
Snyder said concerns about the masks and singing amid the pandemic are a hard thing to figure out.
"When you are in the midst of something," Snyder said. "You do not know what the long-term repercussions are."
Snyder said staying shut down as things have is slowly killing the industry.
"There is a part of me that asks how is now any different than all of the diseases before in terms of what happens when we sing," Snyder said.
Snyder said in other parts of the world, they have not shut down theaters and have not seen terrible repercussions from it.
"It brings up the question," Snyder said, "have we done too much and cut off our own nose to spite the face."
Wainstein said there has not been any negative feedback when it comes to the decision to use the singer's mask because all students were given an option to appear or not appear in-person.
"If someone did not want to do it, we waived the requirement for another semester," Wainstein said. "There is no student who has been forced to do anything in person."
Director of Bands Scott Lubaroff said the faculty has worked hard to focus on the students' success, comfort and safety — especially for the music majors.
"When you major in music, there are requirements to participate in large groups and ensembles," Lubaroff said. "But you put some of that aside in lieu of making sure students feel they are being heard."
While there are no performances set for the fall season, Miller said faculty and students are focusing on process over product.
"We are not worried about concerts," Miller said. "We are just making sure that we are coming together."
Miller and Lubaroff said students were moved at the first in-person rehearsal of the season, as they had not rehearsed together since the week before Spring Break.
"We are doing the right thing in providing this," Miller said. "They have a need to connect and they do so through music."