Children Beyond Our Borders, a registered student organization at UCF, creates a lasting impact for its local community through one-on-one tutoring services for children in Central Florida. 
The UCF chapter of CBOB takes a personal approach with the community by offering one-on-one tutoring with children ages 6-11 from the Englewood Neighborhood Center. Emily Rohlf, a senior psychology major, said she tutors students who are used to feeling like no one believes in them because a lot of the adults that come into their lives do not stay very long. As CBOB's lead tutor, Rohlf said she tries to find ways to make children from the center feel like they not only have a tutor, but that they also have a friend.
"One of the students I worked with the first couple of weeks, he would be hesitant to open up because he thought that I would be like almost all of the other adults in his life and leave," Rohlf said. "But when he saw me on the third week, everything changed. He ran up to me and said, 'Hi! Can I tell you all about my day today?' — that moment defined our mentor relationship."
CBOB is also an educational nonprofit organization that helps children internationally by offering the IAMCBOB scholarship, which provides college funding to students in Colombia. The nonprofit also has programs like Crossing Borders Through Conversation, which allows interested students to travel to Colombia and host educational workshops for youth. CBOB's Triunfadores College Prep Program supports students from Alachua, Florida, in their educational journey with online mentorship.
"These students have faced hardships, such as poverty, low income, homelessness, abuse or neglect and relocation that may be from hurricanes or other situations," Sarah Ackerman, public relations director of CBOB, said. 
Ackerman, a clinical psychology junior, said CBOB not only offers tutoring, but it has also done fundraisers and workshops to educate parents. The nonprofit has also celebrated holidays by doing activities and toy drives for students at the Englewood Neighborhood Center, Ackerman said.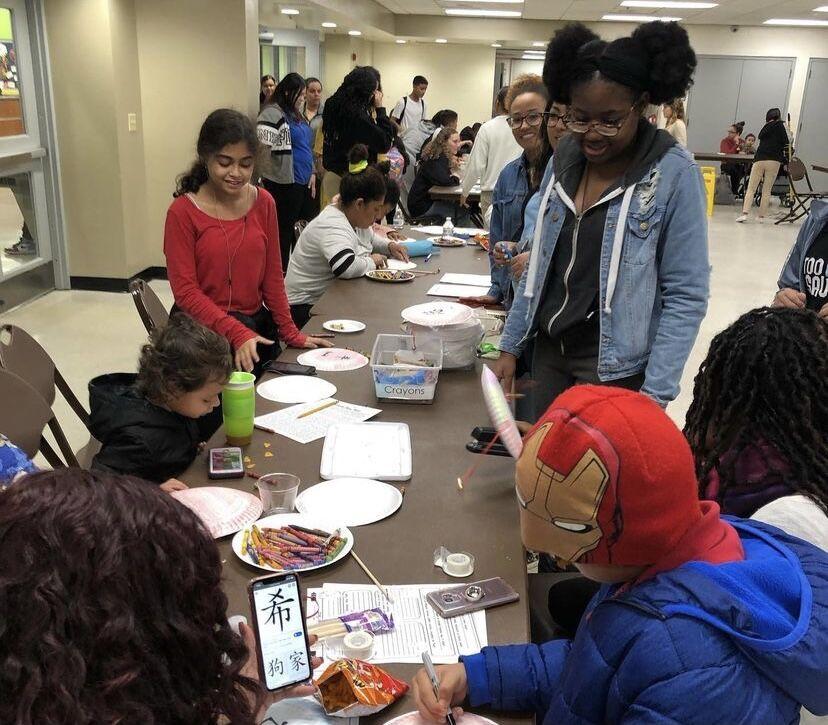 CBOB President Leah Cogley said UCF students participate in CBOB because they want to help the communities surrounding the UCF area. 
"A lot of students suffer from things that are out of their control, and through education, they can succeed later on in life," Cogley said.
Cogley, a junior health sciences major, said one of her most beautiful moments while tutoring was with a little girl from Englewood Elementary School. At the beginning of their session, Cogley said, the girl was very shy, but later on she started laughing during their study sessions.
"I got to see a different side of her, and I also got to see just how much effort she was putting into all of her work," Cogley said. "She was so happy that she was getting the concepts as we went through our tutoring sessions."
Jamaica Major, City of Orlando's 21st century recreation program coordinator, said the UCF tutors have made an impact in the Englewood community.
"They have made an impact on students with academic support," Major said. "Not only are they getting the help and the support that they need, but they are also seeing the results. So, they are getting excited about it, and they feel confident that they can do it."
Major said many students from the center get picked up by their families, get dinner and go to sleep. They don't get that support system from their parents to get help with homework, Major said, and that is why the CBOB tutoring program is a huge asset to the community.
"Our parents are excited about the program because they were always inquiring about tutoring services," Major said. "This is something that we weren't providing before. Now that we can, they are excited, and they are seeing that is making a difference."
Franchesca Peralta, a CBOB tutor and junior health sciences major, said being a mentor has made her more responsible because she is not only teaching students but showing them that she wants to help them.
"Yes, I am helping them, but they are helping me grow," Peralta said. "I have become more mature, understanding and patient, but mostly responsible because of the kids I am taking care of."
Rohlf said she wants UCF students to know that CBOB is always looking for more tutors to help communities surrounding the UCF area.
"If this story speaks out to anybody, we would love to have more tutors," Rohlf said. "Especially tutors that speak Spanish because a lot of the communities that we work with are from Hispanic populations. I think it really does make a difference to the students when they see somebody who comes from a similar background as them; they see how successful they are and how willing they are to help."