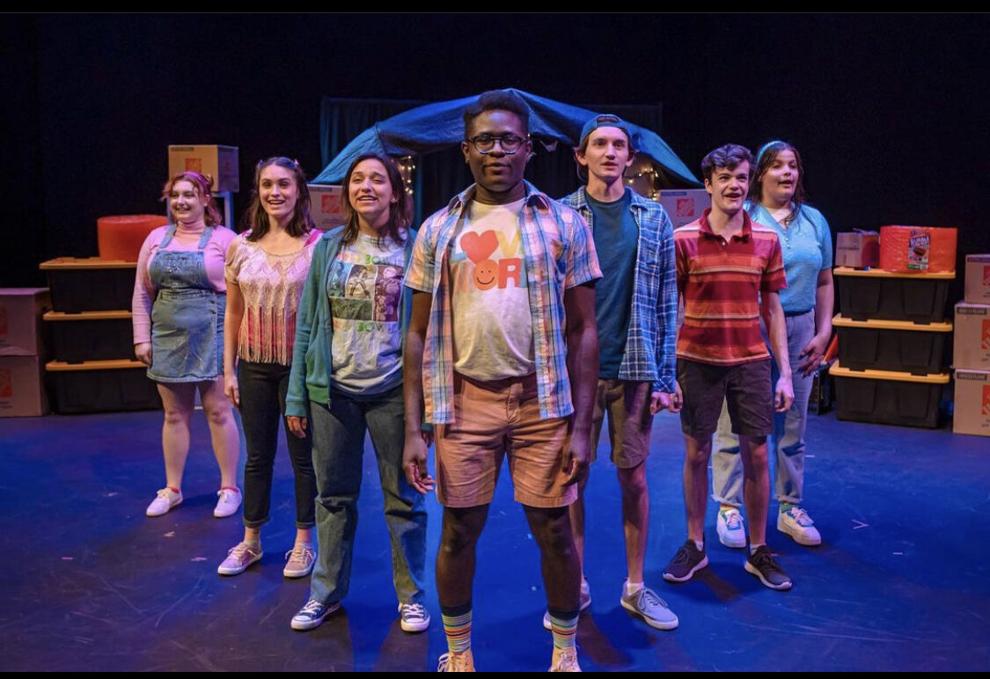 Audience members' eyes filled with tears as they watched Jada reach into her yellow trenchcoat pocket and find a small note from her dad. The note said, "You are always in my heart."
Jada was one of five children living at a military base whose story was brought to life in the play "Home of the Brave."
A piece of theatre originating from interviews conducted with military kids in Hawaii, "Home of the Brave" was written by a native Hawaiian playwright Lee Cataluna in 2018.
In 55 minutes, the play explores themes of bravery, home and friendships through the eyes of middle school kids who struggle to find their place while constantly moving around military stations worldwide. The play's production at UCF opened on Feb. 24 and closed Sunday. All seats were sold out.
Christian Anderson, a second-year graduate student in UCF's Theatre for Young Audiences MFA program and a director of the play, said he chose to produce "Home of the Brave" because he identified with one of the main characters named Ty.
"His monologue at the end of the show sums up everything I love about theater," Anderson said. "When I read it for the first time, I decided that is what I want to see on the UCF stage."
Ty was the only character who didn't have to constantly move because his parents stayed at the same military base. His monologue included ten rules he devised to help military kids adapt to a new "home." While the first rule was to "introduce yourself," the last one was to give his friends something to remember him by when they were deployed to the next station. 
While getting to know each other, characters occasionally addressed the audience directly and shared stories from their childhood.
A few of Ty's new friends were sisters Jada and Johnelle. They had just moved to a new town and were unpacking boxes, knowing they would have to pack them up again in a few months.
Jada used to leave small notes in her dad's camouflage jacket. The notes were simple messages like "stay strong," "be safe," and even "remember to change your socks." On a rainy day, she found a note written by her dad to her. Jada was so happy she kept that note in her pocket for weeks, taking it out every time she missed him. 
Marcus and Brady were brothers who got to see their mom only once a year. They had a jar with 365 candies, one for every day their mom was absent.
Jake Perez, an 18-year-old theater major, could relate to his comedic relief character, Marcus, because he was also a military kid. He said stepping into the role was easy because he knew how his character felt.
"Both my mom and dad were in the military for 25 plus years each," Perez said. "They retired when I was in third grade, but before that, we moved around a whole bunch."
Perez said the show ended with a positive message, and even though the play had some gut-wrenching scenes, it taught the audience to find joy in small things like the characters did.
This sentiment was evident in scenes depicting a loud and annoyingly optimistic sixth grader, Jada, who hung the same lavender curtains wherever she moved. Jada knew she was exactly where she was supposed to be when she had these curtains.
"Even if you are not a military kid, you are going to get a lot from the show because the question of what 'home' is relevant to everyone," Anderson said.
Kayla Rose Ginty, a senior musical theatre major, played an angry teenager named Johnelle, who had a depressive episode every time she had to move to a new station. She said the most challenging part of the show was learning to play a kid so the audience would believe her.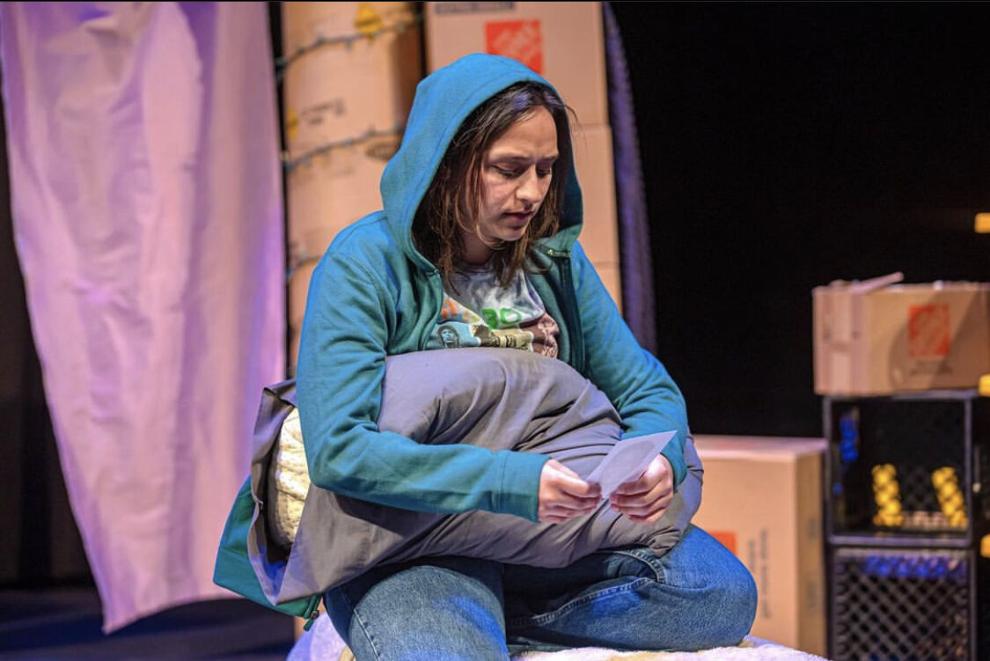 Anderson helped Ginty find her "teenager voice." He kept telling the cast every rehearsal, "Stop thinking of how old the characters are and start thinking what they feel and play that. The rest will fall into place." The first rehearsal took place on Jan. 17, and the cast rehearsed five days a week until the show ran. 
The soundscape was created solely by the actors, who used rain sticks, umbrellas, empty bottles, kazoos and their voices to create noise. The decorations consisted of several boxes that moved around the stage from scene to scene.
"All the decorations you see on the set, all the boxes and bubble wrap, will be used throughout the show," Ginty said. "It represents how all the military kids' things will always be in use because they constantly move and bring only the most needed stuff."
Ginty said her favorite thing about acting was being able to represent other people and make sure these people are remembered.
"Once I am on stage, I am not even performing. I am living my character's story," Ginty said.
The overall message of the "Home of the Brave" is that the home is where your heart is. The home is nowhere and everywhere, it is right here and right now.