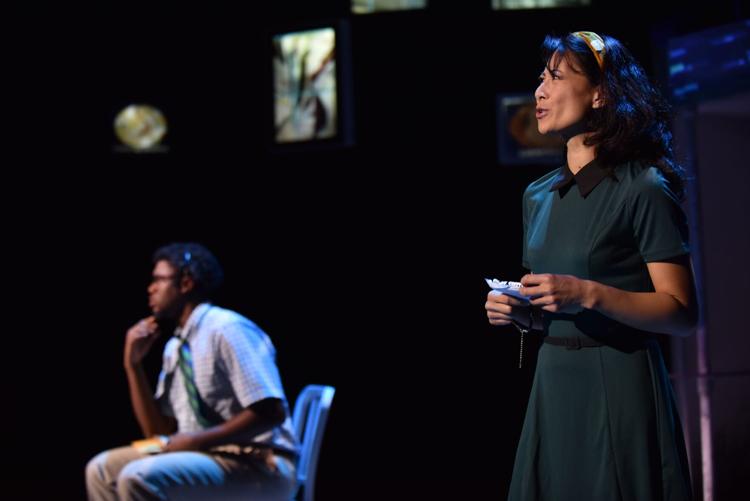 The coronavirus pandemic hit the performing arts industry hard, leaving industry professionals jobless and industry educators scrambling for new ways to keep the arts alive.
UCF voice professor Tara Snyder, who has questioned the industry's intense response to the pandemic, said she does not know where the industry will go in the future. 
"I know that staying shut down, as things have, is slowly killing the industry," Snyder said. "The question is how much of it will survive."
Snyder said it is a scary time to try to prepare people who are pursuing the performing arts as their career.
"I do not know what they are walking into because none of us know what this is going to look like on the other side of this," Snyder said. "And we can't tell them that it's all going to be okay because we don't know."
UCF student Aleisha Hild, a senior theater major graduating in December, said the arts industry feels hopeless because it is hard to dive into the craft and be passionate about it when a job is not foreseen in the future.
"I have not been working as hard in my classes and voice lessons because I feel like, 'What is the point?'" Hild said. "I feel like most of us have accepted that we will be working in food service or retail for the next few years."
Hild said she had to make significant changes to her post-graduation plans, as she was planning on auditioning for either Voices of Liberty at Disney's Epcot or Finding Nemo the Musical at Disney's Animal Kingdom after she graduated.
"I wanted to be an Equity performer," Hild said. "But even if I did not get that right away, I still wanted to work there — even if in food service — just to get my foot in the door." 
As she got older, Hild said she planned on expanding her theme park career beyond just performing.
"As I aged out of the shows, I was hoping to be a casting director or entertainment manager," Hild said. "Obviously, those plans have changed."
As of last month, the Actor's Equity Association released a statement that said out of 780 Equity performers working at Walt Disney World pre-COVID-19, 720 of them were laid off.
Because of its geographic location, Theatre UCF has always been a top choice for students interested in musical theatre. Out of the 60 UCF alumni listed on Theatre UCF's 'Where Are They Now' page, 10 of them have held jobs in entertainment at one of the major theme parks in the Orlando area.
"The news of Disney was really disheartening. I am having to completely change my focus," Hild said. "I just have to let my passions go and find something that is more logical at this point."
Snyder said looking at it from a business perspective, Disney had a way to get out of its agreement with Actor's Equity, which could serve as an advantage for the younger generation of performing artists because they will not be as expensive to hire as more experienced performers.
"Entertainment will come back at some point," Snyder said. "And when it does, they are going to look for younger people because they will work for less."
Claudia Lynch, UCF area coordinator of BFA in stage management, said most of the theater majors she knows are not worried about where they will go in their major because they know their skills will translate well.
"What they are worried about right now is that in the business they want to go in, the jobs are few and far between," Lynch said. "It is less about future and more about impatience."
Lynch said all theater students embrace and acknowledge the temporary gig-to-gig nature of being in the arts and already knew they were going into a field in which they would not have a job at all times.
"You can make a living in the arts," Lynch said. "But it is knowing that reality of looking for work and not being guaranteed that you have a job."
Lynch said the Disney news was such a shock because it was something everyone looked at as being stable. 
"But even places like Disney, that felt like it would not go away, the nature of being in the arts is that it could go away," Lynch said. "So they are processing that."
Lynch said she would not have blamed any of her students if they had decided to put a pause on their arts education, but she has not had any so far.
"I have had students who have decided to take extra semesters to take classes in other things," Lynch said. "But none have abandoned it because they thought there was not a career there."
Snyder said it is difficult for her to hear people think they have failed because they are looking into a different career for now.
"You will come back to it," Snyder said. "And if not, it is still not failure — there are other dreams to pursue."
Lynch said connecting with other students and arts professionals around the country keeps her encouraged during these times.
"We always talk about the silver linings," Lynch said. "And one of them is that many of my former colleagues who are out of work have been able to Zoom into my class."
Last week, Lynch said she was a part of the Florida Theater Conference, a conference for high schoolers and transfer students aspiring to major in theater.
"There were a lot of students," Lynch said. "It is not like it was less than normal."
Snyder said that for spring 2021, all of the restrictions that are currently in place within the School of Performing Arts will remain, with a few minor alterations.
"There are talks of doing outdoor lessons in the spring," Snyder said. "So I think some of that will come to fruition."
Snyder said the School of Performing Arts is also looking to have live performances outdoors, which is encouraging.
"It is a positive change toward getting some of the loss back," Snyder said.
Hild said most of the theater majors she knows are feeling the same lost hope that she feels.
"I think it will be a few years before we see recovery of the industry in places like Disney and Universal because they did lay off so many people," Hild said.
Hild said even when the industry does come back, it is going to look different than it was before, and individuals will have to make the decision if it is something they are passionate enough about doing in this new way.
"I just don't know if that is something I want to do," Hild said. "I just look forward to the day when the industry is back to normal."