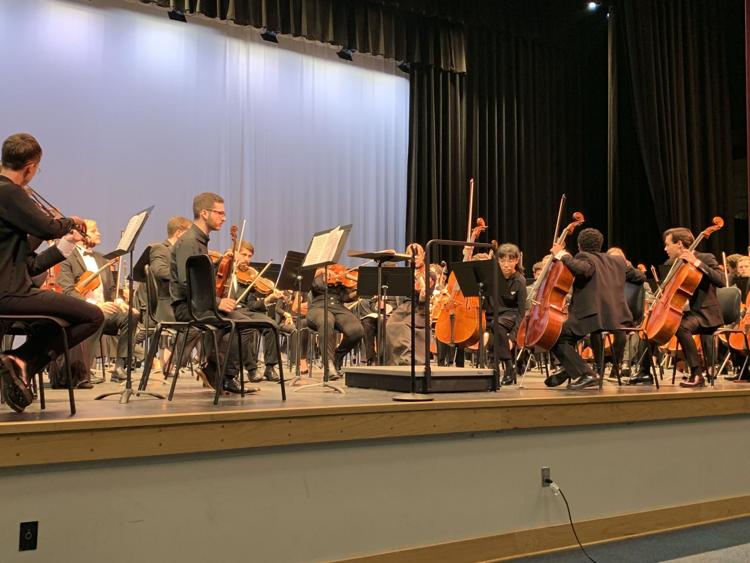 The concert hall erupted into thunderous applause on Saturday evening after 400 musicians performed at Millenium Middle School.
This concert was the grand finale for the UCF Symphony Orchestra's All-String event. During the event, UCF teamed up with over 300 students across Seminole County for the first time at an "All-Strings Festival." 
"We usually do this with one high school or middle school, but this year we decided to increase the amount just a bit," said Chung Park, director of the UCF Symphony Orchestra. "This is the next generation of musicians, so we have to reach out."
The festival began with Park working with orchestras from around Seminole County, including Millennium Middle School and Seminole High School. He first listened to the orchestra perform its pieces, then worked on enhancing the performances to improve their own technique.
"The new perspectives Dr. Park brings can help me in my own orchestra," said Andrea Newhouse, director at Seminole High. "The way he teaches made me stop and think 'I never thought of that.'"
The students later broke out into individual groups based on their instruments. A major factor shared by those in charge of the event was the importance of community, both in the sense of music and the local area of Seminole County. Sean Moore, orchestra director for Millennium Middle School, saw it as an ability to engage across ages. 
"[This event] helps to foster a sense of community between elementary, middle, high and college students while also encouraging the younger students to be able to develop into professionals," he said. 
David Bjella, cello professor for UCF, viewed the event as a way for the students to create community with other students in their areas. Most of the students that met in their instrument groups attended different schools across Seminole County, so this was their first time meeting someone their age who plays their instrument.
"Music is already a small world, but these students get to meet others who play their instrument and realize that they are not alone," Bjella said.
Lindsey Williams, performing arts curriculum specialist for Seminole County, understands the importance of this event not only for the students, but for all who attend.
"The arts are integral as they allow us to express ourselves," Williams said. "That is what makes us human. The ability to communicate and express ourselves."
The concert was the first major event for the UCF Symphony Orchestra this semester, with a concert at Saint Luke's United Methodist Church occurring later in the semester. Due to the size of the orchestra, most shows are played off campus.
Mikey McCabe, a UCF student in the final year of his master's degree in music, and senior music student Adam Fimbres both lead the bass students in a one-on-one breakout, listening to the students and critiquing their technique.
When McCabe was learning bass, his teacher was not an expert in his instrument, causing them both to learn it at the same time. This drove him to want to be a part of this event as a teacher.
"This event is important as it allows these students to work with someone who is a specialist in their instrument," McCabe said. "It allows for a more direct conversation to be had."
Fimbres saw this as an opportunity to show students that they can play their instruments into college and become better at it as they go along. He also saw it as a way for students to gain a new role model.
"This event gives the kid someone to look up to and say 'I can be him. I can be that person,'" Fimbres said. 
The festival closed out with a combined concert consisting of 406 musicians from all experience levels. This orchestra performed one piece together that was worked on in its one-on-one groups. 
After this performance was over, the students got to witness a concert from the UCF Symphony Orchestra. According to the program provided by Millennium Middle School, the pieces performed were the "Finale" from "Orpheus in the Underworld," "Overture to William Tell," "Concerto in D Major" for violin and orchestra, and "Symphony No. 5" in E minor. During the performance of "Concerto in D Major," Ross Winter held a solo.
"Dr. Winter is a successful violinist and we at UCF are excited to have him with us," Park said.
According to the program, Ross Winter has a career that spans over four continents and includes working with Robert Downey Jr. This is Winter's first year at UCF.
As the UCF Symphony Orchestra finished its concert, the audience rose to their feet and once again roared with applause. The orchestra took a bow, and the show was finished.
"Coming together as individuals into one large community allows great music to be shared," Williams said. "Today we were able to achieve that."